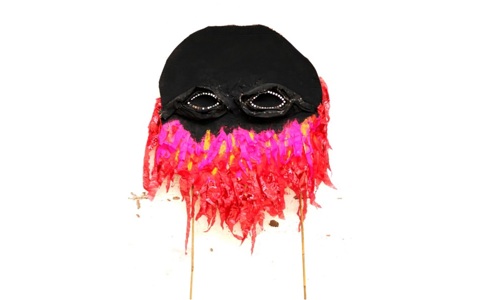 Celebrate ART at Tramway as part of the Year of Young People 2018
Celebrate ART at Tramway as part of the Year of Young People 2018
A new project celebrating the talent and creativity of young people opens at Tramway this July as part of Scotland's Year of Young People 2018.
Celebrate ART showcases work by a group of young artists aged 15 to 23 exploring their place in the world through a story of addiction, dependency, loss, personal change and growth.
The emerging artists have been working at Tramway since March. They have designed and made every element in the production, from writing the story, making microphones to record their soundtrack, and building sculptural objects. The group have been developing skills in contemporary visual art and event production, including three paid internships from video documentation through to curation.
On Saturday 7 July the young artists will present a live visual art performance at 1pm in Tramway's main theatre. The performance contains guest appearances by young dancers from Horizons, YDance's integrated dance group for 13-19 year olds. The Celebrate ART group invited the dancers to represent emotional states in the story through movement.
Following the performance, the sculptures will be left in place for the rest of the afternoon as an installation in the theatre. Upstairs, their preparatory work will be exhibited until 26th August, including screenprints, sculpture and painting.
This project is supported by the Year of Young People 2018 Event Fund, managed by EventScotland, part of VisitScotland's Events Directorate, and Creative Scotland and the project is managed by Engage Scotland. This year, Scotland puts its young people in the spotlight, celebrating their talents, contributions and creating new opportunities for them to shine.
Celebrate ART is a national partnership between Tramway, Fruitmarket Gallery (Edinburgh), The John Byrne Award, Templar Arts and Leisure Centre (Tarbert) and Engage Scotland. Each venue is working with their own group of young people, and the groups will present a joint event towards the end of 2018. 
Tramway is supported by Glasgow City Council and Creative Scotland.
Isha Kausar Hakeem, a young artist from Govanhill said:
"Art makes me feel happy and relaxed. I love acting, and this project has opened my eyes to all the other forms that art can take. I've also been developing my video editing skills by making a documentary about the members of the group."
Leoni Dimond, of Shawlands, and also the youngest member of the group said:
"Art makes you feel like you can achieve anything!"
Councillor David McDonald, Chair of Glasgow Life and Deputy Leader of Glasgow City Council, said:
"Celebrate ART brings together young artists from communities throughout Glasgow and beyond to explore challenging issues that resonate powerfully with their own lives, and the lives of young people throughout Scotland.

"Through the work carried out at Tramway, the emerging artists have also been able to learn and build their artistic practices in a supportive and expert environment.

"We can now look forward to seeing the developing talent of this group of young Scots shine through as part of the Year of Young People 2018 at Tramway this month."
Paul Bush OBE, VisitScotland's Director of Events, said:
Scotland's Year of Young People 2018 is all about showcasing our young people's brilliant talents and providing a platform for them to have their voices heard. The Celebrate ART project presents a fantastic opportunity for them to explore their creative skills and to express themselves through visual arts. It is great to see Tramway fully embracing the spirit of the year by actively encouraging and supporting young aspiring artists in honing their skills. We are delighted to be supporting Celebrate ART as part of the Year of Young People 2018 celebrations."
On the same day as Celebrate ART, you can also explore an exhibition created by young people with connections to Central and Eastern Europe looking at their experiences of cultures, identities and belonging, in the context of Brexit. Here to Stay is presented in partnership with the University of Strathclyde.
Dr Daniela Sime, the academic from the University of Strathclyde who coordinated the Here to Stay? research project which inspired the exhibition, said:
This exhibition captures the experiences of young people who have made Scotland their home through their families' migration from Eastern Europe. Home, identity and belonging are complex issues when you are born in one country, but move to another as a young child. How can one feel at home in an increasingly hostile environment towards people who move over borders? The young voices in this exhibition capture so well these tensions. Children and adults visiting will be amazed by their sensitive representations of growing up in-between cultures and what it means to belong."
On 7 July Tramway is also launching an exhibition aimed at its youngest visitors. How often do you get to touch artwork in a gallery? If the answer is 'never', why not come along and explore four new artworks designed with children in mind at our Children's Exhibition. This exhibition is taking place as part of Festival 2018, the dynamic cultural programme for the Glasgow 2018 European Championships.
Find out more at: tramway.org