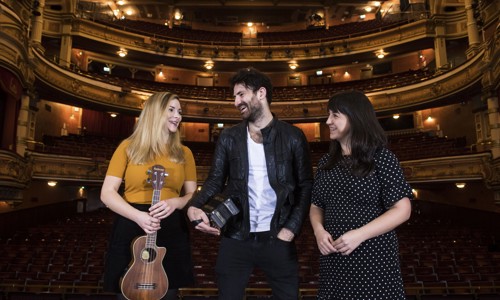 Celtic Connections 2019 Programme Announced
Celtic Connections 2019 Programme Announced
From Thursday 17 January to Sunday 3 February 2019, musicians from across the globe will take part in over 300 events in venues throughout Glasgow for the largest winter music festival of its kind and the UK's premier celebration of Celtic music.
The 18 days of entertainment will brighten up the dark, wet January nights with a mixture of concerts that include a host of one-off musical collaborations alongside talks, workshops, film screenings, theatre productions, ceilidhs, exhibitions, free events and late-night sessions.
Following last year's 25th festival celebrations, when Celtic Connections welcomed over 2,300 artists from over 30 countries and recorded an exceptional 130,000 attendances, Celtic Connections will continue to grow and diversify in 2019.
Since the inaugural festival in 1994, when its 66 events centred around one venue and welcomed 27,000 attendees, Celtic Connections has become more adventurous, more experimental and more diverse. A huge range of musical genres are showcased across the 18 days, as well as genre-busting performances that defy any attempt at categorisation. The special commissions and creative collaborations that have made the festival so distinctive and internationally acclaimed will also continue to play a central part in Celtic Connections 2019.
The festivals' first 25 years have witnessed the emergence of a myriad of young Scottish musicians, many going on to attain headline status - and plenty who weren't even born when the festival began! The Celtic Connections Opening Concert will celebrate the passing on of traditions between generations, and will also mark 15 years since Harvest, 2004's landmark opening show which teamed a battalion of then-youngsters with top Celtic soloists. The Opening Concert will welcome up to 70 emerging young talents to the stage, selected from the 45 Fèisean now held annually around Scotland, Orcadian youth music project Hadhirgaan, and Galician folk orchestra SonDeSeu. Working with the original composers, they'll perform newly arranged excerpts of Duncan Chisholm's 2007 Blas Festival commission Kin, Lauren MacColl's The Seer, commissioned by Fèis Rois, and Harvest itself, along with material by Dàimh, Aidan O'Rourke, Brighde Chaimbeul and additional Pan Celtic special guests.
As usual the festival is graced with household names including Rhiannon Giddens, Cherish the Ladies, Graham Nash, Niteworks, Elephant Sessions, Bokanté, Loudon Wainwright III, Judy Collins, Ronnie Spector & the Ronettes, Kathy Mattea, Shooglenifty and Aidan Moffat & RM Hubbert.
From the World music scene Celtic Connections 2019 will welcome Delgres, The Como Mamas, Catrin Finch & Seckou Keita, Mariza and Bassekou Kouyate.
Last year it was announced that the programming team would expand, and a number of ghost programmers have been involved in the artistic direction of Celtic Connections 2019. The growth of the programming team has allowed for Creative Producer Donald Shaw to work on developing the festival to its fullest potential to safeguard the longevity and musical integrity of what has become such an internationally acclaimed event.
Donald Shaw, Creative Producer for Celtic Connections, said: 
Every year we strive to programme the most diverse and eclectic festival yet and 2019 is shaping up to be just that. From artists who have influenced the current scene, to musicians who are re-defining the music of tomorrow, Celtic Connections 2019 will continue to embrace a huge range of styles and genres that showcase artists and cultures from across the world."
Councillor David McDonald, Chair of Glasgow Life, said:
Year on year Celtic Connections is a cultural highlight for Glasgow and Scotland. As Europe's largest winter music festival, that recorded a phenomenal 130,000 attendances last year, we welcome audiences and artists from around the world to Glasgow during what would otherwise be a very quiet time of year. Celtic Connections has been brightening up dark January nights for 25 years and it really is a fantastic time to be in the city - I can't wait for the festival to return in 2019."
Culture Secretary Fiona Hyslop, said
Celtic Connections has grown into one of the world's largest winter music festivals, showcasing Scottish talent to international audiences and boosting Scotland's culture, economy and tourism sectors.

"Bringing together artists from Scotland and overseas across multiple genres of music, Celtic Connections helps strengthen Scotland's cultural links with our international partners, increasing our understanding of each other through our music and traditions. The strength of the international reach and touring opportunities for Scottish artists and work is the reason that for the first time the Scottish Government has extended the EXPO fund to include Celtic Connections with £100,000 for the 2019 Festival."
Alan Morrison, Head of Music at Creative Scotland, said:
Sharing our arts and our culture is an essential part of what makes us human. In Scotland, we believe that our music is particularly strong and distinctive, and we want the world to hear it and be inspired by it. We also want to welcome musicians from Europe and beyond to Scotland, where we can collaborate, create exhilarating new ideas and learn from each other. This powerful notion of being citizens of a wider, richer world goes to the heart of Celtic Connections. In the years since it began, this festival has broadened its horizons and the musical genres it embraces. Creative Scotland is proud to support a programme that reaches out a hand of friendship to artists and audiences everywhere."
Above the Surface
After last year's 25th celebrations, when the festival recognised how far the Scottish Music Scene has come in the last quarter of a century as well as paying homage to the stalwarts who began the resurgence, Celtic Connections 2019 will consolidate the vibrant new music strands evolving from a new generation of musicians; music that defies any kind of genre category but explores the role of folk music as a universal language.
This series of concerts is entitled 'Above the Surface' and they are supported through the Scottish Government's Festivals Expo Fund.
The first concert in this series is a night's entertainment from Scotland's singing royalty Kathleen MacInnes and one of Iceland's most original and inventive collectives, amiina. The beautiful tone of Kathleen MacInnes' Gaelic song will be enhanced by the string section that featured for ten years with avant-rock band Sigur Rós – with a sound somewhere between sophistication and innocence, amiina will be the perfect musical partners for one of the great voices of this era.
On Friday 25 January, the Old Fruitmarket will welcome a double-bill that brings together two distinct but closely related traditions, when Mali's Bassekou Kouyate and his band Ngoni Ba perform alongside Gaelic group SIAN. Both well-recognised as tradition bearers, Bassekou is one of the true masters of the ngoni, an ancient traditional lute native to West Africa, as well as simultaneously being an innovator and a master of Malian folklore, while SIAN showcase the strength and beauty of Gaelic Song.
Two of Scottish folk music's most distinctive contemporary artists, Rachel Sermanni and Jarlath Henderson, take to the City Halls stage together, with no less a backing band than the Scottish Chamber Orchestra, plus further guest musicians, performing brand-new arrangements of their respective repertoires.
Today both Karine Polwart and Kris Drever rank among the UK's foremost singer-songwriters. Onstage together, alongside the fantastic Scottish Chamber Orchestra, they will premiere orchestral versions of songs old and new, arranged by Pippa Murphy and Kate St John.
Breaking new collaborative ground across genre boundaries, this final weekend show will be a world première featuring Scottish rising stars Snuffbox – comprising fiddler Charlie Stewart (2017's Radio Scotland Young Traditional Musician of the Year), cellist Rufus Huggan, and guitarist/singer Luc McNally – with MOBO-winning, Mercury-nominated, British/Bengali jazz pianist Zoe Rahman, flanked by bassist Alec Dankworth and drummer Gene Calderazzo. Connections between the two trios include Stewart's studies in jazz alongside folk at the RCS; Rahman's own part-Irish heritage and her longstanding interest in the great Bengali writer/composer Rabindranath Tagore, who wrote songs inspired by Robert Burns.
Duncan Lyall will also perform his new show Milestone as part of the Above of the Surface strand.
The King's Theatre
For the first time in its history, Celtic Connections will utilise the King's Theatre as one of its venues in 2019. Across seven nights, outstanding musical talent will take to this iconic stage to perform as part of the festival.
Karine Polwart and Kris Drever's 'Above the Surface' concert, mentioned above, will be the first performance on Sunday 27th January.
Live powerhouse The Hot Sardines will play the King's Theatre on Monday 28th January. It's easy to forget that today's vintage jazz was the teenage party music of its time, but New York's The Hot Sardines are a perfect reminder, recharging century-old sounds with all their original gusto. From reinvented show-tunes to swing classics, they will deliver A-list musicianship and showmanship alike.
Following her two AMA Awards for 2015's Blackbirds, Gretchen Peters' 2018 album Dancing with the Beast marked another career high that will be showcased at next year's festival. Blending shades of country-rock, indie-folk and Southern gothic with Peters' smokily-honeyed voice, the album features all-female characters, from pre-teen to elderly, whose stories vividly illuminate both the personal and political.
With her captivating and powerful performance, Eddi Reader will take to the King's Theatre stage. With 9 critically acclaimed solo albums, 3 BRIT awards, a number 1 single and MBE in tow, 2018 welcomed the release of her latest studio album Cavalier – a new creative peak in what is already a prestigious career. Eddi will perform a mixture of this new work, incorporating both contemporary and traditional songs, alongside some classic favourites from her extensive back catalogue.
Following a hugely successful Scottish tour to celebrate 20 years together, Blazin' Fiddles will play a special performance with guest singer Karen Matheson on Thursday 31st January. From remote village halls to the BBC Proms at the Royal Albert Hall, fiddlers Jenna Reid, Bruce MacGregor, Rua Macmillan and Kristan Harvey are joined by Anna Massie on guitar/fiddle and Angus Lyon on piano to bring their anniversary show to Celtic Connections for an unmissable night of entertainment and stories.
Michigan-born John Grant, who has guested or collaborated with the likes of Elton John and Elbow, Kylie Minogue and the BBC Philharmonic, will return to Celtic Connections with his brand-new album Love is Magic. Coming from a place in time when he feared he'd never escape a life of addiction, to gaining Top 20 chart positions and being nominated in the Best International Male Solo Artist category at the 2014 BRITs, alongside Eminem, Justin Timberlake and Bruno Mars, John has enjoyed an outstanding personal and artistic renaissance with four albums now under his belt.
Crowned Best Duo at 2018's BBC Radio 2 Folk Awards, Christ Stout and Catriona McKay will perform their show Exceptional Circumstances at the King's Theatre on the final night of Celtic Connections' run at this new venue for 2019. Guests for the night include Scandinavian singing sensation Marthe Valle and her band; fellow Norwegian fiddle/harmonium duo Julie Alapnes and Halvard Rundberg; Irish traditional icon Séamus Begley; Malinky vocalist Fiona Hunter, and the Scottish Ensemble, in a programme featuring the UK première of a custom-composed concerto for Stout and McKay, by genre-spanning Finnish legend Timo Alakotila.
Folk Imagery
Celtic Connections 2019 will present the world premiere of Brave in Concert, in association with Disney Concerts, Air-Edel and Stream Scotland.
On Saturday 19 January 2019, the computer-animated fantasy adventure film will be screened live in the Glasgow Royal Concert Hall while the BBC Scottish Symphony Orchestra perform Patrick Doyle's iconic score.
The multi award-winning film will be further brought to life with solo performances from Chris Stout, Lorne MacDougall, Jim Sutherland and Jarlath Henderson, all of whom appeared on the original soundtrack.
An Tres Suaile' (The Third Wave) with Julie Fowlis and Duncan Chisholm is a deeply reflective audio-visual performance with a newly composed suite in three movements featuring traditional material and archive recordings with onstage visuals and projection mapping. The title and central concept refers to John Finlay MacLeod, who leapt overboard from the stricken HMY Iolaire with a rope and was carried on to the rocks on the third wave. Half of those who survived, did so by means of this rope. The suite is a framework to honour those lost, those who survived, and a means to share stories of the three generations of families connected to the disaster.
Video gamers of a certain age will fondly recall that The Bard's Tale was originally a landmark, Scottish-set 1985 release, boasting then-cutting-edge 3D graphics, and recently hailed by Steam as "one of the most iconic RPG series of all-time" – even if you did still need graph paper to map your progress. The Bard's Tale at Celtic Connections 2019 will be a special live concert and theatrical experience that features music, gameplay and acting to celebrate the new edition's Gaelic-based soundtrack, created by Ged Grimes (Simple Minds). Grimes will lead a unique musical journey through a virtual 18th-century Scotland, incorporating synchronized video, gameplay, live action and music from many of Scotland's finest singers and musicians including Kathleen MacInnes, Fiona Hunter, Eilidh Cormack, Kim Carnie, Mackenzie, Gregor Philp (Deacon Blue), Ali Hutton, Innes White, Màiri Chambeul, Martin O'Neill and Brian McAlpine, as well as featuring actor John Buick as the Bard.
Having first emerged playing strings for Sigur Rós, amiina make music between the realms of contemporary classical, chamber-folk, indie pop and electronic experimentation. Their performance and screening at the fesitval reprises their centenary live score – featuring violin, cello, drums, percussion, metallophone, table harp, ukulele and electronics - to Louis Feuillade's celebrated silent movie Juve Contre Fantômas, part of a supernatural murder-mystery serial beloved of both mass audiences and avant-garde intellectuals in pre-World War I France.
Unique Performances
Celtic Connections continues to be recognised for the one-off collaborations that are performed year-on-year. Over the last quarter of a century the music at the festival has undoubtedly become more adventurous, more experimental and artists have begun to think of Celtic Connections as an opportunity to create something special outwith their normal performance style, resulting in outstanding and unique concerts that won't be seen anywhere else.
Ten years after John Martyn's untimely passing Celtic Connections will celebrate the genius of a musician who began as a folk-blues singer-guitarist, experimented with electronics and free jazz, embraced reggae and rock and matured into a soulful balladeer. The title of his 1980 album, Grace and Danger encapsulates the journey of a musician who created beautiful music while forging ahead fearlessly, forever finding new ways to express the love, hurt and joy he found in life. Demonstrating the power of his legacy in today's music scene will be a dream line-up of artists including Paul Weller, Lucy Rose, Eddi Reader, Ross Wilson, Rory Butler, Eric Bibb, John Smith and Katie Spencer who will sing the words and music of a genuine soul-poet. They will be accompanied by an outstanding house band that includes master bass guitarist Alan Thomson, Martyn's loyal keyboards player, Foster Paterson and drummer Arran Ahmun, and a string section led by Greg Lawson, and of course, long-time friend and double bass titan Danny Thompson, who will also be musical director for the evening.
The ever-popular Roaming Roots Revue returns for its 7th year and the collaborative show will celebrate 50 years of The Beatles' Abbey Road with a host of special guests performing alongside the Sun King Orchestra. The night's entertainment will shine a light on both established and emerging talent and bring with it a trademark mix of both original songs and lovingly-crafted covers. This year will pay tribute to the Beatles masterpiece Abbey Road: the last ever album committed to record by the Fab Four. For the first time ever, the show – curated and hosted by Roddy Hart and The Lonesome Fire – will feature an orchestra conducted by John Logan to bring the songs to life. Joining the bill will be Scotland's KT Tunstall, acclaimed English sister trio The Staves, You Tell Me the exciting new collaborative duo of Field Music's Peter Brewis and Admiral Fallow's Sarah Hayes, with more special guests to be announced.
As well as Brave in Concert, a star studded 65th birthday celebration concert will take place for Patrick Doyle as part of Celtic Connections 2019 with the BBC SSO and a host of Scotland's finest Celtic musicians, featuring the world premiere of two new works composed especially for the occasion, as well as other highlights and music from his most popular films.
Patrick Doyle, said: 
I will present an evening of my film music featuring a selection of my film music over the past 30 years, including Harry Potter and the Goblet of Fire, the recent remake of Whisky Galore and Murder on the Orient Express. The concert will also include two World premiere Celtic pieces composed especially for this special evening."
There will also be a show celebrating 100 Years of Hamish Henderson with Special Guests.
Showcase Scotland at Celtic Connections 2019
Showcase Scotland will return for the last weekend of Celtic Connections, when musical directors and programmers of leading festivals and venues from around the world travel to Glasgow to attend performances by Scottish songwriters, bands, and musicians. The concerts, along with a trade fair, provide invaluable opportunities for Scottish musicians to gain new worldwide opportunities thanks to this leading industry delegate event.
Galicia as Showcase Partners
Each year, Celtic Connections partners with a country to create new international links and advance opportunities for their musicians. For 2019, Galicia is the selected region and Celtic Connections will present both leading and emerging Galician artists at the festival. The Galician acts who will perform at the leading music industry event Showcase Scotland are: Anxo Lorenzo Band, Tanxguieras, Radio Cos, Monica De Nut and Luis Martin, Xabier Diaz and Group and Talabarte.
Celtic Cousins
As well as welcoming our Galician cousins as part of Celtic Connections 2019, the festival welcomes a host of other musicians from Celtic nations across the world.
Calennig's Celebrating Cymru is an evening curated by singer-songwriter Gwyneth Glyn celebrating Welsh music with Plu, VRï and Kizzy Crawford. Sibling trio Plu - Elan, Marged and Gwilym Rhys from Snowdonia, play alternative Welsh language pop-folk while VRï – Patrick Rimes, Jordan Price Williams and Aneirin Jones – blend the ideal of a classical chamber ensemble with their innovative interpretations of traditional folk music from Wales and around Europe, combining the energy of a rowdy pub session with the style and finesse of a Viennese string quartet. A Welsh speaker with Bajan heritage, Kizzy Crawford has developed an increasing sophistication to her bilingual song-writing and performance. As well as curating the evening Gwyneth Glyn will perform selected tracks from her acclaimed recent album Tro.
Since the inaugural festival in 1994 Celtic Connections has continued to showcase our Irish cousins and build on the strong affinity between the two countries. The Irish artists appearing at Celtic Connections 2019 include Slow Moving Clouds, Síomha, Strung, Kilfenora Céilí Band, Daoiri Farrell, Gráinne Holland, Danú, Kieran Goss and Annie Kinsella, Steph Geremia, Lisa O'Neill and David Keenan, amongst others.
The Oran Bagraidh concert is a showcase of ten leading traditional poets and musical artists from Ireland, Wales and Scotland who came together in September 2018 to complete a multi-lingual residency in Galloway, Scotland that was inspired by the song 'Oran Bagraidh', allegedly the only surviving example of the extinct dialect of Galloway Gaelic. Taking the theme of multiple identities, they explored commonalities and differences between languages, regional histories and musical sensibilities - with this show also marking the release of the album produced at the residency, also entitled Oran Bagraidh. Artists involved include award-winning Scots/ Gaelic singer Josie Duncan, lauded Irish song archaeologist Lorcan Mac Mathuna, former Welsh poet laureate and singer Gwyneth Glyn, celebrated Irish Sean-Nós singer Doimnic Mac Giolla Bhríde, Belfast fiddler Conor Caldwell, ancient instrument virtuoso Barnaby Brown, poet, singer and performance artist MacGillivray, widely published poet Rody Gorman and medieval Welsh duo Bragod.
At Celtic Connections 2019, a new event will be introduced to encourage a close working relationship between the Basque Country and Scotland. A delegation of producers from the Basque Country will attend and meet with 20 Scottish-based presenters of international work. They will also explore the city of Glasgow and learn about Celtic Connections in a welcoming and inclusive programme specifically developed to forge an understanding of cultures and exchange work.
Education
More than 11,000 children across Scotland will take part in Celtic Connections Education Programme through five free morning concerts and school workshops led by leading musicians.
The award-winning Education Programme is now in its 21st year and has reached more than 200,000 children across the country since it began in 1999. This programme is supported directly by the festival's Celtic Rover patron's scheme, the membership programme during the festival that offers discounted rates on bookings and exclusive experiences during the festival.
There will once again be the ever-popular programme of public workshops that will give people of all ages and opportunities the chance during the festival to learn new musical skills.
Dementia-Friendly Concerts
For the first time Celtic Connections have programmed two Dementia Friendly concerts. These performances offer concerts to people living with dementia, their carers and friends. In partnership with Live Music Now, the two concerts will feature the Niamh MacKaveney Trio on Tuesday 22 January and Robbie Greig and Hamish Macleod on Tuesday 29 January.
Funders and Sponsors
Glasgow City Council and Creative Scotland continue to provide invaluable support to Celtic Connections.
The 'Above the Surface' strand is supported through the Scottish Government's Festivals Expo Fund.
We are delighted to welcome The Times and The Sunday Times Scotland as new media partners for 2019, who will provide in-depth preview and review coverage of the festival.
ScotRail has supported Celtic Connections from the beginning, bringing artists and audiences from all over Scotland to Glasgow for the festival.
The BBC has supported Celtic Connections since its first year and the festival is pleased to collaborate once again with them for 2019.