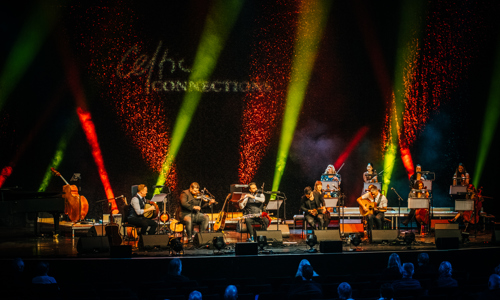 Celtic Connections 2022 opens at Glasgow Royal Concert Hall
Celtic Connections 2022 opens at Glasgow Royal Concert Hall
Europe's premier winter music festival, Celtic Connections, opened in Glasgow last night (Thursday 20 January) showcasing uplifting performances from some of folk's brightest emerging talent.
The Opening Concert 'Neath the Gloamin' Star was staged at Glasgow's Royal Concert Hall in front of 200 lucky audience members. Named after a beloved old Scots love song, the show marked a poignant opening moment for the much-loved roots festival as it celebrated how precious heritage is being taken forward into a new tradition.
This year's hybrid Celtic Connections programme spans around 60 lively in-person concerts, a number of intimate filming sessions, an exciting digital offering and a number of talks and exhibitions, with more than 500 artists involved across the festival.
Tickets for live in-person shows are already on sale now, while tickets for online festival passes go on sale at 3pm today (Friday 21 January). Digital passes will give audiences from around the world access to more than 12 hours of exclusive performances available to watch from Wednesday 26 January.
From Monday (24 January), live music in front of in-person audiences will take centre stage, breathing life and joy into venues across Glasgow; from Mackintosh Church to The Old Fruitmarket, with the usual dynamic array of traditional folk, roots, Americana, jazz, indie, soul and world music brightening up the city until Sunday 6 February.
Donald Shaw, Creative Producer for Celtic Connections, said: "The opening weekend of Celtic Connections is always a memorable moment for us but this year, we are particularly proud to lift the curtain on our 29th edition. The festival has never shied away from ambition and we're very excited to still be able to present such a vibrant programme, covering live shows, filming sessions and digital content. Despite the challenging environment we've been operating in, we have been driven by our passion for Scottish music and culture and opportunities for unforgettable collaboration. We look forward to reconnecting with our audiences at home and around the world over the next few weeks."
Councillor David McDonald, Chair of Glasgow Life and Depute Leader of Glasgow City Council, said: "We've been working hard to retain an exciting programme and live festival experience for Celtic Connections this year, which continues to meet the Scottish Government's guidance and ensures the safety of our audiences, artists, staff and suppliers. The importance of Celtic Connections to profiling Scotland's cultural and musical legacy to the rest of the world cannot be understated, and it's testament to the efforts of everyone involved that this year's programme presents a rich and diverse mix of content; from some 60 in-person concerts to an extensive digital offer, which will delight global and local audiences alike."
Culture Minister Jenny Gilruth said: "We welcome Celtic Connections' plan to stage live indoor events at this year's festival following the First Minister's announcement of a relaxation in restrictions. Live performances are not only exciting for audiences, but they are important to maintain the festival's visibility and support the development of our emerging artists. They are also crucial in driving our cultural recovery from the pandemic. We will continue to work closely with Celtic Connections to plan for the remainder of the festival, after 24 January."
The safety of audiences, artists and suppliers has been put at the centre of all the plans for this year's festival, with all necessary public health measures in line with Government guidelines in place.
To see the full programme for Celtic Connections 2022 and buy tickets visit: www.celticconnections.com.