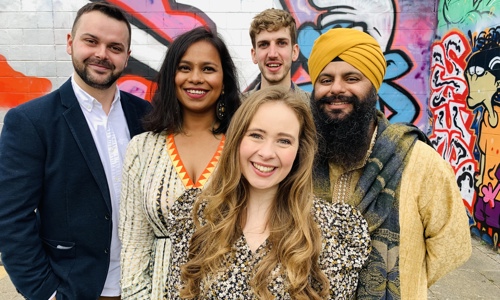 Celtic Connections adds string of new acts to 2022 line-up
Celtic Connections adds string of new acts to 2022 line-up
Celtic Connections, the UK's premiere celebration of roots music, has announced that a swathe of new acts have been added to the dynamic bill for its 2022 edition, set to take place in Glasgow from Thursday 20 January to Sunday 6 February 2022.
Thousands of musicians, covering traditional folk, roots, Americana, jazz, soul, indie and world music, will perform at venues across the city over the course of the 18-day event, with another 30 events added to the expansive line-up.
Among those acts banishing the winter blues at Europe's largest winter festival will be award-winning singer-songwriter Kathryn Joseph, who is teaming up with Tinderbox Collective. This collection of Scotland's most talented young musicians are transforming preconceptions of what an orchestra can be and will stage a mesmerising show at The Concert Hall's New Auditorium on Saturday 29 January.
This year's opening concert 'Neath the Gloamin' Star will see Glasgow folk five-piece Ímar and exciting Manchester duo The Breath, featuring Stuart McCallum and Ríoghnach Connolly, join the already jam-packed line up of emerging talent, taking to the Royal Concert Hall stage as the 2022 festival get underway.
2022 is Scotland's Year of Stories, shining a spotlight on the wealth of stories inspired by, written or created in Scotland. In celebration of the Year of Stories 2022, Celtic Connections will stage a number of special events under the strand Shetland: The Hidden Tales – part of the festival's concert series marking five-and-a-half centuries since Shetland became part of Scotland.
This includes the welcome addition of a new show entitled A Peerie Foy. Taking place at The Old Fruitmarket on Sunday 23 January, this contemporary concert version of a traditional house ceilidh – or "peerie foy" in Shetland dialect – will incorporate music, stories and poetry from the some of the island's most revered cultural talent including local poets Christie Williamson and Christine de Luca, top fiddlers Maurice Henderson, Margaret Robertson, Catriona Macdonald and Chris Stout, young jazz saxophonist Norman Willmore and audacious harp innovator Catriona McKay, of Fiddlers' Bid fame.
This strand will also include Sgeulachdan: Tales of the Gaels, a special concert where stories, myths and musings from rich Gaelic culture will be brought to life through the spellbinding music and songs of Allan Henderson, Margaret Stewart and special guests at the Mitchell Theatre on Friday 4th February.
Celtic Connections 2022 will pay tribute to some Scottish cultural greats over the course of its 18 days. Beyond the Swelkie, a collection of poetry and prose in English, Scots and Gaelic celebrating the centenary of Orcadian poet, author and dramatist George Mackay Brown, will be brought to life through reading from poet Jim Mackintosh and visuals and with music from Duncan Chisholm and Hamish Napier. On Thursday 27 January, they will share their love of the common thread of landscape, heritage and tradition that runs through their own work.
On Saturday 29 January Òran Mór Leventime: A Tribute to Jackie Leven will commemorate 10 years since the death of the beloved and influential Scottish songwriter and folk musician. Jackie's partner Deborah Greenwood and friend and colleague Ian Rankin lead friends and admirers including Boo Hewerdine, Rab Noakes, Jinder, Michael Weston King, Malcolm Lindsay, Doghouse Roses and Dumb Instrument through a selection from his extensive song catalogue.
Beloved east end venue St Luke's will also host some exquisite musical evenings throughout the festival including on Sunday 30th January when it hosts a special one-off acoustic night entitled FRETS with three pioneering British singer songwriters. Teenage Fanclub's Norman Blake, celebrated guitarist, writer and producer Bernard Butler and prolific vocalist and songwriter James Grant will perform acoustically in a song-circle as they interact with an intimate audience.
International connections and showcases continue to be celebrated at this year's festival. On Friday 4th February, Grammy-nominated Texan singer songwriter Sarah Jarosz will perform as part of the iconic Transatlantic Sessions alongside already announced names such as Dirk Powell and Siobhan Miller.
From Ghana will be leading Frafra gospel artist Alogte Oho accompanied by powerful female choir The Sounds of Joy, comprising the gospel genius of Lizzy Amaliyenga, Patricia Adongo and Florence Adooni, for an uplifting evening at Tramway on Saturday 29th January.
Opening Anoushka Shankar and the Scottish Chamber Orchestra's concert at the Concert Hall on Friday 28th January will be the spectacular Orchestral Qawwali Project featuring British-Indian singer Abi Sampa, composer Rushil and tabla maestro Amrit Singh. Combining ancient Islamic poetry and music with modern orchestral arrangements and production techniques, the trio will perform a selection of legendary and original qawwalis along with the SCO in a format never seen before.
Under her other-worldly moniker of Heir of the Cursed, Beldina Odenyo will explore her dual Kenyan and Scottish heritage through words, music and visual art at Drygate on Friday 28th January. Syrian-American musician Bedouine, Nashville-based singer-songwriter Lera Lynn and North Carolina Americana-folk duo Watchhouse are also added to the 2022 bill.
Trad fans will be spoilt for choice with acres of incredible acts to catch this winter. There will be not one, but three, exciting artists to catch at Tramway on Friday 21st January as Brechin multi-instrumentalist Ciaran Ryan, instrumental international folk quartet Fourth Moon and Galician bagpipe player Susana Seivane perform.
Over at St Luke's on Saturday 29th January, Glasgow group The Paul McKenna Band, all-female trad sensations Heisk and local six-piece traditional Scottish outfit TRIP will have audiences dancing the night away.
Elsewhere Blazin Fiddles' Bruce McGregor will be joined by a host of friends for a lively night of tunes on Wednesday 26 January. Gaelic vocal trio Sian and flute, whistle and uilleann pipes maestro Michael McGoldrick and his quintet will also take to the Royal Concert Hall stage on Saturday 5th February.
The National Piping Centre is added to the list of Glasgow venues coming alive for Celtic Connections this winter as traditional fiddler player Ryan Young takes to the stage on Friday 4th February alongside some special guests.
The CCA will welcome Gaelic arts organisation Ceòl is Craic to the stage on Saturday 22 January for a special night featuring stunning performances from Scottish-Indian artist Naad-Hara and emerging Glasgow songwriter and soundsmith Kapil Seshasayee.
Indie music will have a strong presence throughout the programme, with newly announced performances from indie-pop duo Astrid (Willie Campbell and Charlie Clark), supported by Glasgow local Ewan MacFarlane, soulful Glasgow singer songwriter Unoma Okudo, Scottish act Dean Owens & the Sinners and Honeyblood's Stina Marie Claire.
UK folk trio The Magpies join The Lonesome Ace Stringband at Mitchell Theatre on Saturday 22nd January, critically acclaimed English folk duo Spiers & Boden will entertain Òran Mór audiences on Friday 28th January and Irish singer and guitarist SÍOMHA will play at Drygate on Saturday 29th January.
Celtic Connections Creative Producer, Donald Shaw, said: "It feels fantastic to be continuing to expand the Celtic Connections 2022 programme and give thousands of musicians a platform to showcase their art this winter. This expansive bill has something for everyone and is a welcome excuse for audiences to come out and support Glasgow's  flourishing music scene, our beloved venues and to reconnect with one another in person."


Celtic Connections 2022 will present an exciting combination of performances, landmark musical collaborations, talks, workshops, film screenings, theatre productions, ceilidhs, exhibitions, free events and late-night sessions.
Celtic Connections will have enhanced hygiene measures in place at its venues and operate in line with Government guidelines.