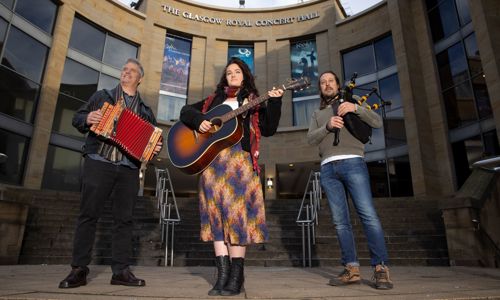 Celtic Connections opens as it celebrates 30 years
Celtic Connections opens as it celebrates 30 years
Europe's premier winter music festival, Celtic Connections opens in Glasgow today, Thursday 19th January, showcasing performances from some of Scotland and the world's brightest emerging musical talent alongside stalwarts of the scene and returning favourites.
This year's festival, which runs until Sunday 5th February, will see thousands of musicians from countries across the world, including the USA, Ireland, Mali and Morocco, perform across the city as it celebrates 30 years of showcasing and pushing the boundaries of traditional folk, roots, Americana, jazz, soul and world music.
With hundreds of thousands of visitors passing through the doors of Celtic Connections each year, the festival's contribution over the last three decades to Scotland's cultural landscape and international reputation, and the Glasgow economy during the dark month of January, cannot be understated.
Since the festival's inception in 1994, the number of events staged at Celtic Connections has quadrupled and the number of venues has grown 25-fold. Since its learning programme was established in 1999, more than 200,000 children and young people have taken part in its cultural events. This year sees the return of its educational arm in earnest, with three free school concerts and 44 workshops set to be delivered to school children throughout Glasgow.
The festival's legacy for championing emerging talent has also been ever present – the much-loved Danny Kyle Open Stage has showcased 146 finalists comprising 440 artists and the festival's New Voices strand, which allows young musicians to develop and perform brand new compositions, will this year top 76 stunning commissions. Celtic Connections is also supported by a team of 100 volunteers.
Tonight will see the 2023 festival open at the iconic Glasgow Royal Concert Hall with a 30th opening concert, celebrating Celtic Connections' rich history with performances from artists who have featured prominently over the last three decades. The once-in-a-lifetime line up includes Basco, Duncan Chisholm, Fergus McCreadie and Matt Carmichael, Karine Polwart, Kathleen MacInnes, Liam Ó Maonlaí, Maeve Gilchris, Peat & Diesel, Rachel Sermanni, Sierra Hull, Scottish Dance Theatre, TRIP, and The National Youth Pipe Band of Scotland.
They are joined by a special big band, originally brought together for the 2021 digital opening night and now performing together in person, featuring Duncan Lyall, Sorren Maclean, Fraser Fifield, Patsy Reid, Graham MacKenzie, Laura Wilkie, Michael McGoldrick, Hannah Fisher, Ross Ainslie, Anna Massie, Greg Lawson, Alice Allen, Alyn Cosker, James Mackintosh and more, many of whom feature elsewhere across the 18-day festival programme.
The musical feast continues on Friday as Glasgow-based VanIves bring their unique sound to Saint Luke's, where they will share the stage with local singer-songwriter kitti, who was recently named Best Vocalist at this year's Scottish Jazz Awards.
Talented jazz pianist and Scottish Album of the Year award winner Fergus McCreadie and acclaimed harpist and composer Maeve Gilchrist will team up with Mr McFall's String Quartet for a special performance at The Mackintosh Church, while Ian Carr & The Various Artists and the Madeleine Stewart Trio take over Drygate Brewery.
This weekend's packed schedule includes performances from Celtic Connections legends Saltfishforty with special guests, who will share the stage with multi-award-winning Scandinavian folk roots band Basco. Masters of fusion Treacherous Orchestra will play their first hometown gig in several years, alongside VÍÍK, who combine Scandinavian song tradition, progressive jazz and alternative rock. Colonel Mustard and The Dijon 5 will play a family-friendly matinee show, while elsewhere the legendary John McCusker will celebrate 30 years as a professional musician with a host of special guests at City Halls.
Highlights of the following two weeks include performances from outstanding Shetland musicians Jenna Reid and Harris Playfair, celebrating the upcoming release of their long-awaited duo record. When Mountains Meet / Jub Milain Pahaar: A musical adventure from Scotland to Pakistan combines Scottish and South Asian influenced music, storytelling, and striking visual images to recount the true story of Anne Wood as she sets forth on an unforgettable voyage from the Scottish Highlands to the Himalayas.
Glasgow Royal Concert Hall's Strathclyde Suite will host two dementia-friendly concerts, with Josie Duncan and Owen Sinclair, and Robyn Stapleton and Claire Hastings showcasing the power of music and its ability to kick-start the brain and unlock memories, with traditional song at the forefront.
Afro Celtic Connections will see Saint Luke's play host to Rise Kagona, the founder, lead guitarist and only remaining member of the mega-successful Zimbabwean rock band The Bhundu Boys, Diwan, who bring an exuberant fusion of funky mbalax and Afrobeat grooves, with undercurrents of ska, rock and Senegalese soul led by charismatic Senegalese singer Samba Sene, and Chief Cheb, a celebrated African philosopher, poet storyteller and music teacher.
Tramway will host the world premiere of Moving Cloud – an exciting collaboration of contemporary dance and traditional music created by Celtic Connections and Scottish Dance Theatre, showcasing a new score performed by a 14-piece folk ensemble featuring the musicians of TRIP and Sian along with Greg Lawson and Alice Allen.
Celtic Odyssée will take over Glasgow Royal Concert Hall in association with the Festival Interceltique de Lorient, with 18 artists from the eight European Celtic nations coming together in a remarkable celebration of their shared heritage. Musical Director for the night is Breton virtuoso piper Ronan Le Bars, who leads his all-Breton band, along with esteemed artists including Denez Prigent (Brittany), Karen Matheson (Scotland), Karan Casey (Ireland), Cerys Hafana (Wales), Fransy Gonzàlez (Galicia), Sylvia Quesada (Asturias), Lauren Chandler (Cornwall), Finlay MacDonald (Scotland) and many more. They will share the stage with Scottish fiddle-led four-piece FARA, who will bring their unique mix of captivating vocals, intricate fiddle harmonies and skilled storytelling to the Concert Hall.
Talented troubadour Jim Malcolm, acclaimed trad singer Susie Malcolm, their daughter, singer and keyboard player Beth Malcolm, and fiddle legend Pete Clark will celebrate Burns Night with an evening of song and good cheer at The National Piping Centre, while local record label Last Night from Glasgow will host a triple headline show at Oran Mòr, celebrating three of the label's most recent successes: wojtek the bear, Sister John, and Album Club.
James Grant and The Hallelujah Strings will perform at the beautiful Kelvingrove Art Gallery and Museum this year, not once but twice, after a second date was added due to demand. Audiences will be treated to James' signature rich vocals and outstanding guitar work, his incredible back catalogue performed alongside the Hallelujah Strings, a 14-piece string section led by Greg Lawson.
The festival will draw to a close on Sunday 5 February when the hotly contested BBC Young Traditional Musician of the Year competition reaches its conclusion, while Transatlantic Sessions celebrates its 20th year of showcasing the shared traditions of Scotland, Ireland and the US, and the GRAMMY Award-winning Fantastic Negrito plays tracks from his new album, supported by talented Nashville-based singer-songwriter and performer Tommy Prine.
Alongside the usual musical selection box, visitors can enjoy ceilidhs, workshops, talks, exhibitions and more over the 18 days.
Donald Shaw, Creative Producer for Celtic Connections, said: "Sharing our music and our arts is a vital part of our human existence – it allows us to feel rooted in place and connected to one another, enriching our lives in the process. Over the last 30 years, this is what Celtic Connections has always been about. As we take a moment to recognise and appreciate what we've managed to achieve over the last three decades, we go into this year's festival with feelings of immense determination, pride and gratitude.
"As ever we're incredibly excited to be welcoming people from across Scotland and the world to Glasgow to enjoy the very best in Celtic, folk, roots and world music. I know our musicians and everyone involved in the festival is ready to make this another incredibly special one in the calendar.
"With an incredible array of entertainment on offer, audiences can expect to be amazed wherever they find themselves across the city. It's amazing how when the atmosphere in a venue is so warm and the music so restorative, you don't notice the January rain or the wind outside."
Bailie Annette Christie, Chair of Glasgow Life, said: "The curtain rising on Celtic Connections' showcase of outstanding musical talent from Scotland and all over the world, with its vibrant programme of wonderful live performances in our city's venues, is always exciting.  And it's a particularly special occasion this year as we celebrate the 30th anniversary of the festival and acknowledge the huge contribution it has made over three decades to Glasgow's rich cultural offer.
"The richly deserved, exceptional reputation Celtic Connections has earned as Europe's leading traditional music festival - and the event's great importance to the city as a much-loved highlight that attracts thousands of visitors, enriching the lives of local, national and international audiences - is something that Glasgow takes great pride in. We are very much looking forward to welcoming everyone taking part in this year's festival."
Culture Secretary Angus Robertson said: "Celtic Connections shines a bright cultural light in the winter darkness and I'm delighted the Scottish Government is able to support this year's 30th anniversary event.
"This year's stunning line up of musicians reflects the huge amount of talent we have in Scotland and also the festival's standing internationally as world-famous artists travel to Glasgow to take part in the celebrations."
Tickets for Celtic Connections 2023 are available from www.celticconnections.com.