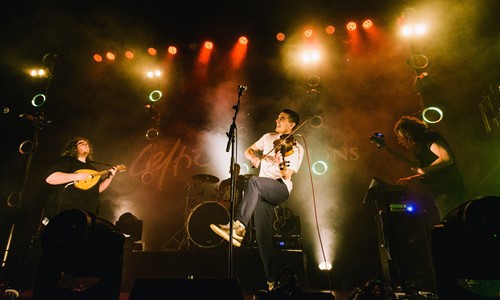 Celtic Connections set to showcase a series of special concerts this autumn
Celtic Connections set to showcase a series of special concerts this autumn
Celtic Connections, the UK's premiere celebration of roots music, is set to showcase a series of special concerts this autumn.
Celtic Connections, the UK's premiere celebration of roots music, is set to showcase a series of special concerts this autumn.
Best known as the largest winter music festival in Europe, Celtic Connections is closing out the 2022 programme with three special performances.
The rescheduled shows, which were due to be part of the festival in January but were postponed due to the COVID restrictions in place at the time, will be held in venues around Glasgow this autumn.
The first concert will see Australian indie-folk band Sons of the East, plus support, take to the stage at Oran Mòr on Friday 2nd September.
With their signature acoustic-electronic sound, Dan Wallage, Nic Johnston and Jack Rollins have garnered a worldwide following, achieving 150 million streams and over 30 million YouTube views. The group have released three EPs and a number of singles since their formation in 2011, and have headlined sell-out tours across Europe and Australia. Now onstage at Celtic Connections with their full five-piece band, Sons of the East will perform a variety of new music and classics from their soulful and joyous back catalogue.
Celebrating their tenth anniversary year, Highland folk-fusion legends Elephant Sessions will play the iconic Barrowland Ballroom on Friday 23rd September, with support from Anglo-Irish instrumental trad outfit Flook.
From humble beginnings in the Highlands of Scotland, Elephant Sessions have gone on to perform their signature blend of trad, funk and electronica around the world. A popular fixture of the Celtic Connections programme, having headlined multiple sell-out performances in previous years, the band have also made live appearances at some of the most notable venues and festivals in the world, including Glastonbury, Byron Bay Bluesfest, New York Tartan Week, and Colours of Ostrava.
Elephant Sessions is composed of Euan Smillie (fiddle), Alasdair Taylor (mandolin), Seth Tinsley (bass, synth) and Greg Barry (drums, samples). The gig will closely follow the release of the band's highly anticipated fourth album For The Night, set for release in early September.
Alasdair Taylor from Elephant Sessions said: "We're honoured to be performing at the legendary Barrowland Ballroom as part of our tenth anniversary celebrations this year. Celtic Connections has been such an important part of our journey as a band so we're delighted to be back for 2022. We're ready to put on an unforgettable show for the people of Glasgow!"
Celtic Connections is also delighted to welcome Chris Thile and Sam Amidon to the Glasgow Royal Concert Hall, New Auditorium on Sunday 13th November.
MacArthur Fellow and Grammy Award-winning mandolinist, singer and songwriter Chris Thile is a founding member of the critically acclaimed bands Punch Brothers and Nickel Creek. For four years, Chris hosted the radio variety show Live from Here with Chris Thile (formerly known as A Prairie Home Companion). In 2021 Chris released the album Laysongs, a new recording of six original songs and three covers, all relating to the concept of spirituality.
An experimental folk musician specialising in guitar, fiddle, and banjo, Sam Amidon is known for both his original songs and his updates of traditional folk tunes. Sam's music is characterised by his rich, atmospheric arrangements and gentle but evocative singing voice. His latest, self-titled album was released in 2020 and contains re-workings of nine mostly traditional folk songs, performed with his band of longtime friends and collaborators.
Celtic Connections Creative Producer, Donald Shaw, said: "Our first run of rescheduled shows took place during the summer and they were a fantastic success, it was brilliant to get to showcase the concerts we didn't get to in January and offer everyone the chance to gather and enjoy the music. The upcoming shows this autumn will be no exception and I can't wait to welcome the Celtic Connections crowds at this autumnal time of year."
Bailie Annette Christie, Chair of Glasgow Life, said: "Celtic Connections is renowned as an outstanding showcase for Scottish music and creative, cultural collaboration that delights local, national and international audiences. Its exciting programme, which attracts thousands of visitors to Glasgow, is always a great highlight that brightens our winter months.
"These rescheduled shows are another chance for audiences to connect and enjoy the music and entertainment that's their passion, and brings vibrancy and joy to Glasgow, our people and our visitors."
Despite there being restrictions in place for the first few days of Celtic Connections 2022, the festival still marked a welcome revival for the scene as musicians came together in celebration during an 18-day programme of events earlier this year.
Celtic Connections 2022 was the 29th edition of the world-famous event, which showcases hundreds of performances that span traditional folk, roots, Americana, jazz, soul and world music.
Each year the January blues are well and truly banished as Glasgow comes alive with hundreds of performances, landmark musical collaborations, talks, workshops, film screenings, theatre productions, ceilidhs, exhibitions, free events and late-night sessions.
Next year's festival will run from Thursday 19th January to Sunday 5th February 2023. Follow the conversation at @ccfest.
For the programme line-up and to purchase tickets please go to: www.celticconnections.com