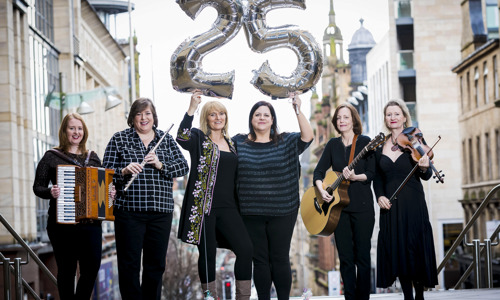 Celtic Connections turns 25
Celtic Connections turns 25
Celtic Connections will bring Glasgow to life over the next 18 days with concerts taking place in every corner of the city. The festival will celebrate its 25th anniversary this year and the party starts tonight with a very special Celtic Connections 25th Anniversary Concert.
This one-off show will welcome artists who have performed at the festival over the past quarter of a century and the outstanding line-up reflects Celtic Connections' enviable record for bringing world-class musicians from across the world to the Glasgow stage, and for showcasing an eclectic mix of musical genres. Artists performing include Cherish the Ladies, Sharon Shannon, String Sisters, Louis Abbott and Eddi Reader as well as Sharat Chandra Srivastava, Gyan Singh and Maya Youssef, plus many more special guests.

Twenty five years ago Celtic Connections began as a series of concerts celebrating music from the celtic nations, it has since transformed into a globally recognised festival of national importance. The unique and exciting collaborations from both home-grown and international talent ensures the festival continues to be a platform from which outstanding, one-off musical moments are showcased. Not only do artists flock from all over the world to perform on the Celtic Connections stages, but so too do audiences; some have been travelling here every year since the festival began.

When the festival started in 1994 doubters couldn't believe the "sheer audacity" of festival organisers in planning an event of such length and scale during the month of January, when purse strings were pulled tighter and people were more inclined to batten down the hatches on the dark, dismal nights than head out into the night to attend a gig, especially a folk gig!

From these initial scepticisms the Celtic Connections festival grew at an unprecedented rate, increasing from 66 events in one venue with 27,000 attendees in 1994 to 172 events across 11 stages with 50,000 attendees in 1997, to now putting on over 300 events across 28 stages and an attendance figure of over 110,000.

Not only has the Celtic Connections festival grown in terms of events, stages and visitors attending but it has also grown significantly in terms of the music that it showcases and the genres it embraces. Celtic Connections 2018 will embrace music from the past to music of the present, and will look ahead to the future of an increasingly experimental and exciting music scene.

With this year's line-up and one-off collaborations the festival will show how much Scotland's music scene has changed over the last 25 festivals, with the ever increasing evolution of musical styles and cross genre fusions of jazz, classical, folk, world and electronica.

The festival will run from Thursday 18 January to Sunday 4 February 2018. The 18 days of entertainment includes a mixture of concerts, talks, workshops, film screenings, ceilidhs, art exhibitions, free events and late night sessions.
Donald Shaw, Artistic Director of Celtic Connections, said: "With Celtic Connections' 2018 programme we have really tried to reflect the last 25 years of Scotland's unique and evolving music tradition and the worldwide influences that have made their mark on it. We are showcasing some of the very best home-grown talent this country has produced alongside a host of outstanding international talent. There are performers playing who were here right at the very start and some who, 25 years ago, people would never have expected to see perform on a Celtic Connections stage. Here's to 25 more years of bringing the best the world has to offer to Glasgow!" 
Councillor David McDonald, Chair of Glasgow Life, said: "Over the past quarter of a century the Celtic Connections festival has been brightening up dark Januarys in Glasgow. Since its modest beginnings, Celtic Connections has firmly established itself as the festival of choice not only for lovers of folk and traditional music but also for anyone who wants to enjoy outstanding music from across the world. It has firmly established a reputation for bringing world-class musicians from across the globe to the Glasgow stage and showcasing some outstanding one-off collaborations. Each year audiences from around the world flock to Celtic Connections and we look forward to welcoming them to our city over the next 18 days."