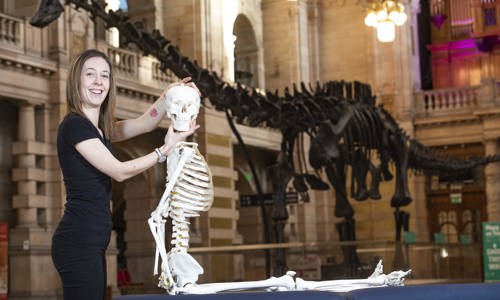 Clarkston Chiropractic delighted to support Dippy while he is in Scotland
Clarkston Chiropractic delighted to support Dippy while he is in Scotland
Glasgow Museums is delighted to welcome Clarkston Chiropractic as a Scottish Friend of Dippy on Tour: A Natural History Adventure.
While the impressive 292 bone structure, now resplendent as an imposing diplodocus cast, is on show at Kelvingrove Art Gallery and Museum the independent chiropractic business will share their bone expertise and have a little fun as Dippy's official 'Chirosaurus'.
Employees of the popular chiropractors, who have been in business for 10 years, are relishing the opportunity to spread the word about how best to look after your bones. The company's support has contributed towards Glasgow Museums extensive public programme showcasing the city's natural history collection and stunning local natural habitats, which complements Dippy's stay in Scotland.
Dippy's visit to Glasgow is the only Scottish stop on an eight city UK wide tour. Dippy on Tour: A Natural History Adventure is being brought to Kelvingrove Museum and visitors across the UK by the Natural History Museum, London in partnership with the Garfield Weston Foundation, and supported by Dell EMC and Williams & Hill.
Derek Leitch, owner of Clarkston Chiropractic said:
We are immensely proud to be a Scottish Friend of Dippy on Tour. His bones may be a smidge bigger than we are used to dealing with, but we will give it our best crack! Everyone in our practice, even our clients, are giddy with Dippy excitement. It's a wonderful adventure to be involved in.

Most children are fascinated by dinosaurs, they are a great way of talking to young people about all manner of scientific ideas. By supporting Dippy on Tour we hope to ignite a spark of imagination in all those who visit Dippy during his time in Scotland.
Chair of Glasgow Life, Councillor David McDonald added:
We are grateful to Clarkston Chiropractic for their support in becoming a Scottish Friend of Dippy on Tour. There is a wonderful sense of excitement surrounding the biggest thing to arrive at Kelvingrove Museum – quite literally – this year. Clarkston Chiropractic's assistance will not only help us share the message that Dippy is here until May, but enable us to inspire even more people to embark on their own natural history adventure and explore nature on their doorstep.
The human skeleton has around 270 bones at birth, a figure that decreases to around 206 bones by adulthood and measures on average 1.6m for a female and 1.7m for a male. In contrast the 170 million year old diplodocus, on which Dippy is based, would have stretched 21.3 meters in length, meaning the Southside based practice is currently on the lookout for a bigger chiropractic table.
Clarkston Chiropractic are an independently owned and operated chiropractic practice serving the communities of Glasgow Southside, East Renfrewshire and beyond. They practise a natural form of health care that focuses primarily on the optimum function of the spine and nervous system. Chiropractors perform gentle adjustments, by hand, applying a specific and precise force, in the right direction, to correct any dysfunction of spinal joints.
Independent charity Arts & Business Scotland has generously matched Clarkston Chiropractic's sponsorship through its Culture & Business Fund Scotland. This additional funding enables Glasgow Museums to support over 25 volunteers who are helping ensure the thousands of additional visitors to Kelvingrove enjoy their Dippy adventure. In turn, the programme offers volunteers the opportunity to develop new skills as part of this enjoyable and important role.
Carl Watt, Head of Programmes at Arts & Business Scotland, commented:
We are pleased to offer match funding for Clarkston Chiropractic's sponsorship of Dippy on Tour through our Culture & Business Fund Scotland. This support for over 25 volunteers will maximise the experience for visitors to this exciting exhibition during its time at Kelvingrove Museum. Partnerships like this show that exhibitions and cultural events can offer businesses a creative and unique platform to promote their offering while also helping to produce brilliant experiences for their local community and visitors to enjoy.
All donations to Glasgow Museums are very welcome and will help us keep natural history adventures alive for future generations to enjoy. You can donate at the museum or by visiting https://www.glasgowlife.org.uk/support-us/
Dippy on Tour: A Natural History Adventure is on show until 6 May 2019. Admission is free and you do not require a ticket to visit.
For further information on Dippy on Tour and associated events, visit www.glasgowmuseums.com/Dippy. #DippyOnTour