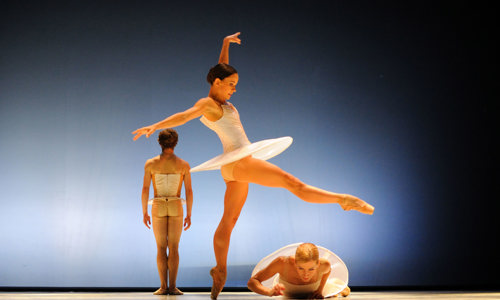 Cultural celebration for Estonian centenary to take place in Glasgow
Cultural celebration for Estonian centenary to take place in Glasgow
This November a city-wide festival of contemporary dance and performance, music, visual art and film and more by leading Estonian artists will be presented in Glasgow as part of the centenary celebrations of the Estonian Republic.
Estonia Now, which runs from Monday 12 to Sunday 18 November features work produced and presented by Tramway, the University of Glasgow, the Centre for Contemporary Arts (CCA) and TalkSeePhotography, Stereo, Strathclyde University, FutureScot and Glasgow Film Theatre.
The artistic line-up includes the Estonian National Ballet performing in Scotland for the first time, late night events starring leading figures from Estonian electronic music, and a contemporary performance triple bill of classic and new work.
Estonia Now also brings opportunities to learn more about the country's history, politics, digital sector and food with appearances by representatives from Estonia's business and public sector.
Estonia Now is co-produced by the Estonian Embassy in London as part of the Estonian Republic Centenary Celebrations. 
The Estonian National Ballet makes its Scottish debut at Tramway on Friday 16 and Saturday 17 November with a Triple Bill of short works by Estonian choreographers. Echo is choreographed by Glasgow-based dancer and choreographer and former Principal Ballerina with Scottish Ballet Eve Mutso.  Silent Monologues, choreographed by the Artistic Director of Estonian National Ballet Thomas Edur, is a piece for three couples exploring relationships. Work by Tiit Helimets, a choreographer and Principal Dancer with San Francisco Ballet, entitled Time completes the triple bill.  The Estonian National Ballet, which is based at the Opera House in Tallinn along with the Estonian National Opera, also celebrates its centenary in 2018.  On 16 November, choreographers Eve Mutso and Thomas Edur will take part in a pre-show talk.
A contemporary performance triple bill of classic and new work by three Estonian artists comes to Tramway on Tuesday 13 and Wednesday 14 November. Start. Based on a True Story by Mart Kangro was premiered 20 years ago and is regarded as a milestone of Estonian contemporary dance.   Imagine There's A Fish is the debut work by choreographer and performer Sigrid Savie and was first performed in Tallinn and Berlin in 2017. State and design is an award winning solo piece from 2016 by author and presenter Karl Saks.
Trial and Error is an Artists' Moving Image Programme presenting work by nine Estonian artists at Tramway from Monday 12 to Sunday 18 November.  The pieces screened fall within a thematic framework of everydayness and human attempts in coping with it. In a variety of ways the selected works open up daily life and simple routines, but all with a constant tension vibrating in the background.  Participating artists are Flo Kasearu, Mari-Leen Kiipli, Paul Kuimet, Laura Kuusk and Camille Laurelli, Marge Monko, Mark Raidpere, Liina Siib, and Ingel Vaikla, and the programme is curated by Kulla Laas and Kaisa Maasik. A curatorial tour for the programme will also take place on Monday 12 November at 3pm.
Trial and Error will be accompanied by a TalkSeePhotography event, Contemporary Love, at CCA Glasgow on Monday 12 November. A screening of artists' moving image work curated by multidisciplinary artist Marge Monko will be followed by a discussion event.
There is a rare opportunity for Scottish audiences to experience Estonian electronic music, at Stereo on Saturday 17 November in a late night show starting at 11pm.  The line-up for Electronic Communications stars Estonia's original House and Techno trailblazing pioneer Hypnosaurus, DJ Ilmajaam, HAPE and Cubus Larvik with Karl Saks, and Taikano powerhouse resident AJAY C from Glasgow.
Glasgow Film Theatre present work by leading Estonian Directors. On Wednesday 14 November, Estonian pagan legends and Christian mythologies come to a spell-binding intersection in Rainer Sarnet's feature film November, which was nominated for the Best Foreign Language Film at the 2018 Oscars.  Andres Maimik and Katrin Maimik's tragicomedy The Man Who Looks Like Me is an exploration of family and loneliness, the pursuit of happiness and a road to forgiving. This screening, on Saturday 17 November will be preceded by an award-winning short film Ice by Anna Hints.
On Thursday 15 November in Kelvin Hall Lecture Theatre the University of Glasgow presents From 1918 to 2018 and beyond, a public lecture and Q&A session with H.E.Ms Tiina Intelmann, the Estonian Ambassador in the UK, making her first visit to Glasgow. The event looks into the tumultuous past of the country and offers a glimpse of the future.  This is followed by Rodeo- Taming a Wild Country, a 2018 film documentary by Raimo Jõerand and Kiur Aarma. Set in the years following the first free elections in Estonia since World War II, the film is a portrait of Mart Laar, the first Prime Minister of Estonia following the country regaining its independence.
The importance of digital technology to Estonia is explored in an event at the Strathclyde University Technology & Innovation Centre on Friday 16 November co-organised with FutureScot.  At Strongest, Smartest, Easiest representatives of the Estonian Government's e-government initiative, Linnar Viik and Adam Rang will discuss the country's advances in this sector and its importance to future development.
While there's literally a taste of Estonia on Sunday 18 November with a special Estonia Now Brunch at Gandolfi Fish, serving traditional Estonian cuisine such as  Kama, Baltic Herring and Pulled Wild Boar.
Councillor David McDonald, Chair of Glasgow Life and Deputy Leader of Glasgow City Council, said
Estonia Now provides a fascinating opportunity for audiences in Glasgow to experience work by some of Estonia's leading artists and to learn more about the country's cultural landscape.
"As one the city's leading international art spaces, Tramway will be at the heart of the festival, bringing new contemporary arts for everyone to enjoy.
"I would encourage everyone to join us in our welcoming and diverse Glasgow celebration of Estonian culture, taking place as part of the Estonian Republic centenary celebrations. Through Estonia Now we can share inspirations and ideas, ambitions and attitudes, and help build new links for the future."
Her Excellency Ms Tiina Intelmann, Estonian Ambassador in the UK, said
Estonia Now brings to you the past and present of Estonia and is intended to mark 100 years from the establishment of our state. Today, Estonia is a modern and cool Nordic country, fully integrated into our common European space and culture, a wonderful place to visit and to live in. I am glad that this festival happens in Glasgow, a vibrant city with which we have enjoyed a longstanding and fruitful relationship.

"People make Glasgow and people make Estonia. Estonia Now is a wonderful celebration of our shared European values and culture.

"Estonia and Scotland have longstanding cultural ties and I'm proud to say that some of the remarkable Estonian artists have also shaped Glasgow. Neeme Järvi as a Conductor Laureate of the Royal Scottish National Orchestra or Eve Mutso, former Principal Dancer of Scottish Ballet, to name a few. We hope that Estonia Now further revitalises and expands our cultural and economic cooperation."
Choreographer and dancer Eve Mutso, said
Estonian National Ballet's performances in Glasgow at Tramway as part of Estonia Now will be an exciting and emotional time for me. Estonia and Scotland are both my homes and seeing them come together thanks to Echo's performances in Glasgow is very special to me. Special times, special places!"
Tramway is supported by Glasgow City Council and Creative Scotland.
To find out more and book tickets visit EstoniaNow.org