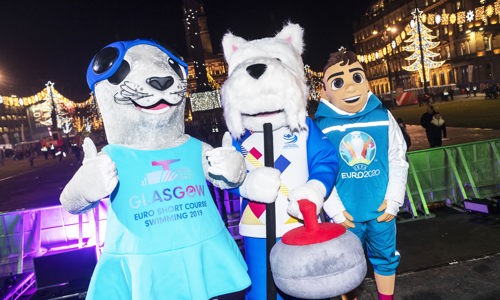 Curling mascot steps into the spotlight at Glasgow Christmas Lights Switch-On
Curling mascot steps into the spotlight at Glasgow Christmas Lights Switch-On
As the countdown to Christmas officially began in Glasgow yesterday (Sunday 17 November) the mascot for the LGT World Men's Curling Championship 2020 was unveiled to the excited 13,000-strong crowd, as the Christmas lights sparkled into life in George Square.
Sweep, the West Highland Terrier, making his inaugural public appearance, was on show as part of Glasgow's mascot trio. Complete with brush and curling stone, Sweep who was named by the public in a Twitter poll, joined, Bonnie the Seal limbering up for next month's European Short Course Swimming Championships at Tollcross, and Skillzy the UEFA EURO 2020 mascot, checking out the atmosphere in George Square, which will be transformed into a fabulous Football Fan Zone during the Championship next summer.
Sweep, is a passionate curling fan and hails from the legendary Ailsa Craig, home of the unique curling stone granite. He is excited to have been chosen as the fun and friendly face of the Championship and with his energetic terrier traits, he is guaranteed to be a big favourite with the curlers and the public alike.
The World Men's Curling Championship will be returning to Scotland, the home of curling, for the first time in 20 years, last held in Glasgow in 2000. Scotland is the perfect stage for international sporting events and Glasgow has been officially recognised as one of the top five global sporting cities.
The Championship will take place over nine days at the iconic Emirates Arena in Glasgow, from Saturday 28 March to Sunday 5 April 2020. It will be the first time the Emirates has held an ice event, demonstrating its versatility as a world class sports venue in the heart of the community, where spectators will be able to get close up to the action.
This popular Winter Olympic sport will showcase the very best men's curling athletes from across the world, as they go out on the rink determined to earn Olympic qualification points for the next Games in Beijing in 2022. You might even see the eventual Olympic champions!
Scotland has a strong track record at the World Championships having won the title no less than five times and has amassed the third highest tally of 34 medals behind Canada and Sweden. Most recently Scotland's Team Mouat won bronze at the 2019 edition.
Tickets to this event make the perfect Christmas gift and are now on sale now.
From the passionate curling fan committed to seeing every stone thrown, to those keen to experience the thrill of an Olympic sport live on their doorsteps for the very first time, there are a range of ticket options available starting at just £12 for adults and £3 for juniors for a single session. To book your seat now go to https://wmcc2020.com/fan-packages-and-tickets/
The LGT World Men's Curling Championship 2020 is being delivered by a partnership between Glasgow Life, UK Sport, EventScotland and Scottish Curling.