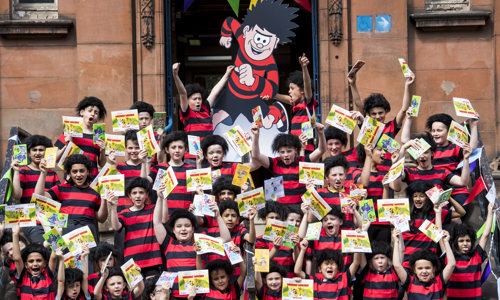 Dennis flashmob launches Beano-themed reading challenge in Glasgow
Dennis flashmob launches Beano-themed reading challenge in Glasgow
There was a mass invasion of mischief at Glasgow's Langside Library today (Tuesday) as forty-five Battlefield Primary school pupils, dressed as popular Beano character Dennis, descended on the busy library.
Armed with their library cards, the troop of spiky-haired mischief makers put their literacy skills to the test as they picked out their very first Tesco Bank Summer Reading Challenge books ahead of this year's Mischief Makers themed Challenge, which begins on 25th June.
Councillor David McDonald, Chair of Glasgow Life, said:
This summer, Dennis and the Beanotown gang will be filling our libraries with pranks, jokes and mischief to encourage young Glaswegians to take part in the Mischief Makers Tesco Bank Summer Reading Challenge Scotland.

Last year more than 4000 young people in our city took part in the Challenge and this year promises to be even bigger, with Glasgow's libraries creating fantastic opportunities for young people to engage with reading throughout the summer holidays.

I'm sure all young people will enjoy reading books packed with jokes, pranks and fun and I hope all young Glasgow residents visit their local library this summer to take part in this mischievous reading challenge
Run by charity The Reading Agency, in partnership with library services and Tesco Bank, this year's challenge – Mischief Makers - will see young Glaswegians flock to their local library to explore books packed full of adventure, invention, mischief and good old friendship.
Each year the Challenge is based around an exciting new theme to inject fun and creativity, motivating children to read for pleasure during the summer holidays, a time when children's literacy skills can dip with potentially damaging effects.
This year, The Reading Agency has partnered with Beano to offer the Mischief Makers Challenge, celebrating 80 years of the iconic publication.
Eager readers keen to take up the Challenge are invited to head to their local Glasgow library this summer, sign up and read six books of their choice during the school holidays. And with special stickers, rewards and prizes on offer there'll be loads of reasons to keep reading all summer.
Since 2011, the Tesco Bank Summer Reading Challenge Scotland has been drawing children into their local libraries and inspiring them to read for pleasure. The challenge combines free access to books with fun social activities and a creative online element.
Last year, 761,758 children across the UK took part in the Animal Agents themed Challenge, including 4,159 young people across Glasgow.
This year, libraries across the city will be hosting an array of exciting events and activities to help even more youngsters engage in the programme.
Free 'Beano-inspired' activities including innovative storytelling events, action-packed workshops and craft sessions will be delivered in libraries across Glasgow, with library staff on hand to support children, helping them to discover new authors and explore a wide range of different types of books.
The Tesco Bank Summer Reading Challenge runs from 25th June – 10th August and is open to anyone aged 4-12, with a special mini-challenge to keep the under 4s entertained too. To find out more, please visit: www.glasgowlife.org.uk/libraries