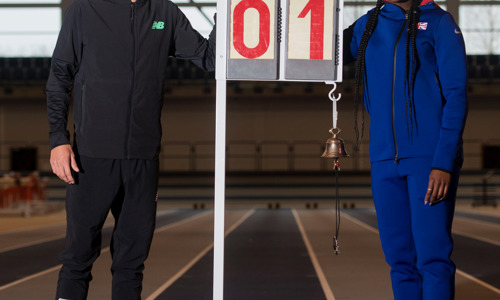 Double Olympian delight as Glasgow 2019 smashes through one-month-to-go milestone
Double Olympian delight as Glasgow 2019 smashes through one-month-to-go milestone
Asha Philip and Andrew Butchart today shared their excitement as European Athletics Indoor Championships Glasgow 2019 fast approaches.
There is now only one month to go until some of the world's leading athletes descend on Glasgow between 1-3 March and today, Philip and Butchart were in front of the mass media at the Emirates Arena sharing their feelings ahead of the Championships.
The Championships will return to the iconic city for the first time since 1990 and there will be 650 athletes from more than 45 nations setting their sights on glory, as they touch down next month.
Asha Philip, a British sprinter, has had nothing short of a remarkable career. She sparked her athletic journey by rewriting the history books as a teenager, as she became the IAAF World Youth Indoor Champion in 2007.
Since suffering a career-threatening cruciate injury, which meant she was unable to take part in any physical activity for two years, she has made an incredible return.
The Emirates arena will be the place to be in early March! I'll put on a good show along with the other Scottish athletes and give the crowd something to cheer about. Super excited to get on the track and race in front of a home crowd.
Philip now holds a wealth of titles to her name and can proudly say she is an Olympic bronze medallist and European Indoor 60m champion, currently holding the national record across that distance, to name just a few.
"Now that we've officially passed one-month-to-go milestone until the European Athletics Indoor Championships Glasgow 2019, my excitement levels are very high as I am sure the rest of the athletes are too," said the Commonwealth gold medallist.
"To have the opportunity to compete at a fantastic event in a world-class venue in front of a home crowd, is something that I can't wait for. The competition will be tough for all athletes, my aim is to keep working hard to make sure I give myself the best chance of arriving in Glasgow in top condition ready to compete for a medal."
The city of Glasgow welcomes the return of the Championship as it continues to build its reputation as a truly world class sporting city.
The competition will be the second major European event held in Glasgow within twelve months after a hugely successful inaugural European Championships last August. Glasgow continues to receive global recognition for this reputation with a coveted top five ranking as a sporting destination.
Andrew Butchart, the British 5,000m runner, has turned in some amazing performances at the highest level in sport, most notably, at the Olympic Games in 2016 and at the IAAF World Championships in 2017.
The Stirling-born runner will have his sights set on clinching success in front of a home crowd next month as he comes off the back of a major injury which meant the 27-year-old was forced to rule himself out of last year's Commonwealth Games.
Glasgow 2019 will present a real opportunity to not only perform but a chance clinch success in front of a home crowd.
He said: "The Emirates arena will be the place to be in early March! I'll put on a good show along with the other Scottish athletes and give the crowd something to cheer about. Super excited to get on the track and race in front of a home crowd."