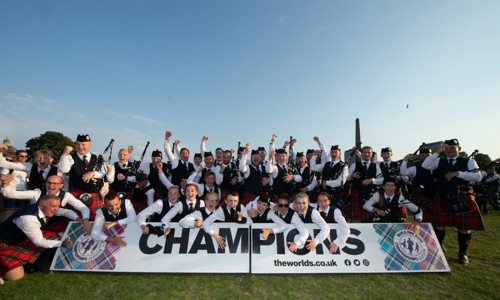 Field Marshal Montgomery Pipe Band named 2022 World Champions
Field Marshal Montgomery Pipe Band named 2022 World Champions
Field Marshal Montgomery Pipe Band from Northern Ireland are the 2022 World Pipe Band Champions. They saw off competition from runners-up Inveraray and District Pipe Band and Scottish Power who finished in third place.
Over 40,000 spectators descended on Glasgow Green across two days for the first Worlds since 2019. They watched 146 bands and thousands of pipers and drummers compete over the two days.
The nations represented in this year's line-up included Austria, Australia, Canada, England, Ireland, Israel, Northern Ireland, Scotland, and the USA. For the first time, a pipe band from Argentina also competed.
Glasgow, a UNESCO City of Music, first hosted the World Pipe Band Championships in 1948 and has been the host city for the event every year since 1986.
The World Pipe Band Championships are delivered by the charity Glasgow Life on behalf of Glasgow City Council with support from EventScotland, part of VisitScotland's Events Directorate.
Glasgow's Lord Provost Jacqueline McLaren, who was Chieftain of this year's championships, said: "I'm proud to have served as Chieftain and would like to thank the bands and spectators from all over the world who came to Glasgow. It has been wonderful to have the Worlds back at Glasgow Green and the carnival atmosphere that it brings with it. Congratulations to Field Marshal Montgomery Pipe Band on being crowned World Champions and to all the musicians who took part in this thrilling competition."
Kevin Reilly, Chairman of The Royal Scottish Pipe Band Association, said: "Nothing compares to the Worlds, both in terms of atmosphere and the high standard of performance. This is the pinnacle of pipe band competition which musicians work tirelessly towards for months, and it shows. Once again, this weekend has produced some truly memorable performances. We have had to wait three years, but the Worlds are back with a bang, and Field Marshal Montgomery are deserving winners."
Paul Bush OBE, VisitScotland's Director of Events, said: "The World Pipe Band Championships is the highpoint of the piping calendar, and it has been great to see pipers and drummers from all over the world once again returning to Glasgow. Well done to all the bands who took part in this fantastic competition and congratulations to Field Marshal Montgomery on being crowned 2022 World Pipe Band Champions. EventScotland was delighted to support The Worlds as part of our International Events Programme, adding to our diverse portfolio of cultural and sporting events across the country, reaffirming Scotland's position as the perfect stage for events."
Aside from world-class pipers and drummers, the event also showcases Scottish food and drink. The Traders Village also means spectators can choose from a range of souvenirs to remember their time at this unforgettable event.
The 2023 World Pipe Band Championships will be at Glasgow Green on Friday 18 August and Saturday 19 August.