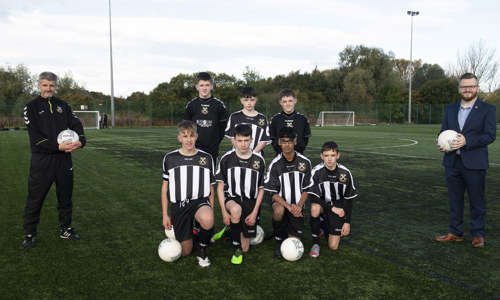 Football Community Activation Pilot launches across city
Football Community Activation Pilot launches across city
Glasgow Life's innovative Community Activation Pilot, first announced last month, is now live in three football venues across the city.
In partnership with four clubs and groups, the charity has developed this Pilot to give more young people and grassroots organisations access to outdoor pitches in Glasgow.

Building on relationships and partnerships with four key anchor groups, Glasgow Life's football development team is working with FARE and Easterhouse Football Academy at Stepford Sports Complex, Partick Thistle Charitable Trust at Springburn Synthetic Pitch, and Pollok United at Nethercraigs Sports Complex.

The Pilot got under way on Saturday morning (10 Oct) at Nethercraigs as around 20 under-18s players from Pollok United Soccer Academy took to the venue's eight pitches for training and friendlies. Stepford and Springburn will see the first players take to the pitches tonight (Monday 12 Oct).

With over 18,000 players registered in Glasgow clubs, the Pilot is designed as a temporary emergency response to the current challenges faced by Glasgow's significant football community, and with the purpose of limiting the damage to communities by current restricted access to football facilities.

By supporting capacity and developing programming with other clubs and users, these partnerships in three key locations will maximise the collective resources available and minimise operational costs, all while providing facility access.

Councillor David McDonald, Depute Leader of Glasgow City Council and Chair of Glasgow Life, said:
"During the uncertainty of Covid-19, and following the lockdown faced by everyone across the country, we're delighted that this partnership will allow some outdoor pitches to reopen, and give our young people a chance to grow and develop their love for football again.

"Together with the Council, Glasgow Life has created new models of operation in order to open city venues which can support lifeline services for the local communities they serve, and this Community Activation Pilot is part of our ongoing emergency city response to the global pandemic."

The reopening of these three pitches caters to the large number of teams registered in these areas. Of the football teams registered in Glasgow, 45% are in the north east of the city, and 40% are in the south.
Councillor McDonald added:
"By working closely with Pollok United, FARE, Easterhouse Football Academy, and Partick Thistle Charitable Trust, we've developed a plan which will see social, health, and economic benefits in key areas across the city, and where we know it's needed most.

"This progress of this Pilot will be carefully monitored across the coming months and, if it's as successful as we think it'll be, we'll explore opportunities to extend it to other venues in Glasgow."