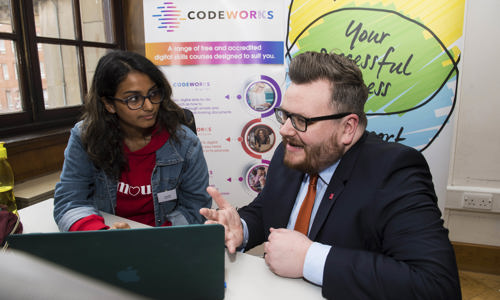 Free Digital Skills Initiative celebrated at Mitchell Library
Free Digital Skills Initiative celebrated at Mitchell Library
Digital Skills seekers joined the Chair of Glasgow Life, Richard Hastings from J.P. Morgan and Craig Green from Glasgow Kelvin College at the Mitchell Library on Thursday (6 June) to celebrate Glasgow Life's new digital skills initiative, Glasgow Code Learning.
Developed to bridge the gap in knowledge between job seekers and the web-based skills increasingly required in the job market, the free, accredited Glasgow Code Learning course creates opportunities for learners to develop digital skills, including coding and web development to enhance their employability.
Supported by J.P. Morgan and delivered in partnership with Glasgow Kelvin College, the flexible Glasgow Code Learning courses are delivered online and supported by tutor-led drop in sessions at Glasgow Kelvin College campuses and Glasgow Libraries city-wide.
Ranging from entry level Glasgow Code Learning: Digital for those with little or no computer skills to the more advanced Glasgow Code Learning: Developer and Glasgow Code Learning: Pro, the courses offer a range of learning options tailored to individual need.
Julie Struthers, from Clarkston, took part in Glasgow Code Learning: Developer earlier this year as a stepping stone back into the field of engineering.
Julie said:
Having been an engineer for a long time, I took a career break and worked in early years' education, but I knew I wanted to go back to engineering. Even though I have good qualifications I've been out of engineering for so long and I don't feel I have the experience I need anymore.

I've struggled with lack of experience so I knew I needed some new skills, and I needed to be more up to date. I'd done some programming in the past and I did really like that. I was searching online for help to develop my skills, when I found the Glasgow Code Learning programme.
Julie signed up for the eight week programme online, and met her tutor at the city's Mitchell and Pollok libraries throughout the course.
She continued:
The first thing that attracted me to the course was that it's free and flexible, which is really good, but it also wasn't too isolating because you get a tutor," she said.

I didn't fancy something that was totally online – you know, a faceless thing, where you don't meet anybody. I meet with my tutor weekly, plus I can chat to other people on the course at those sessions too.
Having worked through the five course sections designed to explore programming, the internet of things, cyber security and digital marketing, Julie is looking forward to progressing to the next Glasgow Code Learning level in the autumn.
She said:
Programming was definitely my favourite part, but you do need to know about the other areas too. The Developer course provided an introduction but the next level, Glasgow Code Learning: Pro, is apparently quite a jump so I'm looking forward to the challenge.

I'd certainly recommend the course. Someone could even do it while working in a totally different field if they were just thinking about a career change, because it's not as big a leap as quitting your job or spending a lot of money on a course. And apart from the times where you see your tutor for your assessments, the rest of the course could be done online yourself if you wanted to. It's great for letting someone try out IT without a big commitment.
Councillor David McDonald, Depute Leader of Glasgow City Council and Chair of Glasgow Life, said: 
Every day, our world is becoming more and more reliant on technology and that's why I'm delighted that Glasgow Life has partnered with JP Morgan and Glasgow Kelvin College to deliver the Glasgow Code Learning programme, offering people of all ages the chance to engage with new technology, nurturing creativity and teaching logic and problem-solving skills through computer programming.

Our libraries are a hub of digital creativity and together we are able to de-mystify computer programming and support residents to develop these vital skills, up-skilling them for future employment and empowering them to build technology for their future, regardless of age of ability.
Richard Hastings, Glasgow Head of External Relations, J.P. Morgan, said: 
Democratising access to digital skills has a significant impact on individuals' employability as well as wider economic success. We are delighted to support the delivery of the Glasgow Code Learning Programme, helping to give people from all walks of life access to the skills needed to succeed in the job market of both today and the future.
Alan Sherry, Principal of Glasgow Kelvin College, said:
Glasgow Kelvin College is the key provider of accessible vocational skills and core-skills learning in the north and east of the city. It delivers high-quality introductory to degree-level programmes to around 16,000 students each year from four campus buildings and through a large network of community-based centres. Engaging with many communities which experience high levels of deprivation, the College is delighted to work in partnership with Glasgow Life and JP Morgan to help create knowledgeable, digitally competent and skilled individuals for a growing digital economy.
If you're interested in signing up to the Glasgow Code Learning Programme, or would like to find out more, please visit: https://www.glasgowlife.org.uk/libraries/glasgow-code-learning