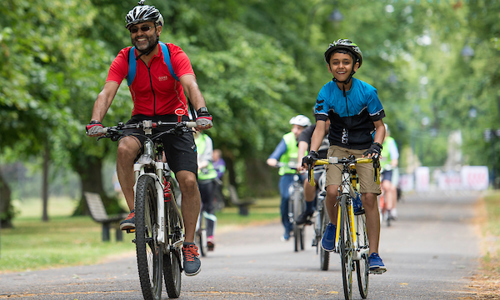 Free Family Cycling Festival to Return to Glasgow in August
Free Family Cycling Festival to Return to Glasgow in August
British Cycling and HSBC UK have announced that they will be returning to Glasgow in August following the success of last year's free, family cycling event.
HSBC UK Let's Ride Glasgow (formerly Sky Ride) will take place on Sunday 26 August, when 5 kilometres of city centre roads will be closed to motor traffic to give participants the perfect opportunity to explore their city on two wheels.
The event will take place shortly after the Glasgow 2018 European Championships, giving the people of Glasgow the chance to get involved in cycling following what is set to be an inspirational event for the city.
This year's event will have a strong community focus, linking up with local attractions, while along the route there will be a range of local community groups, bike shops, local performers and giveaways, with participants encouraged to hop off their bikes and find out more.
Cllr David McDonald, the Chair of Glasgow Life and Deputy Leader of Glasgow City Council, said:
"Cycling is hugely popular in the city and I'm delighted that the HSBC UK Let's Ride Glasgow event will be back in August. Just a few weeks after some of the world's best cyclists have competed in the Glasgow 2018 European Championships, the city's roads will be turned over for all of us to take to our bikes. It promises to be another fantastic, family day of active fun and participation and I hope everyone will get involved."
Full details of the day's activities and route will be announced in due course.
For more information, visit www.britishcycling.org.uk