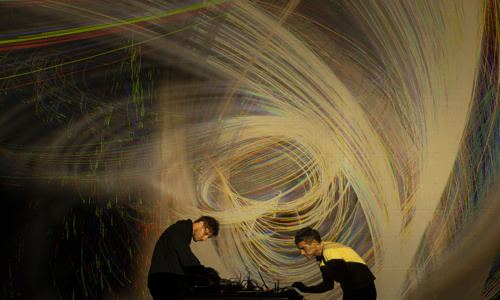 Full Sonica programme revealed for festival's 10th anniversary edition
Full Sonica programme revealed for festival's 10th anniversary edition
One of the world's largest celebrations of visual sonic art, Cryptic's renowned biennial Sonica Festival, will showcase a groundbreaking international programme comprising 200 events by more than 85 artists from 10 countries.
Highlights include composer and musician Alex Smoke live in Paisley Abbey; Gavin Bryars conducting the RSNO with live visuals from Alba G. Corral; and Roly Porter and MFO collaborating with celebrated Gaelic singer Anne Martin, both at Glasgow's Tramway Theatre; Argentina's Jorge Crow exploring the legacy of the cassette in Kinemancia; a live played video game through doomed digital environs in InLAND;a double-bill from Ela Orleans and British-Rwandan sound artist Auclair; an interactive experiment in taste and sound in Unusual Ingredients and Maotik's Erratic Weather (main picture above) turning live weather data into an onstage hurricane with cello accompaniment.
The full programme has today (Thursday 20 January) been announced for Sonica 2022, as one of the world's largest celebrations of visual sonic arts celebrates its 10th anniversary. Produced by Glasgow-based Cryptic, the festival will showcase 200 events, installations, screenings and talks by over 85 artists from 10 countries at venues across Glasgow and beyond from 10-20 March, with all installations free to attend.
Sonica 2022 will shine a spotlight on contemporary French artists – look out for Maotik, Annabelle Playe, Collectif Coin, Guillaume Cousin and Virgile Abela whose work is presented throughout the festival – as well as welcoming artists and performers from Australia, Spain, Canada, Myanmar, Switzerland, and more, alongside showcasing the best in established and emerging Scottish talent.
For the first time ever, Sonica will be presenting Sonica Next Gen:, a unique showcase of the best young audiovisual artists in Scotland supported by PRS Foundation and PPL in association with Youth Music.
In Space Race, Emily Brooks-Millar and Lew-C explore the prickly legacy of Yuri Gargarin's triumph as the first man in space, through music and animation. Harry Gorski-Brown's film I.Been a badboy:- cut me loose is inspired by Iain Banks's The Wasp Factory and the notion of waste, real and metaphorical. And Heretik by Samm Anga draws on Nigerian storytelling traditions to suggest routes out of our increasingly dystopian present. All aged under 25, these visionary artists are the next generation of Sonica headliners. (10-20 March at The Lighthouse).
Cathie Boyd, Cryptic's Artistic Director, said: "This year, Sonica celebrates its 10th anniversary, having presented 330 artists at 980 events to audiences of more than 180,000. Now more than ever, audiences are looking to have all their senses ravished and Cryptic couldn't be more excited to be one of the first big festivals happening in Scotland in 2022, welcoming people back through the doors of 11 venues across Glasgow and beyond.
"We are thrilled to be back at Tramway with large-scale live performances as well as installations throughout the building and outside in the Hidden Gardens. We are also delighted that The Lighthouse will open for the duration of the festival where you can see the beautiful immersive work, Frozen Music.
"Sonica would not be possible without the generous support of our much-needed funding partners, venues, embassies, trusts and foundations. A massive thank you to Creative Scotland, PRS Foundation, Glasgow Life, Institut Français d'Écosse, Anglo Arts, Tramway, The Lighthouse, CCA, and the many organisations and individuals who have helped make this event possible. 
"I hope you will find Sonica Glasgow 2022 both inspiring and memorable and please share your experiences of the festival using #SonicaGlasgow on your social media channels."
Councillor David McDonald, Chair of Glasgow Life and Depute Leader of Glasgow City Council, said: "It's wonderful to be welcoming Sonica back to Glasgow, particularly in light of the difficulties the arts and performance sector has faced since the start of the pandemic.
"Sonica is recognised as one of the world's best sound and visual arts festivals and will once again bring a captivating mix of immersive and cultural experiences to our city.
"Showcasing the talents of various Scottish and international artists, this year's extensive and diverse offer opens with two outstanding performances at Tramway which will set the scene for a rich variety of global and local programming across many of Glasgow's much-loved venues and arts spaces."
For more information and to book tickets, visit https://sonic-a.co.uk/ and https://ticketsglasgow.com.