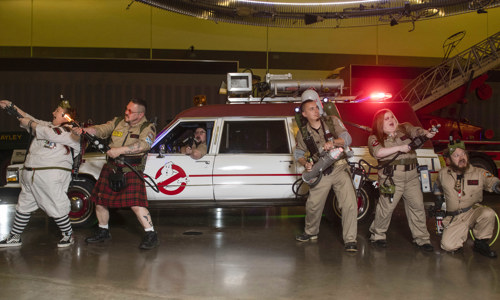 Ghostbusters iconic Ecto-1 Cadillac delights movie and motor fans at Glasgow's Riverside Museum
Ghostbusters iconic Ecto-1 Cadillac delights movie and motor fans at Glasgow's Riverside Museum
A replica of Ghostbusters spectacular Ecto-1 Cadillac has slid into place at Glasgow's Riverside Museum. It will be on show until Thursday 10 November.
A replica of Ghostbusters spectacular Ecto-1 Cadillac has slid into place at Glasgow's Riverside Museum. It will be on show until Thursday 10 November.
The character car is sure to be a hit with movie and motor fans, in the lead up to Halloween. A real Hollywood gem, the car is based on the 2016 comedy movie Ghostbusters: Answer the Call, a remake of the hugely popular 1984 movie of the same name. Filmgoers will remember the amusing antics of Melissa McCarthy, Kristen Wiig, and their ghost-catching colleagues, who opened their own business in New York, in the third movie in the Ghostbusters series.
The famous Ectomobile is a modified 1959 Cadillac Miller-Meteor Sentinel ambulance, which was converted into a limo-style car to speed the Ghostbusters around Manhattan. It is the latest in a long line of incredibly popular cult cars to grace Riverside's forecourt, and the first since 2019.
It follows much-loved appearances of James Bond's striking Aston Martin DB5, Lightning McQueen, the Batmobile and Chitty Chitty Bang Bang. The arrival of the Ecto-1 offers visitors an opportunity for some light-hearted film fun this autumn and a rare opportunity to get close to another much-loved vehicle intrinsically linked to the silver screen.
Stewart Thompson, manager of Riverside Museum, said:
"The instantly identifiable Ecto 1 needs no introduction. The Ghostbusters car looks right at home amongst the world-class collection of vehicles on show at Riverside Museum.

"This Hollywood favourite is certain to make everyone smile and with its loud siren, impressive speaker set up and flashing lights we think it will be a real showstopper this autumn. And with its links to all things ghostly, it's a perfect addition to the programme of fun, free family activities we have on offer at Riverside in the run up to Halloween."
Members of the group Ghostbusters of Glasgow were given a rare treat when they were allowed to sit in their heroes' car as the Ecto-1 was placed into position at Riverside ahead of its month-long visit to the museum. Visitors to the museum can take photographs beside the car but will not be able to sit in it.
Given the change of weather Riverside Museum is re-introducing a packed programme of free, fun, family activities throughout October. This will complement several paid-for events, in the lead up to Halloween.
Live ghost stories focused on a terrifying Gorbals vampire, child friendly 'Meet the zoologist' sessions, which bring natural history to life, and a self-led 'Slimy Trail' to find ghosts hidden around the museum will be offered across the month at no cost. An outdoor Halloween themed fairground and maze will be onsite during the school October week.
Dressing up and spooking people out will culminate in a free family disco inside the museum on the afternoon of Saturday 29 October. This will precede an adult-only paid for New-York themed Halloween disco curated by Melting Pot on the same evening. Tickets are on sale now for the disco spectacular evening event which will feature a stunning soundtrack, performing vampires, and much more.   
The multi-award-winning Riverside Museum is free to enter. It shows off the breadth of Glasgow's world-class travel and transport collection through its multidisciplinary story displays. Highlights include a 1900 recreated Glasgow Street with shops, pub and subway station and a huge transport collection featuring some of the world's oldest and finest cars, bikes, ship models, locomotives, and trams.