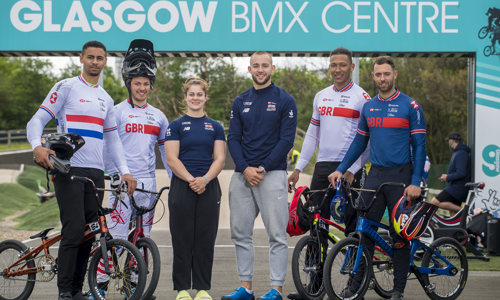 Glasgow BMX Centre welcomes UCI BMX Racing World Cup
Glasgow BMX Centre welcomes UCI BMX Racing World Cup
The Glasgow BMX Centre will be at the heart of the action this month, as the city welcomes the UCI BMX Racing World Cup (28-29 May).
This will be the first international BMX event to take place in the city since the 2018 European Championships, and crucially will provide a showcase of the excitement to come next summer, when the venue hosts the 2023 UCI Cycling World Championships.

The state-of-the-art facility is the only permanent venue constructed for the 2018 European Championships and is Scotland's only World and Olympic standard BMX track and just the second in Britain.

The venue is a base to several clubs; Western Titans, Glasgow Riderz and Movement Park, and used by other local clubs, schools and community groups, Glasgow Life's ambition is to see even more young people get the opportunity to take up this thrilling sport on the back of hosting the World Championships.
This ambition is being brought to life with the announcement today (23 May 2022) of a FREE BMX Accreditation scheme for local youngsters 8-15 years of age, that will equip them with the skills to use the track safely during public sessions and to progress their BMX journey with local clubs or groups.

The free, two hour sessions on two consecutive weeks run from 2 June to 8 September with 200 places up for grabs, and are a great option for kids keen to enhance their BMX skills during the school summer holidays. To register and book go to: https://www.glasgowlife.info/summerbmx

Visiting Glasgow BMX Centre today to meet some of the GB stars training ahead of this weekend's event and to launch the scheme, the new Chair of Glasgow Life, Councillor Annette Christie said: "Glasgow is delighted to be playing host to the UCI BMX Racing World Cup this weekend. It will be a fabulous spectacle and fantastic to see the world's best riders, including the magnificent GB team, show youngsters just what is possible with training and hard work here at the Glasgow BMX Centre.

"It will be a great taste of what is to come at the UCI Cycling World Championships next year and I am particularly delighted that Glasgow Life is providing funding for even more local youngsters to develop key skills and obtain their accreditation to use the track at this brilliant facility.

"Glasgow is well known for hosting major international events, but equally important is ensuring that there is the opportunity for our communities to engage with these sports and get active, thanks to accessible local facilities like this one."

Some tickets for the UCI BMX Racing World Cup are still available: https://www.ticketmaster.co.uk/2022-uci-bmx-racing-world-cup-glasgow-28-05-2022/event/36005C629486168A