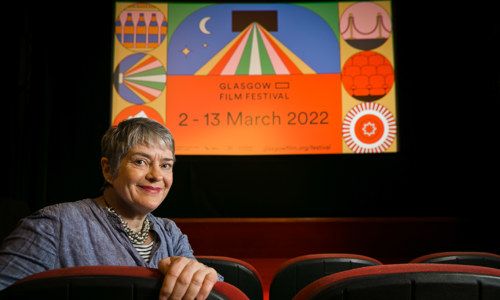 Glasgow Film Festival unveils packed 2022 programme
Glasgow Film Festival unveils packed 2022 programme
Glasgow Film Festival (GFF) has today (Thursday 27 January) announced the full programme for its 2022 festival, which will run from 2-13 March at the Glasgow Film Theatre (GFT) and Cineworld Renfrew Street, as well as at partner cinemas across the UK and online.
The 18th edition of the annual celebration of film will host 10 World premieres, 4 European premieres, 65 UK premieres and 13 Scottish premieres, encouraging audiences to return to the cinema and the film festival experience.
GFF will also host a very exclusive preview screening of the first episode of Season 6 of STARZPLAY's worldwide smash-hit Outlander and welcome Glasgow-born creative force Armando Iannucci with a very special live 'In Conversation' event, looking back over his  wide-ranging, multi-media career distinguished by his brilliant feel for character, unforgettable dialogue and razor-sharp wit.
For the first time ever, GFF will partner with cinemas across the UK to simultaneously screen some of its biggest premieres. The opening gala UK premiere of The Outfit, the closing gala UK premiere of Murina, plus a special International Women's Day gala UK premiere of Happening on 8 March, will show on big screens throughout the country, from Stornoway to Bristol via Edinburgh, Manchester, Dundee, Sheffield and London. A selection of festival highlights, including Scottish director Ruth Paxton's feature debut A Banquet will screen both in GFT and online via the Glasgow Film At Home platform.
See the full programme now at glasgowfilm.org/festival. 
GFF Co-director Allison Gardner (pictured) said: "I can't begin to describe our joy at being able to have our loyal, committed and fun audiences back to the festival. We have all undergone different and difficult times over the last two years and nothing helps us to heal and connect like film. Having audiences in both our festival venues and our partner cinemas across the UK is a source of joy. The team have worked incredibly hard to pull together a unique and wonderful programme to enjoy."
GFF Co-director Allan Hunter said: "Welcoming audiences old and new to the 2022 Glasgow Film Festival is a source of great joy and not a little relief. I think we have all missed that sense of community and discovery you experience at a festival. The team have watched more films than ever to compile a programme rich in its diversity and wonders. There are so many great films to recommend from around the world and I am especially excited by the abundance of Scottish stories and productions that showcase the country's many shining talents. I can't wait for people to pick their own favourites."
Baillie Annette Christie, Glasgow Life Board Member and Glasgow Councillor for the East Centre (ward 18), said: "Today, Glasgow Film Festival is internationally recognised for the quality and breadth of its programme, which assembles outstanding pieces of work by some of the world's best film-making talent, and this year's edition promises to be another scintillating showcase of global cinema. It's always one of the most eagerly anticipated events in the city's cultural calendar.
"Despite the ongoing challenges of the pandemic, the hard work of the exceptional Film Festival and Glasgow Film Theatre team has ensured movie fans across the UK can this year safely enjoy an array of modern masterpieces both in-person and online, from the comfort of their home.
"Glasgow's reputation as a leading cinema city and first-choice filming destination has never been more apparent and it's a real credit to the city that major international productions are increasingly choosing to locate here. Glasgow Film Festival, GFT and Glasgow Film Office, play an intrinsic role in that success, reinforcing our passion, professionalism and expertise in the broadcast industry."
Sambrooke Scott, Head of Audience Development at Screen Scotland, said: "We're thrilled that 2022 marks Glasgow Film Festival's return to the big screens of the city, giving audiences the opportunity to experience a rich programme of new films and classic cinema from Scotland, the UK and beyond. It's a festival that celebrates creativity and community, one that feels both local and global at the same time. Congratulations to the team on putting together a programme that exemplifies this spirit."
Paul Bush OBE, VisitScotland's Director of Events, said: "Glasgow Film Festival is one of the UK's premier film festivals and EventScotland is delighted to be continuing its support of the festival in 2022. Following the success of last year's online festival, it is great to see it continue this year alongside the return of in-person screens in Glasgow and across the country.
"By embracing innovations around digital access to film through a hybrid format, GFF is ensuring their loyal audiences, across the UK, will be able to be part of the action and enjoy a diverse programme of films no matter where they are."
Ben Luxford, Head of UK Audiences at BFI, said: "The team have delivered a great programme, which cinema goers across the UK will have a chance to enjoy thanks to the Festivals ambition to extend its footprint to reach a wider audience. We are proud to continue our support of this important UK festival and can't wait for this year's edition."
Ticket Information:
Tickets for the Opening Gala (The Outfit), Closing Gala (Murina) and International Women's Day Gala (Happening) go on sale at 10am on Monday 31 January from the GFT Box Office and glasgowfilm.org/festival. 
FrightFest passes go on sale at 10am on Tuesday 1 February from the GFT Box Office and glasgowfilm.org/festival. 
All other screenings in the full GFF22 programme go on sale at 10am on Wednesday 2 February from the GFT Box Office and glasgowfilm.org/festival.
GFF is one of the leading film festivals in the UK and run by Glasgow Film, a charity which also runs Glasgow Film Theatre (GFT). GFF is made possible by support from Screen Scotland, the British Film Institute (BFI), Glasgow Life and EventScotland.