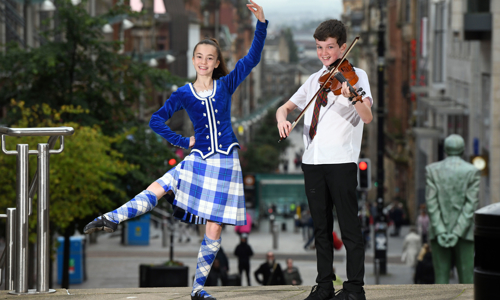 Glasgow gets ready for a bumper Royal National Mod
Glasgow gets ready for a bumper Royal National Mod
Am Mòd Nàiseanta Rìoghail (The Royal National Mòd) will return to Glasgow next month (Friday 11 October – Saturday 19 October) for the 13th time – with an outstanding number of individual participants set to take to the competition stage.
ROYAL NATIONAL MOD CELEBRATES BUMPER YEAR
The nine-day spectacular of Gaelic music, arts and sport will take place in Glasgow for the first time since 1990, with a host of activities and competitions on throughout the week. This year will welcome representatives from all over the world with the London Gaelic Choir returning to the stage after a long absence from the Royal National Mòd.
This year's Mòd is making history with the introduction of a womans football match, to be held alongside the male tournament at Glasgow Green – a nod to the popularity of women's football in recent years. This competition is part of a wider day of sport, which will see both senior and junior football and shinty competitions.
Last year's event generated around £2m for host location Dunoon and organisers are confident they'll see a similar impact in Glasgow. The festivities begin on Friday 11th October with a joint reception being held between CalMac and the Lord Provost. Following this, the Deputy First Minister and Cabinet Secretary for Education and Skills, John Swinney, will officially launch the Royal National Mòd with a speech at the Opening Ceremony, hosted by An Comunn Gaidhealach. Mr. Swinney presented the award for the Gaelic Ambassador of the Year in 2017 and will be returning once again to present the 2019 award
the festivities will move on to George Square for a public celebration filled with bands and choir performances alongside drama recitals. This event will honor the contribution of young people to the Mòd and the Gaelic language.
Literature day, supported by the SQA, is bigger than ever this year, with two book launches from authors Maoilios Caimbeul and Fearghas MacFhionnlaigh, and the appointment of a new bard. Since 2004, a bard has been crowned for a period of three or four years, but thanks to the success of Gaelic Literature in recent years, a new bard will once again be appointed on an annual basis.
Organised by An Comunn Gàidhealach, the Mòd is the biggest, and the most important festival of the Gaelic language in Scotland.  Each year, it sees thousands of competitors from across the world take part in or watch over 200 competitions in highland dancing, sport, literature and drama, as well as Gaelic music and song. Tickets for competitions and event are now on sale and can be purchased online at www.ancomunn.co.uk/tickets
Alongside the main competitions, The Mòd Fringe returns with a jam-packed programme filled with ceilidhs, concerts, sports and more. One of the highlights of this year's Fringe is the Celtic Praise event, taking place at Princes Square from 7:30pm on Sunday 13th October, and is a unique opportunity to enjoy a feast of lively Gospel singing by Gaelic and English-speaking gospel choirs. 'The Final Fling', rounds off the Mòd week with an exciting evening of live music from Skerryvore and Trail West, two of the best traditional bands in Scotland, at the Barrowlands on Friday 18th October, from 7pm. More information on the Fringe programme for 2019 can be found online: https://modghlaschu2019.com/glasgow-mod-2019/events-programme/
John Morrison, Chief Executive of An Comunn Gàidhealach, said: "We are incredibly excited to be hosting the Royal National Mòd in Glasgow, returning for the first time since 1990. It's been fantastic to have such a healthy number of individual entrants this year and we put this down to our continued work with Glasgow Schools, teaching Gaelic at a grassroots level.
It is great to see the Gaelic culture and heritage thriving in Scotland, particularly in literature with this year being the first time since 2004 that a bard will be appointed annually – a testament to the growth of the Gaelic language. We hope to see this success continue during the Royal National Mòd 2019."
Deputy First Minister, John Swinney, said: "The Royal National Mòd is a major celebration of the Gaelic language and culture with a full programme of events for those of all ages and abilities in Gaelic.
"I am looking forward to opening this year's event in Glasgow and I am sure the week will bring many benefits to the whole of the city."
D-I Brown, Convenor of the Local Organising Committee for Mòd Ghlaschu 2019 said: "We are looking forward to inviting all Mòd-goers to Baile Mòr nan Gaidheal – The City of the Gaels, following an absence of 29 years.  Mòd Ghlaschu 2019 is a Mòd for everyone – whether your every waking moment is thought and acted through the medium of Gaelic or whether you have little or no knowledge of the language, our aim is to unite everyone in the music, song, words and warmth of the Gaels and to ensure that everyone has the best possible week.  Glasgow is used to hosting world class events and our ambition is that Mòd week will be no exception."
Councillor David McDonald, Depute Leader of Glasgow City Council and Chair of Glasgow Life said: "Thousands of people of all ages are getting ready to come to Glasgow to compete and to enjoy the Royal National Mòd and we are looking forward to welcoming them. The Mòd will be a showcase for people writing, singing and performing in Gaelic and is a celebration of a language and culture which will always be closely linked to Glasgow. It promises to be a week of great competition, music, song, poetry and storytelling that will be enjoyed by everyone who is interested in and appreciates Gaelic."
Brian Fulton, Director of Community and Stakeholder Engagement at CalMac, said: "The Royal National Mòd is an important event in CalMac's calendar providing a unique opportunity to meet with customers and community representatives from across our network, and at the same time demonstrating our support for Gaelic language and culture.  We look forward to being involved in the Glasgow Mòd which promises to be a successful and memorable event."
Marilyn Waters, SQA Qualifications Manager said: "As a committed champion of Gaelic education, SQA is proud to support the Royal National Mòd 2019. In this UNESCO Year of Indigenous Languages, we are particularly looking forward to supporting An Latha Litreachais, and celebrating Gaelic language and culture with all those taking part during Mòd week."
Mairi Buchanan, Senior Development Manager at HIE said: "We are pleased that our investment in The Royal National Mòd benefits the Gaelic language and creates major economic and cultural opportunities. The event is a focal point which stimulates the social and economic value of Gaelic and brings people together to celebrate and showcase culture and language, as well as enhancing communities. It demonstrates the breadth of talent and engagement from all walks of life, across Scotland and beyond. We are delighted to support and work with An Comunn Gàidhealach to deliver the event, which attracts huge numbers of visitors every year and we look forward to building on the success of previous years."