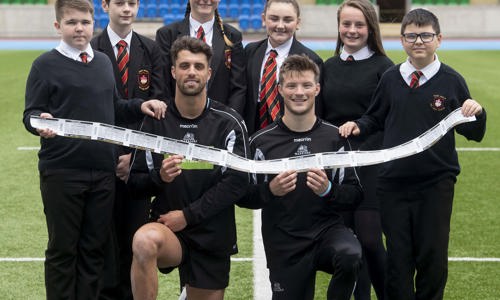 Glasgow 'Golden Ticket' pupils embrace Glasgow PRO14 Final
Glasgow 'Golden Ticket' pupils embrace Glasgow PRO14 Final
Lucky pupils from St Paul's Secondary School met Glasgow Warriors players today (Thursday 23 May) as they received 'Golden Tickets' for the Guinness PRO14 Final in Celtic Park on Saturday 25 May.
Schools across the city have been offered the chance to watch the Warriors take on Leinster Rugby in Glasgow this weekend, the first time the final has been held in the city – and also the first time the event will take place in a stadium which isn't a traditional rugby venue.
Attending a Warriors training session at Scotstoun Stadium, rugby fans from St Paul's had a unique opportunity to see the players in action before they come up against reigning PRO14 champions Leinster on Saturday evening. 
Major sporting events have been shown to lead to an increase in sport and physical activity participation, and Glasgow has a track record of harnessing this enthusiasm and ensuring citizens can easily access opportunities to keep fit and active.
Since May 2017, pupils at St Paul's have been part of Glasgow Sport's Rugby Development Programme which has seen the introduction and growth of both boys' and girls' rugby to the school, supported by Active Schools.
Thanks to a dedicated partnership and a clear progression plan, the school has seen an impressive 400% increase in the number of teams and volume of players across all year groups, going from one team in 2017, to four in 2019.
Teams participate in games across the school year, and St Paul's has played host to the highest number of rugby fixtures within Glasgow – with their Under 14s boys' team crowned City League winners.
Billy Garrett, Director of Sport and Events at Glasgow Life, said:
Glasgow is one of the world's top five Ultimate Sporting Cities and that's a title of which we're understandably very proud. However, just as importantly for us, the city was also voted the Best Small City in the world for creating and providing a legacy from major sporting events.

By attracting high-profile events such as the Guinness PRO14 Final to the city, Glasgow is ensuring it continues to inspire and encourage citizens, particularly young people, to get active and stay active throughout life.

We're happy to offer school pupils across the city the opportunity to attend the final thanks to PRO14 Rugby, and I've no doubt that seeing our own Glasgow Warriors in action will further encourage these young people to take part and try out new sporting activities, ensuring they lay the important foundations for physical and mental wellbeing at a young age.
Glasgow Warriors Managing Director, Nathan Bombrys, said:
We are all looking forward to Saturday's final at Celtic Park and we're delighted that Glasgow Life has enabled children from schools across Glasgow to experience the day with us.

We are proud to represent Glasgow and the West of Scotland, and on Saturday, we're expecting supporters from all over Scotland and further afield to come and support us.

Our supporters have made a big impact for us all season, and now we're looking forward to hearing the energy of over 40,000 Glasgow supporters getting behind the team at Celtic Park on Saturday.
PRO14 Rugby Chairman, Gerald Davies OBE, said:
Any time a major sporting event arrives to a new city it bears a responsibility to leave a legacy and the Guinness PRO14 is no different.

This is a wonderful opportunity for the schools involved to be introduced to the wonderful sport of rugby union and get a flavour of all that it has to offer. We hope that they enjoy a terrific contest on Saturday and that rugby – through the sterling work of Glasgow Warriors and Scottish Rugby – will continue to grow and prosper in the city and across the west of the country.