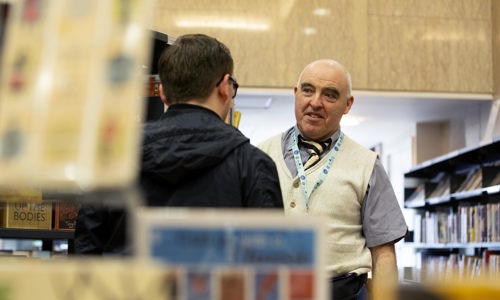 Glasgow Libraries win award for innovative work tackling homelessness and debt
Glasgow Libraries win award for innovative work tackling homelessness and debt
Unique In-Reach partnership between Mitchell Library and Glasgow's Central Citizens Advice Bureau helps those from marginalised sections of society in need of financial, employment and legal advice
Three-minute film at: https://youtu.be/GsWWzflOcb8
Glasgow Libraries has been recognised with a prestigious Libraries Change Lives Award for their inspirational work supporting people experiencing homelessness in Glasgow.
The Award, presented by Co-Chair of the All Party Parliamentary Group for Libraries, Lord Graham Tope, CBE, at a ceremony in London on Thursday (11 October) during national Libraries Week recognises excellence and innovation in library services across the United Kingdom.
Glasgow Libraries received the award for the In-Reach project, developed in partnership with Glasgow Central Citizens Advice Bureau (CAB) to provide counselling, support and advice to people affected by homelessness in the city's Mitchell Library.
Karen Donnelly, Business Information and Mitchell Library Operations Manager, explains:
Through the In-Reach project, Mitchell Library staff and staff from the Citizens Advice Bureau discovered we were in a unique position to be able to engage with a section of society who are very difficult to reach.

These are people who might have thought that there was nothing in the library for them. Mitchell Library staff identify those who are potentially at risk in the library to CAB's In-reach worker who then makes contact and offers the support they need.

The In-Reach project has taken people off the streets, in some cases found them permanent homes, provided access to benefits they didn't know they were entitled to, supported them with financial, legal and medical advice, and offered people a warmth, kindness and a safe place to be.
Glasgow Libraries has received a £4,000 investment from CILIP, the library and information association to continue their innovative work.
Karen continued:
Both the Mitchell Library and Citizens Advice Bureau are delighted that this project to support the recurring need for some of the most vulnerable members of society has been recognised by the library and information association.

We have seen first-hand the positive, life-changing impact that this project has had in Glasgow, and I hope that the In-Reach project provides a model for the wider library community to develop further life-changing initiatives to support people experiencing homelessness across the UK.
Chair of Judges, John Vincent, said:
Congratulations to the library team at Mitchell Library. Glasgow Libraries' work with their Citizens Advice partners targets people in libraries, who may, in other places and other circumstances, be asked to 'move on'. Here, Glasgow decided to do something positive, and the difference in approach shines through. Library staff are committed to seeing what positive impact the library can have, and also demonstrate an empathetic approach to homeless people – they are library users, after all, and the library and Citizens Advice Bureau have developed tailored, individualised ways of offering information and other practical support.
Glasgow Libraries was shortlisted alongside libraries from Kirklees and Newcastle.
John Vincent commented:
The judges were delighted to be able to shortlist three strong pieces of work. All three demonstrated the ways in which library staff engage with people, both in libraries and in the wider community, helping to meet their information and reading needs – but also adding so much more. Their work show powerful connections being formed between libraries and their communities – connections that can readily be created elsewhere.
The Libraries Change Lives Award is judged by CILIP's Community, Diversity and Equality Group (CDEG). Over twenty-five years, the award has recognised a number of targeted initiatives around health and wellbeing and services designed to support local populations dealing with dementia, autism, visual impairment, domestic abuse and mental health issues. Health is one of the public library Universal Offers, five key areas of service in which public libraries in England are committed to quality provision and promotion.
Ongoing programmes recognised by the award include Bookstart, the Government-backed scheme first piloted by Birmingham Libraries which now reaches 3 million babies and their parents across the UK; and The City of Edinburgh's HMP Edinburgh Library Partnership, an initiative that has transformed engagement among the prison population, tackling social exclusion and providing education and employment opportunities for a better transition to community life.
For more information on the shortlisted services, and to find out more about Glasgow Libraries In-Reach project, please visit: www.cilip.org.uk/page/ShortlistLCLA2018
About the other shortlisted services
Kirklees Libraries' Well into Words: Sensory is a project which uses a multisensory approach to storytelling, making the classics accessible to a diverse range of groups including people with learning difficulties, visual impairments and those living with dementia. Using objects, sounds and smells for an immersive experience, the project facilitates an understanding of the (sometimes challenging) themes contained within classic books, stories and poems. This approach opens up literature to many who would find a traditional book format challenging or impossible.
Newcastle Libraries have formed the Get Online Newcastle partnership with Your Homes Newcastle to provide digital training to local residents. The project has so far changed the lives of over 1,800 residents, helping them to access and use the internet, and develop their skills and confidence using devices. Get Online Newcastle started by training social housing tenants to provide digital skills support in their communities, and has expanded to include weekly digital skills courses and training to charity and community organisations, which are delivered out of libraries across the City.