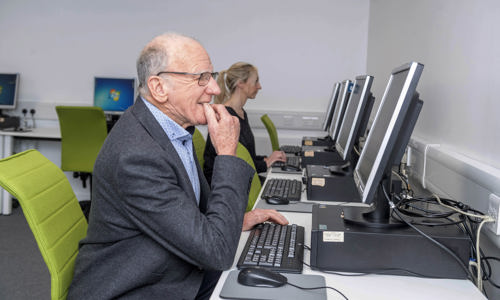 Glasgow Life asks people to shape the vision for the future of the city's libraries
Glasgow Life asks people to shape the vision for the future of the city's libraries
Local people, communities and groups are being asked to tell Glasgow Life what they want from Glasgow's public libraries.
Earlier this year, Glasgow City Council asked Glasgow Life to develop a refreshed strategy and Vision for Glasgow Libraries that outlines their future direction.
Glasgow Life has drafted a refreshed Vision and is now asking people and communities to tell them what they want from their libraries. The feedback will help to develop the Vision for Glasgow Libraries and make sure that it meets the needs of local people across the city.
You can get involved by filling in an online survey or comment cards found in Glasgow Life venues. These responses will be used to help shape what Glasgow's libraries do and how they look in the future.
In 2015, Glasgow Life ran a similar consultation and used the feedback to create the first Vision for Glasgow Libraries.
Since then, we've been delivering the Vision for Glasgow Libraries in communities across the city. WiFi has been rolled out to all libraries, and self-service introduced. The online catalogue and website were also re-designed to make them more responsive. More essential services have been introduced in libraries such as the Citizens Advice Bureau and Universal Credit hubs.
Andrew Olney, Glasgow Life's Director of Libraries, Sport and Communities said: 
Our 2015 Vision for Glasgow Libraries helped to transform the role of libraries in the city. Glasgow's libraries are much more than places where people go to read; they offer a wide range of learning and skills development programmes, access to cultural experiences and health and wellbeing support.

The challenges of the past few years have emphasised just how important libraries are, and our refreshed vision will ensure they remain safe and accessible spaces for all in the coming years.

Libraries remain important resources at the heart of local communities and continue to evolve to meet public expectations. This consultation is an exciting opportunity for the people of Glasgow to have their say and help shape the future of libraries in the city.
The draft refresh of the Vision for Glasgow Libraries can be found here. The aim is for this to spark debate and discussion about the future role that Glasgow Libraries have in the city over the next five years. Members of the public have until Friday 16 December to complete the survey.