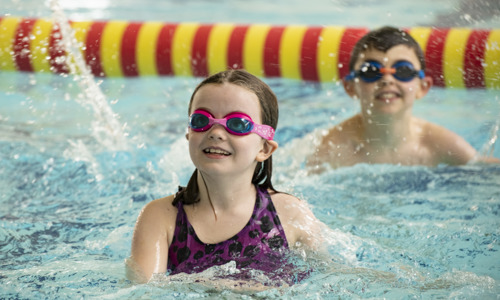 Glasgow Life reveals Summer of Fun programme for families
Glasgow Life reveals Summer of Fun programme for families
Glasgow Life, the charity that delivers culture and sport in Glasgow, has announced its Summer of Fun programme aimed at families and young people during the holidays.
Families in Glasgow can enjoy a wide range of exciting free and low-cost activities at museums, libraries, community centres, and sport venues across the city this summer.
For those looking to get active, free Game Time sessions are available at Glasgow Club Donald Dewar, Glasgow Club Springburn, Penilee Community Centre, and Govanhill Neighbourhood Centre. Children aged 5 to 11 can enjoy games, sports, and creative activities. To find out more about when these are taking place, visit our activity finder.
The summer holidays are the perfect time to try a PlayGym session at Kelvin Hall or the Palace of Art. They are a great way to introduce gymnastics to children (from crawling to 5-year-olds).
From Monday 26 June, families can also swim together for free at selected sessions at Glasgow Club pools during the summer. Full details of when these family sessions will take place and at which swimming pools, can be found on the Glasgow Club website. Also from this date, Glasgow Life is removing the need to book swimming sessions. People will be able to turn up on the day and enjoy a swim without booking.
Glasgow Life's museums also have lots to offer. Mini Museum Explorers allows 3 to 5-year-olds to play, sing and be creative while discovering the collections at Kelvingrove Art Gallery and Museum, Riverside Museum, The Burrell Collection, and The Gallery of Modern Art.
You can also take an exciting behind-the-scenes tour at the Glasgow Museum Resource Centre (GMRC), which has rooms full of objects that aren't on display; from animals to armour, fine art to fossils, and much more.
The holidays may be the time to explore a museum that has been on your bucket list. Why not take a wander through the Riverside Museum, Kelvingrove Art Gallery and Museum, The Burrell Collection, St Mungo's Museum of Religious Art and Life or the People's Palace?
Check our website for autism-friendly museum sessions, including quiet openings and family workshops. Kelvin Hall also has soft play sessions every Wednesday for children with additional support needs. These sessions have reduced capacity and lower sound and lighting levels.
The Summer Reading Challenge is back at libraries across the city, which this year is sports themed. Ready, Set, Read! encourages children aged 4 to 12 to keep reading in the summer. They can be in with a chance of earning prizes and winning a medal. Free story time and craft club events are also taking place at the Mitchell Library.
Regular library sessions for families will also continue throughout the summer. Children under 5 can enjoy songs, stories and rhymes at Bookbug. And children aged 5 to 11 can let their imaginations run wild at Lego Fun drop-in sessions, which you can find out more about on the Glasgow Life website.
Bailie Annette Christie, Chair of Glasgow Life, said:
Summer is a great time for families and young people to experience what Glasgow has to offer, from free family swimming to getting active at a Game Time session. Children can also experience the wonders of Glasgow Life's museums and libraries, whether that's through our Mini Museum Explorers programme or taking part in the Summer Reading Challenge.
Visit the Glasgow Life Summer of Fun webpage to find out more information about all these activities and how to get involved.