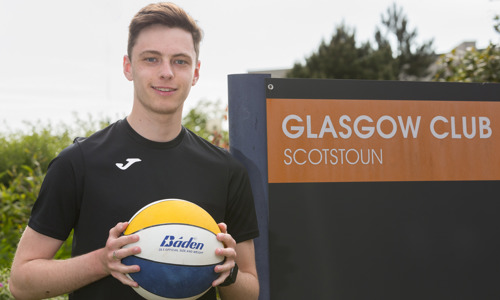 Glasgow Life volunteering numbers double as charity celebrates National Volunteers' Week
Glasgow Life volunteering numbers double as charity celebrates National Volunteers' Week
More than 1,600 volunteers dedicated over 30,000 hours to supporting the people of Glasgow and visitors to the city in 2022/23 through Glasgow Life's diverse volunteering programme – double the number of volunteers compared to the previous year.
Today (Thursday 1 June) marks the start of National Volunteers' Week (1-7 June) and Glasgow Life, the charity responsible for delivering culture and sport in Glasgow, is celebrating the invaluable contribution of all its volunteers.
Glasgow Life offers more than 20 volunteering initiatives annually, spanning high-profile events like Celtic Connections; the Aye Write Book Festival; and the Glasgow Mela, as well as opportunities to lead health walks; welcome visitors to Glasgow Life Museums; and support people with cancer and their families through MacMillan at Glasgow Life Libraries.
In 2022/23, 1,637 people participated in Glasgow Life's volunteering activities, donating 30,846 hours of their time to the city – worth the economic equivalent of over £335,000. The wider contribution made by Glasgow Life's volunteers to the city's economy in the decade before the pandemic equated to some £4.4m.
Glasgow Life is currently developing a Volunteering Strategy, which will detail how the charity will continue to engage with volunteers in the coming years; offering accessible opportunities for all and mirroring the aspirations laid out in Scotland's national Volunteering Action Plan.
Bailie Annette Christie, Chair of Glasgow Life and Glasgow City Council's Convenor for Culture, Sport and International Relations, said:
"As one of Scotland's largest charities, our volunteers are at the heart of so much of what we do – whether that's through our museums and libraries; our arts and music programming; our sports venues and services; or across our incredible year-round programme of major cultural and sporting events.

"We believe everyone deserves a great Glasgow life, and it's reflected in the tireless dedication of our volunteers; not just this week, but all year round. Throughout the last operational year, our volunteers collectively gave more than 30,000 hours to supporting people and communities across our city and I'd like to thank every one of them."
Lorraine Toner, Volunteering and Citizenship Manager at Glasgow Life, added:
"Our last year of volunteering activity demonstrates why Glasgow is known the world over for the friendliness and generosity of its people. Our volunteers have again shown incredible commitment and they are a real credit to our city."
This year, Glasgow is also celebrating its role as European Capital of Sport; marking the first time any city has been awarded the accolade twice, with 2023 reflecting the 20th anniversary since Glasgow was first given the title in 2003.
Glasgow Life Sport is preparing to launch two new volunteering training programmes, which will run from July until December 2023.
The first is a 12-week pathway programme, which aims to break down barriers to becoming a volunteer and help people start their volunteering journey in sport. Anyone interested can complete an online application form via Glasgow Life's website here: www.glasgowlife.org.uk/sport/volunteer-in-sport/gateway-to-volunteering.
A Develop Your Club programme is also being set up to provide training and learning opportunities for sport and physical activity organisations. The programme, which has been informed by a European Capital of Sport Club Survey, will be delivered through a series of expert-led workshops covering funding; governance; marketing and more. To develop more volunteering opportunities for Glasgow's diverse communities, sessions focused on inclusion will also take place, centred on mental health; addressing racism in sport; and disability awareness. Places can be reserved through Glasgow Life Sport's website at https://www.glasgowlife.org.uk/sport/volunteer-in-sport/ecos-club-networking-events.
One person who has seen first-hand the positive impact volunteering can have on others is Toby MacDonald, a disability sports coach at Glasgow Club Scotstoun.
Toby, 18, began volunteering in August 2022 in a bid to gain more experience and secure a part-time disability sports coach position. As he was also due to start a college course in health, sport and fitness, Toby saw the voluntary role as an ideal fit.
Toby said:
"I thought that this would be a great way to use the theory that I had learnt at college while also getting some practical experience from working with the young people. It's not always about knowledge, practical experience is important too."
Having dyslexia and dyscalculia meant Toby often found schoolwork more challenging than his peers. His classroom experiences ultimately motivated Toby to become a volunteer and help others faced with similar difficulties.
He said:
"I felt I would understand how the young people who came to the club might feel and I wanted them to know they could get involved in sport regardless of their disabilities. We have children with autism, Down's Syndrome, wheelchair users, and others with more complex medical conditions.

"My role is to support them to join in the activities, so they don't feel excluded. Some need physical support and others just need a little encouragement. At first, I was unsure how good I would be at coaching, but volunteering has really helped to develop my communication skills. I love it when the children ask me to join in a game with them or ask me to show them how to do something. I like to think it's because they trust me and see me as good fun.

"The other coaches have been great too. They made me feel really welcome when I first started and I'm learning so much from them. I really enjoy volunteering and I look forward to it every week; I'd definitely recommend it."
If you are interested in volunteering with Glasgow Life or would like to find out more about the charity's volunteering opportunities across the city, visit: www.glasgowlife.org.uk/volunteer-with-us.