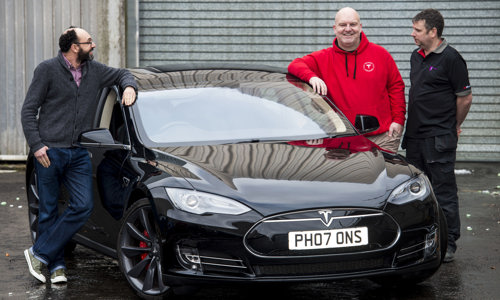 Glasgow Museums is gifted a Tesla model S
Glasgow Museums is gifted a Tesla model S
Glasgow Museums has taken delivery of its first transport-related acquisition of 2018, a Tesla Model S P85+. The landmark electric car, has been very generously donated to the city by Chris Clarkson,
Glasgow Museums has taken delivery of its first transport-related acquisition of 2018, a Tesla Model S P85+. The landmark electric car, gifted to the city by Chris Clarkson, strengthens Glasgow's world-class transport and technology collection, and more specifically its range of alternative fuel vehicles. It will enable Glasgow Museums to create a display that reflects technological change, showcases an iconic automobile and explores the development of more environmentally friendly vehicles.    
Chris Clarkson drove the Tesla Model S into Glasgow Museum Resource Centre, where he transferred the car to Glasgow Museums transport curator Neil Johnson-Symington and transport conservator Andi Howe. The car will be prepared for storage, before it goes on display at Riverside Museum in 2019 as part of the city's James Watt Bicentennial celebrations.
Chris Clarkson said:
I'm pleased to have donated the Tesla, my family have really enjoyed our time with this incredible machine and it's exciting to see a car of the future now take up its place in history.

' loved visiting the Transport Museum and the People's Palace as a youngster and today I enjoy taking my own children to both museums. They do a wonderful job of using interesting objects to tell important stories, such as the dangers of climate change and why we need to develop more environmentally friendly, fuel efficient vehicles.
Chair of Glasgow Life, Councillor David McDonald added:
We are very grateful to Chris for his generous donation to the city's collection. This car is a very special object. Clearly it has benefited from Chris's careful ownership and his experiences, but more than that it is a pioneer representing a new dawn in electric vehicle development.

The public can see it at Glasgow Museum Resource Centre, until it is unveiled as part of a new display we are working on for Riverside, Scotland's museum of transport and travel. In 2019 this stunning and technologically important car will be the centre piece of an exhibition celebrating one of Scotland's greatest inventors, James Watt.
It is believed to be the first Tesla acquired by a public museum in Scotland. It was described by The Daily Telegraph, 2014 as 'the most important car of the last 20 years… the greatest game changer in motoring for decades'. The Tesla Model S has a raft of innovative features and impressive technology, not least the ability to drive 242 miles on one charge at a cost of around £9. It can reach 0-60mph in 4 seconds, be controlled from the owner's smart phone and convert from a 5 to 7 seater family car. The 'car key', a plastic miniature Model S, unlocks whatever area of the actual car is being touched on the key.     
 The car has only had one owner, Chris Clarkson from Strathaven, who purchased the black saloon car at the first opportunity in 2013. A fan of Tesla since 2010, Chris paid a deposit to secure his car before he had driven it, or even seen one in person. In August 2014 he was able to experience a test drive ahead of his own car arriving the following month from Tilburg, Holland. It has remained a much-loved family car, often taking Chris to meetings in Newcastle, where his web-based travel agency www.sunshine.co.uk was established – on one full charge. Chris is delighted to support the work of Glasgow Museums by donating it to the city.
What Car heralded the car's arrival in 2014 when it said 'However you look at it, the Tesla Model S is a landmark electric car and a seriously good one at that'. A view recently supported by Which?, 2017 'Tesla changed everything when it launched the Model S, a premium electric car with a ground-breaking 242-mile tested range'.
Riverside Museum shows off the breadth of Glasgow's world-class travel and transport collection through its multidisciplinary story displays.  The car joins the city's collection of alternative fuel vehicles – the Trolleybus, the Stanley Steam Car of 1917 and the Honda Insight MkI hybrid of 2000. Glasgow Museums aim to ensure exhibitions and displays reflect the past, present and future.  This acquisition will afford curators the opportunity to create a display examining car manufacturers' shift towards developing and promoting alternative energy vehicles, just like this Tesla Model S.
Glasgow Museums Resource Centre is a vast store for all Glasgow Museums collection not on show in any of the city's eight museums.  The 4 star VisitScotland attraction, which enjoys a 5 out of 5 rating on TripAdvisor, houses in excess of 800,000 fantastic objects, from animals to armour, fine art to fossils, and much, much more.  GMRC is a modern, purpose built and most importantly publically accessible building.  The public are required to pre-book onto an organised tour to explore and enjoy the museum store.