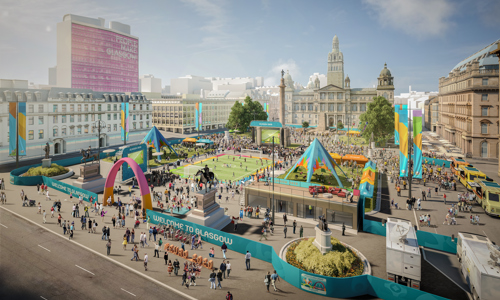 GLASGOW REVEALS PLANS FOR UEFA EURO 2020 FESTIVITIES WITH CITY CENTRE FAN ZONES
GLASGOW REVEALS PLANS FOR UEFA EURO 2020 FESTIVITIES WITH CITY CENTRE FAN ZONES
The countdown to Glasgow's biggest ever football event continued today, as plans for a major city centre Football Village for UEFA EURO 2020 were unveiled.
The city's iconic George Square will become the epicentre for fan activity next summer, with an additional Fan Zone opening in Merchant City for the four UEFA EURO 2020 match days at Hampden Park.
New to this special 60th Anniversary edition of the UEFA European Championship, the UEFA Festival will see Glasgow stage an unrivalled FREE spectator experience for all, drawing on its world-class event host credentials, bringing the city to life, with a celebration of arts, culture, music, sport and of course football!  
Thirty-one days of action-packed festivities will be served up to locals, visitors and thousands of European football fans alike, as they descend on Glasgow during the football extravaganza, and you won't need a match ticket to be part of the celebrations! Visitors to the two Fan Zones will be treated to matches broadcast live on giant screens, live music and entertainment, as well as an opportunity to enjoy some of the best local food and drink that Glasgow, and Scotland has to offer. 
Just like during the Glasgow 2014 Commonwealth Games and the European Championships in 2018, George Square will once again become a hive of free, family friendly activity next summer, when the UEFA EURO 2020 Football Village opens on Friday 12 June. Open to the public for the full thirty-one day run of the tournament (closing Sunday 12 July), the Football Village will offer something for everyone. Whether you're a seasoned fan or new to the beautiful game, you will have the opportunity to 'come and try' football activities which are set to feature as part of a rich programme of content and entertainment. From Walking Football, to Mini Kickers, there will be an opportunity for everyone to be part of it, helping to create a lasting legacy from Glasgow's role as host to this once-in-a-lifetime event. 
Glasgow is expected to welcome over 200,000 visitors into the city from across the continent, as well as from communities closer to home, with local shops, bars, restaurants and businesses all set to benefit from the influx of football fans and 'big events' followers into the city.
After calling on locals earlier this year to #GetInvolvedGlasgow, a team of over 600 Host City volunteers, to be known as Volkswagen Mobility Makers, will play a key role in giving thousands of UEFA EURO 2020 fans and festival goers a warm Scottish welcome. The Host City volunteer programme, based in the city centre, spans across the entire duration of the tournament and will see the Volkswagen Mobility Makers facilitate fan movement, sharing information about what Glasgow has on offer during UEFA EURO 2020, while contributing to the festival atmosphere and excitement of this unique, high profile event for the city. There is still just time to be a part of this special team, with applications set to close on Sunday 1 December. To sign up now visit here.
Welcoming the announcement of the Fan Zones, Billy Garrett, Director of Sport and Events at Glasgow Life said: 
We are delighted that the international spotlight will shine once again on Glasgow next year when the city hosts four UEFA EURO 2020 football matches. The two Fan Zones in George Square and Merchant City will be the ideal place for everyone to join in the festivities.
We look forward to welcoming thousands of visitors on match days for the football extravaganza whether or not they have tickets. Also open on non-match days, George Square will be a great place to visit for free family-friendly activities and entertainment, just as experienced last year during the 2018 European Championships.
Glasgow is proud to be one of 12 European host cities selected for UEFA EURO 2020, alongside the likes of Rome, London, Dublin and Munich, giving fans throughout the continent a chance to be part of the action. Glasgow's Hampden Park will host three group games on 15, 19 and 23 June, followed by a round of 16 match on 30 June.  
Officially recognised as one of the top five global sporting cities, Glasgow is no stranger to hosting world class sporting events. Since the phenomenal success of the 2014 Commonwealth Games, the city has hosted the 2015 World Gymnastics Championships, the 2018 European Championships and will next month see the LEN European Short Course Swimming Championships staged at Tollcross International Swimming Centre.