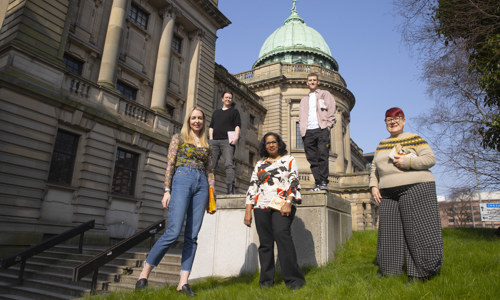 Glasgow's Aye Write festival opens with a star-studded weekend
Glasgow's Aye Write festival opens with a star-studded weekend
Glasgow's Aye Write festival opens with a weekend of star appearances from music, television and radio.
Glasgow's Aye Write book festival starts tomorrow (6 May) with a star-packed weekend kicking off the programme running across the next three weekends (Fri 6-Sun 8, Thurs 12-Sun 15 and Thurs 19-Sun 22 May).  Aye Write is produced by Glasgow Life, the charity which delivers culture and sport in the city with the aim of strengthening engagement with books and reading to increase visits to Glasgow Life Libraries.
Amongst the first to grace the stage of the Mitchell Library are Annie Macmanus, the inimitable former Radio 1 DJ turned writer, with her novel Mother Mother, and another familiar voice from radio, and podcaster, LBC's James O'Brien, bestselling author of How Not to be Wrong.
DJ, broadcaster and author, Annie Macmanus, said:
"It's a total dream to be in Glasgow doing a literary event with a live audience after so long. Writing is a solitary process; there's no feeling like sharing reading and writing experiences with others face to face."
The weekend continues with appearances from:  Glasgow-born Primal Scream front man Bobby Gillespie; Del Amitri's Justin Currie; acclaimed screenwriter of Succession and Veep Georgia Pritchett; evolutionary biologist and author Richard Dawkins; former Chief Prosecutor Nazir Afzal; veteran fiction writer Bernard MacLaverty; key public faces of the pandemic, Professor Devi Sridhar and Jason Leitch; and musician Tracey Thorn, best known as one half of Everything But The Girl, with her book My Rock n Roll Friend.
Next weekend (Thurs 12-Sun 15) sees Aye Write welcoming, amongst many others, from the world of television: Chris Tarrant on his 50 years in the business; and newscaster turned author and screenwriter John McKay on the journey from the page to the screen.  From politics: outspoken MP Jess Phillips with her predictably funny, punchy memoir; and Sir Vince Cable on Money and Power.  For crime fans: the inimitable Ambrose Parry; plus favourites Alex Gray and Douglas Skelton. Author of News of the Dead and Walter Scott Prize longlisted James Robertson; and literary sensation and Professor of Creative Writing at the University of Glasgow, Louise Welsh.
Tickets are available to book online at Aye Write or can be purchased on the day from the box office at the Mitchell Library, which is open throughout the book festival.
Aye Write will this year be held predominantly in person, not only at the Mitchell Library, but also across other city venues, including Glasgow's Royal Concert Hall and Tramway.   
Aye Write programmer, Bob McDevitt, said:
"The stage is set and we're raring to go!  Let's get back to what we love doing: talking about the books we love; discovering new gems; and sharing our bookish passions."
The annual Glasgow extravaganza is produced by Glasgow Life, one of Scotland's largest charities whose mission is to inspire every citizen and visitor to become engaged and active in a city globally renowned for culture and sport. The festivals are supported by The National Lottery through Creative Scotland, the public body that supports the arts, screen and creative industries across Scotland.
The full programmes are available now on the Aye Write website.
Free one-time-use images are available to download here
Ends
From     Nicky Stonehill/Fiona Atherton
                StonehillSalt PR
Phone   07740 681560 / 07973 918443
Email   nicky@stonehillsalt.co.uk / fiona@stonehillsalt.co.uk
Notes to Editors
Aye Write runs from Friday 6 May to Sunday 8 May; Thursday 12 May to Sunday 15 May; and Thursday 19 May to Sunday 22 May 2022.  The programme is available to view Aye Write.
Ticket types
About Glasgow Life
Glasgow Life is a charity working for the benefit of the people of Glasgow. We believe everyone deserves a great Glasgow life and we find innovative ways to make this happen across the city's diverse communities. 
Our programmes, experiences and events range from grassroots community activities to large-scale cultural, artistic and sporting events which present Glasgow on an international stage.
Our work is designed to promote inclusion, happiness and health, as well as support the city's visitor economy, in order to enhance Glasgow's mental, physical and economic wellbeing.
For more information on our work, see www.glasgowlife.org.uk
About Aye Care
Aye Care is for anyone that cares about Aye Write. It is a special fund that has been created to allow those who are passionate about the book festival to make a donation to support Aye Write, its future and the vital literacy and learning programmes it delivers across the city throughout the year.
The money raised will be used to help protect the future of the festival including providing an important stage for new and emerging talent as well as free literacy programmes for people of all ages and abilities in the city throughout the year.
Donations to the Aye Care fund helps ensure we can deliver the best possible festival in 2021 and ensure Aye Write remains part of Glasgow's vibrant calendar of cultural annual events.
To find out more and donate online visit  www.glasgowlife.org.uk/ayecare
Creative Scotland is the public body that supports the arts, screen and creative industries across all parts of Scotland distributing funding provided by the Scottish Government and The National Lottery. Further information at www.creativescotland.com
Follow them: @creativescots and at www.facebook.com/CreativeScotland. 
Learn more about the value of art and creativity in Scotland and join in at www.ourcreativevoice.scot  
The organisers of Aye Write are also very grateful for the support of The Open University in Scotland, The National Library of Scotland, Rathbones Folio Prize and Waterstones, all of whom are sponsoring events in the Aye Write programme.
For further information about this year's Aye Write, including images and author interviews, contact Nicky Stonehill or Fiona Atherton at StonehillSalt PR.   
Email nicky@stonehillsalt.co.uk or fiona@stonehillsalt.co.uk