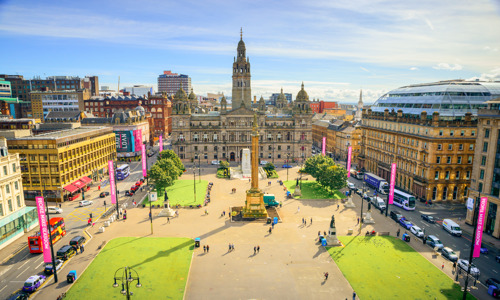 Glasgow secured £53m of new conference business in 2021/22
Glasgow secured £53m of new conference business in 2021/22
New figures released by Glasgow Convention Bureau today (Wednesday 4 May) demonstrate the value of conferences to the city's economy and highlight the work being done to secure future meetings; ensuring business tourism remains resilient in Glasgow in the wake of the Covid pandemic.
Between 1 April 2021 and 31 March 2022, Glasgow recorded successful bids for 71 new conferences, which collectively will bring more than 36,000 delegates to Scotland's largest city and boost the local economy by some £53 million in delegate spend.
During the 2022/23 financial year, Glasgow will host over 100 meetings which will deliver an additional £87m in delegate spend.
More than 50,000 delegates will visit Glasgow for UK and international conferences between April 2022 and March 2023, including those attending the prestigious World Congress of Soil Science, which will see 1,500 representatives gather at the Scottish Event Campus (SEC) from 31 July to 5 August for a conference worth £4m to the city.
Glasgow Convention Bureau, which is part of Glasgow Life, competes globally to secure conference business; working on more than 100 bids for major conferences every year alongside key partners like the SEC and NHS Greater Glasgow and Clyde, as well the city's academic community, tourism and hospitality businesses, and local transport operators.
Recognised as one of the world's leading business tourism destinations, Glasgow has been named the Best Convention Bureau in the UK at the industry-leading Meetings & Incentive Travel (M&IT) Awards for 15 consecutive years.
In 2017, Glasgow Convention Bureau became the first-ever convention bureau to win a Green Tourism Award – the world's largest certification programme of its kind and the go-to standard for sustainable tourism.
In 2021, as Glasgow hosted the COP26 UN Climate Change Conference, Glasgow Convention Bureau became the world's first convention bureau to join the global Tourism Declares movement, which encourages the travel industry to acknowledge the climate emergency and develop appropriate action plans.
Additionally, Glasgow was the first UK city to achieve EarthCheck Benchmarked Community Status in 2021 as part of the EarthCheck Sustainable Destinations programme, which helps destinations to measure and monitor their environmental, economic and social impact, as well as track their efforts against other cities around the world.
Glasgow is committed to becoming carbon neutral by 2030, and is currently ranked fourth in the Global Destination Sustainability Index (GDS-Index).
Aileen Crawford, Head of Tourism and Conventions at Glasgow Life, said:
"Despite the significant challenges imposed by the pandemic, the city's positive year-end results show that the global meetings industry continues to have confidence in Glasgow.

"Team Glasgow has worked tirelessly over the past 12 months, supporting clients who were forced to move or adapt their conferences while also winning more than £80m of new conference business for future years.

"Crucially, the long-awaited return of physical meetings will enable delegates to collaborate, exchange expertise and drive innovation in person across an array of specialist subjects; from climate change solutions to the future of healthcare. It's wonderful to be able to welcome these events back and support our city's post-pandemic renewal."
Kathleen Warden, Director of Conference Sales, SEC, said: "When we set the stage for COP26 in November 2021, the SEC once again underscored its global reputation as a venue that has the people, expertise and capability to deliver the most complex of events. Looking forward through this year and beyond, we're seeing the welcome return of conferences and corporate events.
"In 2022 we have a full calendar of conferences. Organisers and delegates are eager to get back to meeting face to face, to share knowledge and create an impact, and it's a delight to be welcoming delegates back to the city. Most importantly, we are striving to deliver events more sustainably than ever before. The SEC has taken the bold step of committing to being net zero carbon by 2030, supporting the city's ambitions and leading the way for the industry. It's exciting to be at the heart of the city's sustainable and economic recovery."
From soil science to nursing, the conventions held in Glasgow over the next year will cover numerous topics of global importance.
Bruce Lascalles, President of the British Society of Soil Science and Chair of the World Congress of Soil Science Working Group, said: "With a growing, worldwide focus on climate change and the role soils can play in securing our sustainable future, and the UN Climate Change Conference being held in Glasgow in 2021, there is no better time for our congress programme to support academics and practitioners in sharing knowledge and information as widely as possible. Quality of life and, ultimately, the sustainability of the environment are contingent upon the right scientific soil data, information and knowledge to ensure the delivery of valuable ecosystem goods and services for the benefit of humankind."
Sarah Garry, Executive Officer of the British Society of Soil Science, said: "We started working with the Glasgow Convention Bureau and the SEC on our invitation to host the World Congress in 2008, so we are delighted that after all of the hard work and planning, over 2,000 delegates from the international soil science community will meet at the SEC from 31 July 2022. We hope that congress attendees will use the congress as a stimulus to develop innovative solutions within academia and industry, and support the general public to recognise the importance which soil has in securing our future."
Steven Jenkinson, Events and Venue Services Manager at the Royal College of Nursing (RCN), said: "The RCN Congress is returning to the SEC from 5–9 June and we are delighted to be coming back to Glasgow with our first in-person congress since the pandemic. Our members are looking forward to re-engaging with each other after being on the front-line throughout the Covid pandemic. It will be an inspirational and emotional event for all our members. Thanks go to the convention bureau team who are providing a range of support services to enhance the congress experience for our delegates."