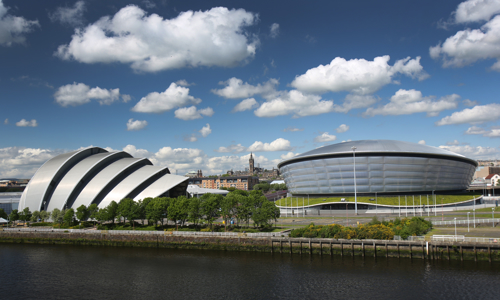 Glasgow to host prestigious 2024 World Science Fiction Convention
Glasgow to host prestigious 2024 World Science Fiction Convention
Glasgow has won the right to host the 2024 World Science Fiction Convention – the third time the city has been selected to stage the prestigious event.
Glasgow Convention Bureau, which is part of Glasgow Life, the charity that delivers culture and sport in the city, has supported the official bid team and volunteers to help bring the global gathering, known as Worldcon, to the Scottish Event Campus (SEC) from 8-12 August 2024.
Having hosted the Intersection and Interaction Worldcons in 1995 and 2005 respectively, Glasgow was today (Sunday 4 September) confirmed as the home of the 82nd version of the event during Chicon 8, the 80th Worldcon, currently being held in Chicago.
Glasgow 2024 – A Worldcon for Our Futures is expected to attract around 5,000 science fiction fans and delegates to Scotland's largest city and boost the local economy by some £13 million in attendee spend.
Visiting a different city every year, Worldcon began in America and was first held in New York in 1939. Among the highlights of the five-day conference are the Hugo Awards for works of science fiction, fantasy and horror; and a programme of more than 1,000 events, including autograph sessions, films, panels, talks and workshops.
The Glasgow Worldcon in 2024 will be graced by guests of honour ranging from artists to writers and beyond, including British Science Fiction Association (BSFA)-nominated artist Chris Baker, who has worked on numerous films for visionary directors such as Steven Spielberg, Tim Burton and Stanley Kubrick.
Scottish science fiction author Ken MacLeod, a winner of multiple BSFA and Prometheus Awards, will also be in attendance, along with others like novelist and comics writer Nnedi Okorafor, whose work includes contributions to Marvel's Black Panther series.
Aileen Crawford, Head of Tourism and Conventions, Glasgow Life, said:
"The return of the World Science Fiction Convention to Glasgow proves our city remains a first-class conference destination, and one which is at the forefront of the global meetings industry. Worldcon is the latest in a long line of international events to choose Glasgow as its base, and the city is proud to host such renowned conventions on a regular basis.

"Credit and congratulations must go to the dedicated UK team who have worked tirelessly over a number of years on this bid. We look forward to welcoming science fiction fans back to our city for what is sure to be a fabulous return of the Worldcon community in 2024."
Esther MacCallum-Stewart, Glasgow 2024 Worldcon Chair, said:
"It's a huge honour to host the Worldcon, and our team have worked incredibly hard to get here. We can't wait to bring our blend of inclusion, caring and imagination to the Glasgow 2024 Worldcon, and create an event that is both exciting and innovative. This really is a Worldcon for our futures!"
Kathleen Warden, Director of Conference Sales, SEC, said:
"It's wonderful to be welcoming back Worldcon to the Scottish Event Campus. We had the pleasure of hosting this event in 1995 and 2005, and it's always an incredibly exciting and memorable experience for everyone. We can't wait to see what the team come up with when they return again in 2024, and look forward to supporting them in bringing this wonderful event to life."
Helping to secure Glasgow's Worldcon host status for a third time is just the latest piece of positive news for Glasgow Convention Bureau. Financial year-end results for 2021/22 revealed the city recorded successful bids for 71 new conferences between 1 April 2021 and 31 March 2022, which collectively will bring more than 36,000 delegates to Glasgow and deliver some £53m in delegate spend in the coming years.
During the 2022/23 financial year, Glasgow will host over 100 conferences, bringing in an additional £87m to the local economy.
For more information on Glasgow 2024 – A Worldcon for Our Futures, visit www.glasgow2024.org.