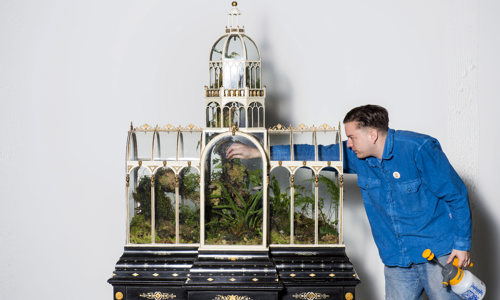 GoMA Glasgow opens Aaron Angell exhibition
GoMA Glasgow opens Aaron Angell exhibition
Aaron Angell (b. 1987, Kent) presents a series of new works including ceramic sculpture, inflatables, painting, Victorian furniture and plant life to create an anachronistic interior, which mines various points in history and unusual hobbyist cultures to develop a large scale, immersive exhibition.
At the center of the exhibition is Glasgow Museums' Wardian Case, this Victorian fern case will be displayed for the first time in over a quarter of a century. It was conserved especially for the exhibition and is to be fully planted with a range of ferns and mosses in a style reminiscent of its original display in the mid-nineteenth century. One of the very few surviving, original Wardian Cases, the piece was built a stone's throw from GoMA and dates from around 1860. It is without doubt one of the finest ever made.
Aaron Angell said:
"As an exhibition space without any proper walls, I was interested in contrasting the case with a treatment of the hall at GoMA as a basic exercise in open plan interior design. The cliché of the loft, the archipelago of stations, objects, and pools of light. This is much more a house for a couple than an exhibition of my work."
Chair of Glasgow Life, Councillor David McDonald added:
"It's exciting to engage with an artist like Aaron who has taken time to delve into the city's extensive collection and in doing so has rediscovered a beautiful Wardian case. Working with Aaron has allowed us to refocus our attention on a truly visually stimulating object, one which hasn't been on show for quite some time and bring it back to life for the public to enjoy.

"Aaron Angell's new show is the flagship exhibition in GoMA's programme for the forthcoming year. I urge people to visit and consider how the different artworks created add to the narration of GoMA's history that is explored elsewhere in the building."
Alongside the case will be four new sculptures – a piece of inflatable furniture filled with a mock hypocaust heating system, a methane 'sewer' gas lamp, a cabbage and a cinerary urn. The lamp will feature the four pipe form that occurs throughout Angell's recent work and a sconce modelled on a Roman coin. Ceramic works, made shortly after Angell's recent residency at the Leach Pottery in St Ives, are based on the profile of Roman cineraria or cinerary urns intended for the remains of married couples. Having never visited Italy, the history of the Roman civilization remains "Literary and ridiculous" to Angell, a malleable idea rather than a historical fact.
In a continuation of the artist's interest in problems of scale, hobbyist aesthetics and poetic thought, Angell will also display a giant flatpol cabbage, presented as a sculpture. Grown by expert giant vegetable grower Kevin Fortey the cabbage will be housed in a concrete artist-made planter. The cabbage, like the ferns and mosses, will continue to grow during the exhibition's run, offering the idea of the exhibition as a living extension of Angell's practice.
All of the works reference the complex history of GoMA's site as a residence, garden, and neoclassical fancy. They continue Angell's interest in marginal forms of image making and collapse the distinction between high and low art. The intentionally amateurish look of his sculptural work, for example, is offset by the in depth, nuanced and detailed histories that Angell mines for reference and by the difficulty of the ceramic process itself.
Angell studied at the Slade School of Art and is the founder of Troy Town Art Pottery, a radical and psychedelic pottery for artists. He lives and works in London.
Upcoming solo exhibitions include: Koppe Astner, Glasgow, Art Exchange, Colchester, and Kunstverein Freiburg, Germany.
Recent exhibitions include Why I built the Cloaca Maxima (Rob Tufnell, London, 2017), That Continuous Thing: Artists and the Ceramics Studio, 1920 - today (Tate St Ives, 2017), Variations on the Chaldon Doom (Markus Lüttgen, Cologne, 2017), The British Art Show 8 (Edinburgh, Leeds, Southampton, Norwich, 2017, Grotwork (Studio Voltaire, London, 2016), Woman expecting triplets returning home from the cinema (SWG3, Glasgow, 2012).