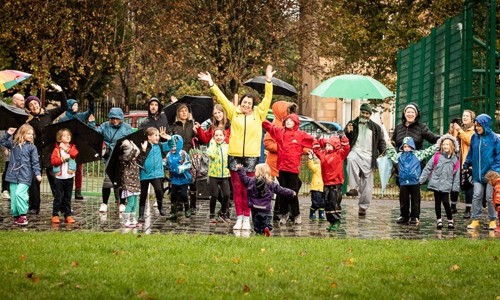 Hundreds of Glasgow school children dance their way into art history
Hundreds of Glasgow school children dance their way into art history
HUNDREDS OF GLASGOW schoolchildren have brought dance to the streets as part of Dance International Glasgow - and this weekend, the launch of an unusual on-street art exhibition celebrates the project, created by Dance Activist Kate E Deeming.
When the Four Corners exhibition opens in Pollokshields this weekend, it will show pictures of local primary school pupils hopping, skipping and twirling through their local neighbourhood. These photographs, taken by Basharat Khan, will be displayed in local shop windows until 6 November.
Four Corners is a Moving Out commission from Tramway and The Workroom which supports choreographers in taking their work to public spaces, as part of Dance International Glasgow (DIG) .
"It's been amazing – a totally positive experience for the community," says Deeming. "The initial idea was to run four workshops, but when I went into the schools, the response was so positive that I ended up having 550 children involved in 60 workshops."
"Seeing the joy, verve and confidence of the children dancing in the streets with complete abandon really sums up what dance can be and reminds us who it's for ¬ everyone!" adds LJ Findlay-Walsh, senior curator of performance at Tramway.
The exhibition launch takes place on Sunday 20 October, 2-4pm, at Maxwell Square Park. Free entry.
Download the full Four Corners press release here>
DIG runs until 26 October 2019. See the full programme here>