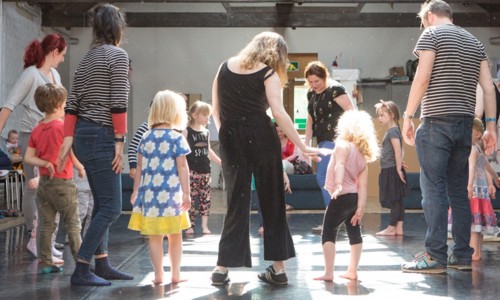 Tramway's popular weekly arts activity sessions for pre-schoolers and their grown-ups are back.
Tramweans, which take place at the Southside arts space on Mondays from June 4 to June 25, are a perfect mix of feel-good-fun and creative expression for little ones.
Led by Glasgow-based contemporary artist Ruth Barker, each session aims to build skills in imagination and creativity.
Using movement, storytelling, and play, Tramweans will explore basic performance skills such as breathing, presence, and the power to create in our minds.
Tramweans are one of Tramway's Take Part events, which feature lots of fun and fascinating ways for people of all ages and abilities to find out more about the arts and explore your own creativity.
Holly Rumble, Public Engagement Officer at Tramway, said:
Tramweans is a brilliant way for Early Years children to develop important skills such as working with others. Ruth's sessions are rooted in child development, with the added layer of imaginative play that only an experienced artist can bring."
Councillor David McDonald, Chair of Glasgow Life and Deputy Leader of Glasgow City Council, said:
Tramway is such a popular venue with families, with lots of activity throughout the year that's especially for young people.

"The Tramweans sessions have been a huge hit since they were first held last year, and it's great to see them return, with opportunities every Monday this June for pre-schoolers and their grown-ups to learn while they're playing in a supportive and inspiring environment."

Tramweans are for ages 3-5 and their grown-ups. Kids and grown-ups should wear comfortable clothes to enjoy developing physical awareness and imaginative play.
You can block book at £12 per child for all 4 sessions (morning or afternoon) or £4 per child, per session
Find out more at: tramway.org/takepart
Tramway is supported by Glasgow City Council and Creative Scotland.