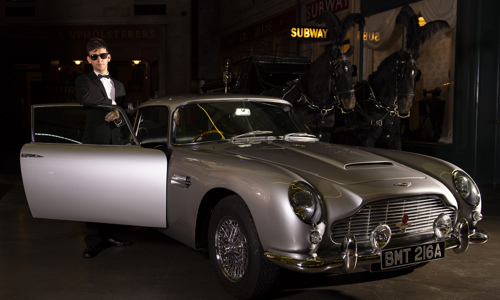 James Bond's iconic Aston Martin DB5 delights movie buffs at Riverside Museum
James Bond's iconic Aston Martin DB5 delights movie buffs at Riverside Museum
A replica of James Bond's stunning Aston Martin DB5 is now on show at Riverside Museum, Glasgow.
The character car will offer fans of the British Secret Service's most famous spy the opportunity to ogle the real star of Goldfinger, which is on show until 25 November 2019.
The most well-known cinematic James Bond car first raced onto our screens, driven by smooth Scot Sean Connery, in Goldfinger (1964) and later appeared in a host of other Bond movies, including the most recent Spectre (2015). It is considered to be the quintessential vehicle of the character and in 2019, it was confirmed by Aston Martin that the car would feature in the next Bond film, No Time To Die, to be released in April 2020.
Councillor David McDonald, Chair of Glasgow Life, said:
The striking Aston Martin DB5 needs no introduction. We think James Bond's vehicle of choice will look perfect set amongst the outstanding array of vehicles on show at Riverside Museum, which is home to some of the world's finest cars.
Following on from the success of Lightning McQueen, the Batmobile and Chitty Chitty Bang Bang, the arrival of the Aston Martin DB5 offers fans a real licence to thrill this winter. It will give visitors a rare opportunity to get close to another beautiful vehicle intrinsically linked to the silver screen.
Bond enthusiast Ronnie Brodie was given a rare treat when he was allowed to sit in the driver's seat of his hero's cult car as the Aston Martin DB5 was placed into position at Riverside ahead of its month long visit to the museum. Visitors to the museum can take photographs beside the car, but will not be able to sit in it.
Among the best-known cars in the world the DB5 was modified to assist James Bond in his death-defying missions by special effects expert John Stears. Spy gadgets included a smoke screen, oil slick, revolving license plates, machine guns and rear bullet shield.
Three DB5's were used in the filming of Goldeneye, two for the racing sequences. In 2010 an original used in both Goldfinger and Thunderball came up for auction and was sold for £2.6 million. An original Goldeneye DB5 can be seen at the London Film Museum in Covent Garden.
The multi-award winning Riverside Museum is free to enter.  It shows off the breadth of Glasgow's world-class travel and transport collection through its multidisciplinary story displays.   Highlights include a 1900 recreated Glasgow street with shops, pub and subway station and a huge transport collection featuring some of the world's oldest and finest cars, bikes, ship models, locomotives and trams.