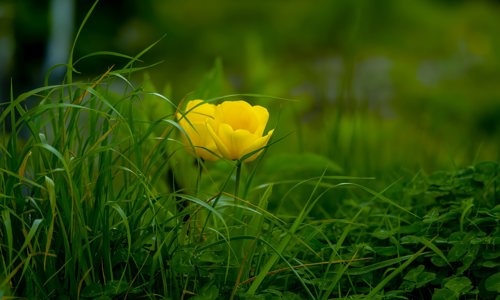 Langside gardeners working to make their community grow
Langside gardeners working to make their community grow
More than 30 volunteer gardeners have helped to turn derelict land outside Langside Library into a tranquil space in the heart of this bustling south side community.
The volunteer gardeners, supported by Glasgow Life and Langside, Battlefield and Camphill Community Council, developed their inner city oasis to celebrate the rich diversity of the local area, bringing members of the community together to reap the benefits of healthy living.
Councillor Susan Aitken, Leader of Glasgow City Council, said:
More than 122,000 visits were made to Langside library last year and I'm delighted to see that Glasgow Life staff, the community council and local community have worked together to extend this vibrant community hub's many benefits beyond its four walls.

The library garden is a great example of the fantastic work that happens right across our city when communities come together to create a project that is both unique and worthwhile, and it is wonderful to see people of all ages working together on a positive initiative that will benefit the residents of the local area, and the people of Glasgow.
Evelyn Silber of Langside, Battlefield and Camphill Community Council, said:
The Library at the heart of Battlefield and Langside is a place where everyone is welcomed. It has so much to offer. Yet the precious green space was being wasted. It is still developing but it is now a pleasant spot to read, talk, think or just take time out.

We are so grateful to our partners, Glasgow Life Library staff, and to the City Council grants and the Conservation Volunteers who have helped to fund it and to the volunteers who have worked hard to help clear the weeds, and local people who have sponsored benches.
Designed to provide a tranquil space away from the hustle and bustle of the city, the Langside Library Garden was officially opened by Leader of Glasgow City Council, Cllr Susan Aitken and offers members of the local community the opportunity to relax and reflect in a safe, accessible outdoor area.
Toddlers from nearby Sinclair Nursery, pupils from Battlefield Primary School, The Conservation Volunteers and Urban Roots have also chipped in to transform the space, co-ordinated by lead volunteers Eleanor Logan and Greg Soper. Volunteers to help maintain and grow the garden are always welcome, and enquiries for volunteer gardener opportunities can be made directly to Langside Library.
The innovative garden will offer younger children the opportunity to participate in active storytelling as they explore the world around them, whilst adults can engage in community learning initiatives in this peaceful setting. Memorial benches dedicated to local people who loved the library are also available to be sponsored within the garden.
For more details, please visit www.glasgowlife.org.uk/libraries or visit Langside Library's Facebook page to keep up to date with regular events: www.facebook.com/langsidelibrary