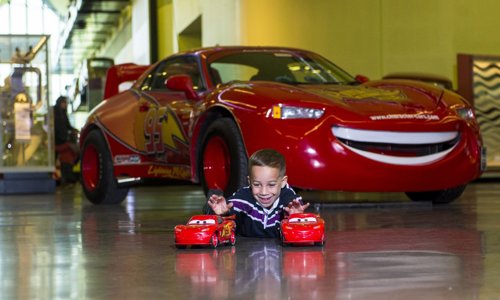 Lightning McQueen; From Radiator Springs to Riverside Museum
Lightning McQueen; From Radiator Springs to Riverside Museum
A fan-built replica of Lightning McQueen is taking a trip from his home town of Radiator Springs and stopping off at Riverside Museum, Glasgow. The character car will be on show until Thursday 29 November 2018.
Movie buffs used to seeing the animated stock car in his extraordinary high-octane world as a flat two-dimensional creation, will be in awe of its realistic transformation into a real life-size, fully-drivable three-dimensional car.
The latest annual character car to go on show at the Riverside Museum will see the arrival of a reproduction Lightning McQueen. Following on from the success of the Batmobile and Chitty Chitty Bang Bang, Monty's arrival will give visitors a rare opportunity to get close to another vehicle usually only seen on the silver screen.
The real Monty "Lightning" McQueen is a stock car in the animated Pixar film Cars (2006), its sequels Cars 2 (2011), Cars 3 (2017) and TV shorts known as Cars Toons. It is believed the character was named after Pixar animator Glenn McQueen, who died in 2002. He is painted much like a 1950s Chevrolet Corvette C1 and his stock car appearance has been softened slightly with a more curvaceous design inspired by Le Mans endurance racing cars.
Councillor David McDonald, Chair of Glasgow Life, said:
We think Lightning McQueen will feel quite at home among the incredible array of vehicles on show at Riverside Museum, which is home to some of the world's finest cars. His arrival is sure to delight some of our younger visitors, keen to meet a life-sized replica of one of the most famous stock cars on screen.
A local youngster was given a special treat when he was allowed to get up close and personal with a life-sized replica of his hero McQueen, as the reproduction car was placed into position at Riverside ahead of his month long visit to the museum. Visitors to the museum can take photographs beside the car, but will not be able to sit in it.
The car belongs to a private owner who has loaned it to Riverside until 29 November 2018. In the original film, McQueen, voice by Owen Wilson, is one of the three contestants in a Piston Cup tiebreaker race in Los Angeles, California.
The multi-award winning Riverside Museum is free to enter.  It shows off the breadth of Glasgow's world-class travel and transport collection through its multidisciplinary story displays.   Highlights include a 1900 recreated Glasgow street with shops, pub and subway station and a huge transport collection featuring some of the world's oldest and finest cars, bikes, ship models, locomotives and trams.