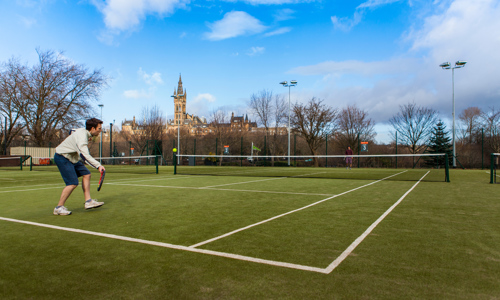 Local park tennis courts across Glasgow undergoing transformation
Local park tennis courts across Glasgow undergoing transformation
Glasgow City Council, Glasgow Life and the LTA are partnering to breathe new life into local park tennis courts
The project will see significant investment into seven of Glasgow's public parks operated by Glasgow Life
The UK Government and LTA Tennis Foundation is providing £150,000 of investment, delivered by the LTA through the Park Project
Work is underway to refurbish seven park tennis courts in Glasgow in a partnership between Glasgow Life, Glasgow City Council and the LTA to ensure that quality facilities are available for all Glaswegians.
A total investment of more than £1million is being invested into tennis courts in Victoria Park, Knightswood Park, Drumchapel Park, Queens Park, Kelvingrove Park, Garrowhill Park and Maryhill Park.
Glasgow Life and Glasgow City Council are the majority investors in the refurbishments, which is being delivered in partnership with the LTA, who have provided a £158,450 grant as part of its nationwide Park Project, which is funded by the UK Government and LTA Tennis Foundation. It follows the completion of a £146,000 refurbishment of the Newlands Park courts, which are operated by the Newlands Park Community Tennis Centre.
Over 3,000 existing park tennis courts in poor or unplayable condition are being brought back to life for the benefit of communities across the country through renovation works, and improved digital accessibility through a new gate-access technology and booking system. All courts and sessions at all sites will be available to book online via the LTA website.
Park tennis courts are vital in providing opportunities for children and adults to get active, delivering significant physical and mental health and wellbeing benefits to participants. Accessible facilities in parks are particularly critical to opening up the sport to those from lower socioeconomic backgrounds and women and girls.
To ensure that refurbished courts can be maintained for the benefit of local communities for many years to come, courts will cost £10 per hour for adults and £5 for under-18s during peak times. To ensure accessibility, a Park Tennis Family Pass is available for £25-per-year for families whose household income is supported by various benefits, meaning families can book and play tennis for as little as 48p if playing once a week throughout the year. For more information on all Glasgow Life indoor and outdoor tennis activities and facilities, visit the Tennis page on their website.
Glasgow City Council and Glasgow Life will also work with the LTA to deliver a range of activity across the park sites. This will include weekly organised free park tennis sessions for all ages, playing levels and experience where equipment is provided, meaning that people will not need someone to play with or their own racket. Local Tennis Leagues will also provide friendly, sociable, opportunities to get active through local competition.
Work on sites is ongoing and set to be completed in July 2023.
Bailie Annette Christie, Chair of Glasgow Life, said:
Glasgow is a world-renowned sporting city, and Glasgow Life is committed to making sure people can experience the life-changing benefits of participating in sport. It is well-known that staying active and meeting others can help people to improve their mental and physical wellbeing. This generous investment from the LTA helps us improve much-used tennis courts across the city.

The funding is helping to provide quality facilities for local communities and give people more opportunities to become fitter and healthier. Access to these improved courts will be felt by every generation and hopefully inspires more people to pick up a racket and get involved.
Julie Porter, Chief Operating Officer at the LTA, said:
We are delighted to be working with Glasgow City Council and Glasgow Life to improve park tennis facilities and provide more opportunities for Glaswegians to pick up a racket and get active. This investment is part of the UK Government and LTA Tennis Foundation funded Park Tennis Project, and will mean that courts will be available for people to use for years to come.

We will also be working closely with Glasgow City Council and Glasgow Life to ensure that the local community have a range of accessible opportunities to get on court, and open up our sport to many more people.