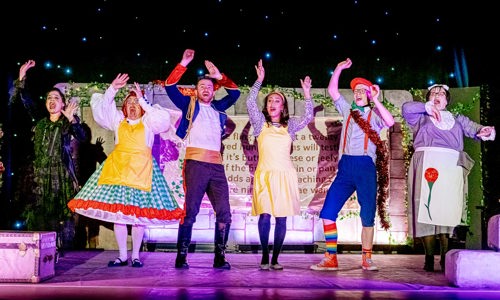 Look out behind you! Glasgow Arts Community Pantomime is on tour ...
Look out behind you! Glasgow Arts Community Pantomime is on tour ...
The Glasgow Arts Community Touring Pantomime 2019 is in full swing. Oh, yes it is! Since December 4, audiences have been singing along with Beauty And The Beast and laughing at the antics of Dame Sweaty Betty Blumenthal and her hapless son Boabby.
As the star-studded cast performed in community centres from Darnley to Knightswood, audiences have also been booing and hissing enthusiastically as wicked witch, Deadly Nightshade, tried to scupper Beauty's chances of a happy ending.

"Excellent", "amazing", "funny" and "great entertainment" were some of the comments from those who watched the preview performance in Barmulloch Community Centre on December 3.
Others praised the acting, the music … and the jokes.

When the curtain falls on the final performance, in Castlemilk Community Centre on December 20, the show will have played to 14 venues including Lodging House Mission – and the Glasgow Arts Community Touring Pantomime will be behind us for another year.
Meanwhile, there are still plenty of chances to see this hilarious piece of professional theatre. Written by Alan McHugh and directed by Julie Brown with musical direction from Karen MacIver, Beauty And The Beast stars Storm Skyler McClure as Beauty and Trevor O'Connell as the ill-fated Prince Sebastian, who's been transformed into an ugly Beast by wicked witch, Deadly Nightshade (Neshla Caplan). Kevin Lennon plays the Dame – Sweaty Betty Blumenthal – to hilarious effect. Andrew Marley is her hapless son, Boabby, and Elaine M Ellis plays Agnes, the housekeeper of Castle Clydeside.
The set and costumes are designed by Claire Halleran and the costume-maker is Kirsteen Naismith. Choreography is by Susan Elena; production manager is Sian McGregor and the stage managers are John Wilkie and Dougal Gudim.

With 21 performances scheduled, some 4,000 people are expected to see the show. The Glasgow Arts Community Pantomime was first staged in 2009, and for 10 years it has brought Yuletide cheer and high-quality theatre to the places where people live at prices they can afford.
Here's to the next 10 years of Glasgow Arts Community Panto magic.
For a full list of venues and tour dates visit https://www.glasgowlife.org.uk/event/1/beauty-and-the-beast 
Photo by Brian Hartley