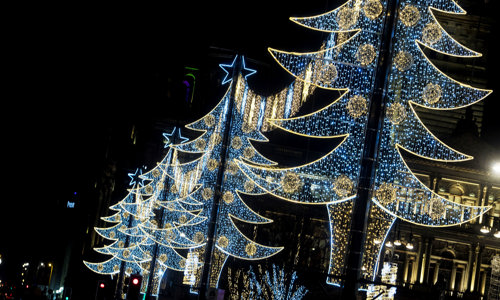 Love Glasgow This Christmas
Love Glasgow This Christmas
As the lead up to the festive season is different because of Covid-19, Glasgow Loves Christmas is instead asking you to Love Glasgow this Christmas, stay within current guidelines and give your support to businesses in the city
Love Glasgow this Christmas will focus on what is available to celebrate a great Christmas and will be bringing you lots of ideas to support business based in the city and some great festive moments.
For anyone living in Glasgow able to visit George Square while remaining within current guidance, it will once again be a magical place with traditional decorations including the Christmas tree, lights and crib.
Every evening in December until January 2 2021, there will be a new festive lighting installation at Glasgow City Chambers which will see the iconic building illuminated with a beautiful colour wash, Christmas lights and lasers beamed from the roof.
Lighting displays have always created a magical atmosphere throughout the city and this year the streets will still sparkle with the much loved canopies of light and festive features.
Follow Glasgow Loves Christmas on social media for the latest Glasgow gift ideas and some exclusive festive content you can enjoy over the next seven weeks. 
Councillor Susan Aitken, Leader of Glasgow City Council said: "The best way to Love Glasgow this Christmas is to stay within current guidance to keep you and your friends, family and neighbours safe.
"Please support the businesses based in Glasgow we all love and rely on by choosing to do your food and present buying with them, whether that's online or in-person where it's safe to do so.
You can be part of the city's celebrations by using the hashtag #LoveGlasgowthisChristmas and sharing your festive hints and tips to make this a memorable Christmas.