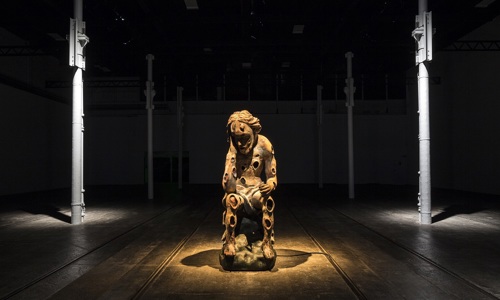 Tramway presents a solo exhibition by Turner-Prize winning artist Mark Leckey. The exhibition is co-commissioned and co-curated by Tramway and Glasgow International and is presented as part of the Glasgow International 2018 programme until 1 July.
For his solo exhibition at Tramway, Turner Prize-winning artist Mark Leckey has taken as his starting point an 18th Century wooden figurine of Job held at the Wellcome Collection in London. Leckey has enlarged the object to human scale and this single forsaken figure occupies the vast space of Tramway.
The title 'Nobodaddy' is taken from the poem by William Blake, a name that for Blake is a play on the idea of God the father of no one, but also the man with no body. In Leckey's sculpture this body is expanded and infiltrated by technology. Man's limbs are hollowed out, the organs removed, and filled with speakers that give voice to his state. Opposite the sculpture a large video projection mirrors the figure as it is toggles through different scenarios.
The original figurine is deployed as a vessel for various attributed or shifting identities – initially thought to be a syphilitic man, but later attributed as a depiction of Job, here he is represented as a narcissistic 'Thinker' figure - part statue, part cyborg. A confluence of allegories and histories that in Leckey's words has become "metalized, gauzified, vegetalized and petrified, a medieval gnostic gone septic, it's body now merely a thing amongst things - the Spirit has departed the flesh."

This exhibition has been made possible due to the generous support of the Wellcome Collection, London, and the Henry Moore Foundation.
Mark Leckey. Born 1964. Lives and works in London, UK. His most recent solo exhibitions include National Gallery of Denmark (SMK), Copenhagen, Denmark (2017); Affect Bridge Age Regression, Cubitt, London, UK (2017); Containers and Their Drivers, MoMA PS1, New York [curated by Stuart Comer and Peter Eleey] (2016); Dream English Kid, Liverpool Biennial, Liverpool, UK (2016); Zoo Logic, The Walker Art Gallery, Liverpool, UK (2016); This Kolossal Katt, that Massive MOG, Grundy Art Gallery, Blackpool, UK (2016). His most recent group exhibitions include BMW Tate Live, London, UK (2018); Stories of Almost Everyone, Hammer Museum, Los Angeles, CA (2018); Again and Again, Haus Der Kunst, München, Germany (2018); Art in the Age of the Internet, ICA Boston [curated by Eva Respini] (2018); Exhibition as Image: Art Through the Camera's Eye, 38 Ludlow, New York [Curated by Eric Bell and Saim Demircan] (2017); True Faith, Manchester International Festival, Manchester, UK [Curated by Matthew Higgs and Jon Savage] (2017).
Tramway also hosts exhibitions by Kapwani Kiwanga and Tai Shani as part of Glasgow International 2018.
Tramway is supported by Glasgow City Council and Creative Scotland.
To find out more visit: www.tramway.org/markleckey