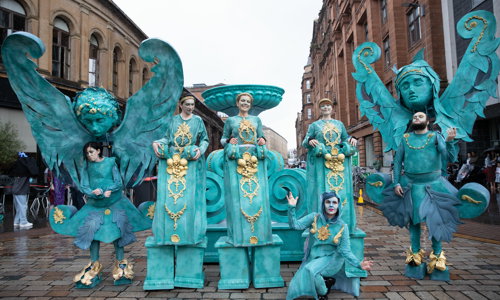 Merchant City Festival 2022 opens with incredible Carnival Party
Merchant City Festival 2022 opens with incredible Carnival Party
Merchant City Festival, one of Glasgow' favourite annual events, kicked off today (Thursday 28 July 2022) with an exciting Carnival Party that saw talented dancers and musical performers engage with captivated audiences in and around the Merchant City.
Marking the start of a weekend full of culture, creativity and culinary delights, the When Baroque meets Hip Hop Carnival is the culmination of a three-month community outreach programme that worked with an array of dance and community groups across the city.
With Merchant City Festival running until this Sunday, 31 July 2022, the much-loved event is set to showcase outdoor arts, circus, dance and more – with entertainment happening in and around the streets and venues of the Merchant City area of Glasgow.
Thursday night, Big Angie will take to the stage at the Old Fruitmarket. With no topic off limits, Big Angie's show Me, the Polis & the Priest will tell tales of botox, big lips and the law. Covering everything from her days as a young halcyon hairy in Glasgow's East End – dreaded and admired as 'Bulletproof Balls' by the Strathclyde Police – to growing up as a half-reformed character with a quarter bottle of madness in her back pocket.
On each day of the festival, family-friendly dance-along screenings of some of your favourite films will take place in the iconic Grand Hall in Glasgow's City Halls. With Encanto, Sing 2 and Trolls all being shown, kids will receive a gift on arrival and dressing up is highly encouraged!
Friday's line-up has something for the whole family to enjoy with free events taking place in Merchant Square, in partnership with the Edinburgh International Children's Festival. Events include a Family Disco with Be Bop Bairns, including singing, dancing and big party games with a soundtrack to cater for children of all ages. The Happiness Collectors will showcase an audio-immersive and interactive live performance ideal for ages 5-10, involving a journey of sounds and silliness to learn the best ways to collect happiness.
Friday night will also see the Hip Replacement Club Night return to the festival when it takes over the Old Fruitmarket.
Saturday and Sunday are jam packed with activities and performances to suit all ages and interests. Hurricane Group (FISE) will present BMX Freestyle Flatland demonstrations live in George Square. The riders will perform a combination of art, sport and acrobatics to the backdrop of a live DJ and MC.
The festival will also welcome two of the most exciting outdoor arts companies to the city for their Scottish premieres this weekend. Joli Vyann will bring their breathtaking acro-dance show Timeless to George square, using a monumental rotating hourglass to explore the themes of time and climate change, while leading Choreographer Jeanefer Jean Charles will bring Black Victorians to the event, a powerful dance piece based on recently discovered photo portraits of people of colour in the UK from the nineteenth century.
A special performance from Scotland-based Jamaican singer-songwriter iBrina will take place on Saturday and Sunday night at City Halls. Her world-class ensemble of musical friends, originally scheduled as part of Celtic Connections 2022, will celebrate the rich cultural tapestry of modern Scotland through stories of migration, displacement, joy, and humanity. Celebrating diversity and promoting acceptance, these performances are supported by EventScotland as part of Scotland's Year of Stories 2022.
Scotland's outdoor arts agency Surge will showcase a full outdoor programme, alongside an evening multimedia theatre performance entitled 'The Love Supreme Roadshow' at the Old Fruitmarket. This unique show uses a mix of physical theatre, clown, puppetry, projection mapping, live streaming, animation, and surround sound to immerse the audience.
Aside from the show-stopping programme of entertainment taking place across the festival, from Friday to Sunday the ever-popular Merchant City Festival markets will be back for the first time since 2019, offering a craft and makers market and some food stalls.
Councillor Eva Bolander, Chair of the Merchant City Festival Committee, said: "As always, the Merchant City Festival programme is designed to provide rich cultural experiences for all who attend. This year, we have many acts to be excited about; we've got outdoor art and theatre, dance, cabaret, film, music and a strong focus on family involvement. I would strongly encourage all to come down and join the celebrations as Glasgow's city centre comes alive this weekend."
Merchant City Festival is delivered by Glasgow Life, the charity that inspires people to live richer and more active lives through art, culture and sport.
Bailie Annette Christie, Chair of Glasgow Life, said: "We are delighted to see Merchant City Festival kicking off today; the reaction from spectators has been incredible so far and we've got a fantastic line-up of events still to come!
"The purpose of Glasgow Life is to enrich and enhance the lives of people. This festival is sure to do that, whether through music, art, sport or comedy. It marks a return to normality for Glasgow and will bring much-needed joy and excitement back to the streets after years of difficulty and uncertainty.
"We're so looking forward to welcoming people from Glasgow and beyond to enjoy the long weekend of festivities."
Most events will be free to attend. Ticketing information and the full programme are available here.