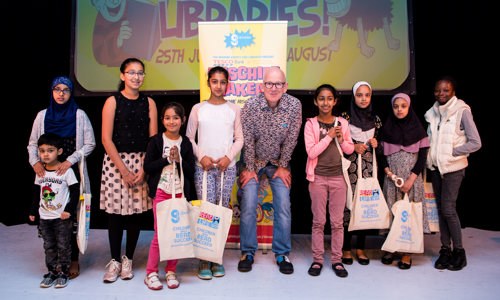 Mischief Makers celebrate Summer Reading Challenge at Mitchell Library
Mischief Makers celebrate Summer Reading Challenge at Mitchell Library
There was a mischief and mayhem galore at Glasgow's Mitchell Library on Saturday (8 September) as more than 200 bookworms joined acclaimed author Jonathan Meres to celebrate the epic finale to this year's Beano-inspired Tesco Bank Summer Reading Challenge.
Throughout the summer holidays almost 4,000 eager readers headed to their local Glasgow library, signed up for the Challenge and read six books of their choice, collecting stickers, rewards and prizes along the way.
The Mischief Makers Challenge, run by The Reading Agency, in partnership with library services and Tesco Bank, saw young Glaswegians read more than 30,000 books between 25th June and 10th August.
Councillor David McDonald, Chair of Glasgow Life, said:
Thousands of young people in Glasgow have enjoyed books filled with pranks, jokes and mischief this summer as part of the Mischief Makers Tesco Bank Summer Reading Challenge. It's fantastic to see so many young people enjoying the positive benefits of reading in our city's libraries.