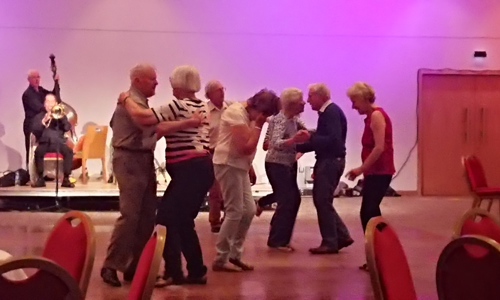 Music and Memories collide at Dementia-Friendly Classical Concert
Music and Memories collide at Dementia-Friendly Classical Concert
Memories and melody will be in the air this Friday (October 25), as classical music duo Voice And Verse present the first of a new season of Glasgow Music dementia-friendly concerts.
Soprano Laura McFall and pianist Kristine Donnan will perform a blend of classical tunes and popular jazz and folk songs, including their own arrangements of Irish favourites. 
A free (but ticketed) afternoon session held in the relaxed and comfortable surroundings of Glasgow' Royal Concert Hall's Strathclyde Suite, the show is one of a series geared towards people with dementia along with their families and friends.
The beneficial effects of music are becoming increasingly recognised. It can unlock memories, reduce stress and anxiety while also helping maintain speech and language, and Glasgow Music's dementia-friendly concerts – which are presented in partnership with Live Music Now – have proved hugely popular since they were first piloted in 2017.  
Designed to be welcoming, entertaining but, crucially, accessible, the events are carefully organised in terms of lighting, signage and staffing to ensure that they are sensitive to the specific needs of people living with dementia.
"Our main partners in this project are Live Music Now Scotland and their musicians have experience of working with older adults and those with dementia," explains Glasgow Music project officer, Carla da Luz. "Looking ahead to January, we also work closely with Celtic Connections and offer two concerts during the festival with a traditional Scottish music focus."
Audience feedback from past events suggests the formula works extremely well for people with dementia and their families, friends and carers. "Thank you, there are not enough events like this for people with dementia," said someone who attended a previous concert. "I stumbled across this by accident but really glad I brought my auntie along."
Laura and Kristine of Voice And Verse, who have performed extensively across the island of Ireland as well as in prestigious Scottish venues such as Edinburgh's Usher hall, have been described as a fun-infused voice and piano duo, who present their audiences with a unique blend of vitality and sensitivity.
Upcoming dementia-friendly events at the Glasgow Royal Concert include a tea dance on November 19. It features the Penman Jazzmen, who have been entertaining jazz-lovers for 60 years as they continue the legend of their late, great bandleader George Penman.
Then on December 9, Scottish trio Maxwell, Lightbody, Smith will harvest the golden age of jazz to perform songs made famous by the likes of Ella Fitzgerald and Frank Sinatra. The audience can expect spellbinding vocals as they are taken on a journey through swing, bossa and doo-wop hits from Cole Porter,  George Gershwin and many more.
In January, Celtic Connections will present Catherine Tinney and Calum Morrison (on January 20) followed by Ainsley Hamill and Alistair Iain Paterson (On January 29).
Voice And Verse takes place on Friday 25 October at Glasgow Royal Concert Hall, 1.30pm-3pm. Tickets can be ordered from Glasgow Royal Concert Hall Box Office, or online at glasgowconcerthalls.com or by telephone on 0141 353 8000