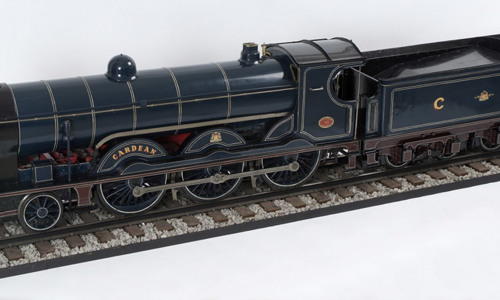 New display at Riverside marks 50 years since steam engines ran on Scotland's trainlines
New display at Riverside marks 50 years since steam engines ran on Scotland's trainlines
Riverside Museum has opened Looking at Locomotives, a new display exploring more than 200 years of Glasgow's train building heritage.
To mark 50 years since steam engines stopped running on mainline railways across Scotland, Glasgow Museums has curated a presentation exploring the history of locomotive and steam powered transport in Glasgow.
 Scotland's museum of travel and transport is renowned for its world-class ship model collection, Looking at Locomotives is an opportunity for visitors to discover more about some of the exquisite railway models in the city's collection, which rival the maritime models in quality, variety and interest. On show are 11 models of Glasgow built locomotives. Together they allow people to trace the history of railways in Scotland from its earliest days in the 1830s to the development of electric and diesel transport in the 1960s and 1970s.
Chair of Glasgow Life, Councillor David McDonald said:
To mark 50 years since the end of steam on mainline railways in Scotland we are delighted to open our newest display at Riverside. It showcases some of our incredible railway models and related objects, many of which have not been seen for decades. They are wonderfully detailed and show the huge developments made over 200 years of railway technology and engineering ingenuity.

The models were built for the railway companies as examples of their life sized products or by skilled amateurs. Their display contributes to the story told at Riverside of Glasgow's industrial heritage and how the city's engineering expertise was exported across the globe. Only 100 years ago Glasgow produced more steam locomotives than any other city in Europe and these models are a lovely introduction to this great industry, an industry which helped put Glasgow on the world map
Glasgow Museums transport curator John Messner placed a model of the first steam locomotive built in Glasgow in 1831, by Murdoch, Aitken and Company for use on the Monkland and Kirkintilloch Railway, into position in preparation for opening the display to the public.
Alongside this is a model of the steam road carriage built by Ayrshire born William Murdoch in the 1780s.  Murdoch was one of the first engineers to experiment with steam power on our roads. The largest model on show is of the Caledonian Railway locomotive No. 903 'Cardean', a famous class of locomotive used to pull fast passengers services on the West Coast Main Line. Moving forward in time visitors may recall travelling on the life-sized versions of some of the other replicas, such as a three carriage model of the famous Glasgow 'Blue Train', the electric trains introduced in Glasgow in 1960 that revolutionised regional passenger transport.
Riverside Museum shows off the breadth of Glasgow's world-class travel and transport collection through its multidisciplinary story displays.  The railway model collection is bolstered by four full-sized locomotives on display, including the South African Railways locomotive 3007, which holds the title of largest object in Riverside and indeed Glasgow Museums entire collection.
Looking at Locomotives is located on the first floor of Riverside Museum, Glasgow beside the Glasgow & South Western Railway tank engine no 9 and Coffee Stop.