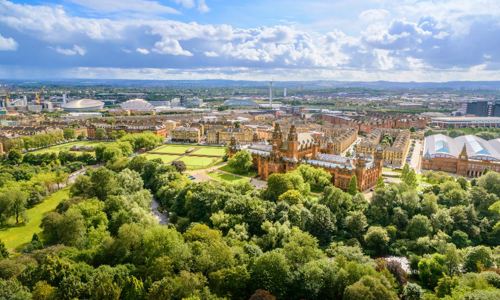 New Glasgow Life tourism campaign with Expedia aims to attract more visitors from North America and Germany
New Glasgow Life tourism campaign with Expedia aims to attract more visitors from North America and Germany
Glasgow Life has launched a targeted marketing campaign in partnership with global travel leader Expedia aimed at inspiring visitors from the USA, Canada and Germany to consider a future trip to Glasgow.
The initiative is being implemented across three of the city's core international markets to help drive the recovery of Glasgow's visitor economy following the impact of the pandemic. Pre-Covid, the USA, Canada and Germany collectively accounted for 236,000 annual tourist trips to Glasgow and some £75 million in visitor spend.
Running until the end of March this year, the fully digital campaign has been designed to broaden awareness of the variety of cultural experiences visitors can enjoy as part of a trip to Glasgow as well as reinforce the message that the city's tourism and hospitality industry is open for business.
Directing potential visitors to dedicated 'Glasgow hub' landing pages on Expedia's website for their country, the campaign promotes airline access and tickets, hotel offers and profiles several of the city's world-class visitor attractions and activities, including the £68.25m refurbishment and reopening of The Burrell Collection in March 2022.
Glasgow Life's campaign upweights a national campaign, which is currently being run with Expedia by VisitScotland, aimed at encouraging more international visitors to consider Scotland in 2022. Glasgow Life and VisitScotland, together with Scottish Enterprise, are the partners collectively delivering Glasgow's Tourism and Visitor Plan to 2023.
City businesses that are supporting and are profiled as part of Glasgow Life's campaign include: Hampden Park Stadium and Museum Tour; Celtic Park Stadium Tour; Mackintosh at the Willow; Tennent's Brewery Tour; City Sightseeing; Walking Tours in Glasgow; Red Bus Bistro; and Discover Scotland Tours.
In addition, the following city hotels are offering promotions for international visitors during the campaign period: Maldron Glasgow; Yotel Glasgow; Novotel Glasgow; Ibis Sauchiehall Street; Holiday Inn Glasgow Airport; Best Western Argyll Hotel; Carlton George Hotel; Charing Cross Hotel; Muthu Glasgow River Hotel; Dalmeny House Hotel; Crown Plaza Glasgow; and Number 10 Hotel.
The 'Glasgow Hub' landing pages on Expedia's North American and German websites can be found at the following links: