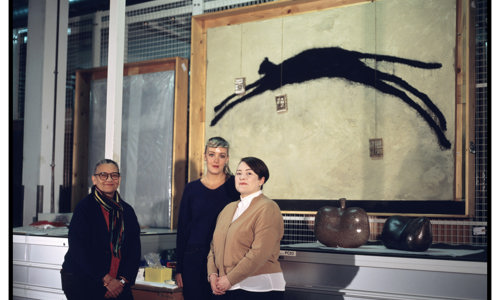 New GoMA exhibition highlights Black artists' contribution to Scotland
New GoMA exhibition highlights Black artists' contribution to Scotland
A new exhibition designed to highlight the significant cultural contribution Black artists have made to Scotland has opened at Glasgow's Gallery of Modern Art (GoMA).
'Revisiting the Work of Black Artists in Scotland through New Collecting' was co-created by Glasgow Life Museums and independent curatorial duo Mother Tongue to showcase the talents of Black-Scottish artists in response to the whiteness of existing Scottish art history narratives.
Glasgow Life, which runs GoMA, began working on the display with Mother Tongue in 2018 when the founders of the curatorial practice, Tiffany Boyle and Jessica Carden, proposed a research affiliation to support their attempts to compile a chronology of the Black-Scottish creators from the 1860s onwards who lived, studied, travelled through and exhibited in this country.
Initial conversations highlighted existing work by Black artists in Glasgow Life Museums' collection, with 'Timespan' by Dominica-born British painter Tam Joseph a key focus. As the research project developed, Mother Tongue suggested a series of new acquisitions across varied media to address historical and contemporary gaps.
The acquisitions, spanning 1963 to 2019, were supported by an Art Fund New Collecting Award – with Professor Lubaina Himid CBE as mentor – and are displayed alongside existing works from the exhibition and a new Art Fund-backed commission from Barby Asante, a London-based artist, curator, educator and occasional DJ whose work is concerned with the politics of place, space memory and the histories and legacies of colonialism.
The exhibition, which is now open to the public, is housed in the main gallery at GoMA and brings together post-1960s art, reflecting complex dialogues around race, empire, independence and post-colonial legacies, with each acquisition carrying a wider socio-political narrative.
More about visiting the exhibition >
Image: Prof Lubaina Himid CBE and Mother Tongue with Timespan (1987) by Tam Joseph; and Studies for Biomorphic Forms i & ii (1963) by Donald Locke
Taken at Glasgow Museums Resource Centre, 2019.
Photo © Matthew Arthur Williams