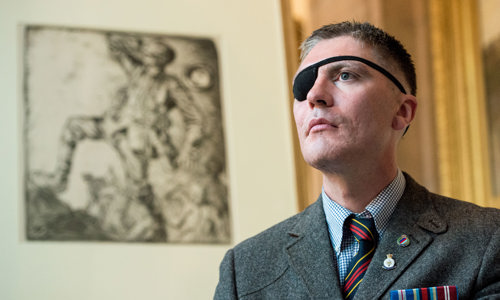 New, thought-provoking World War I display of Frank Brangwyn's works opens at Kelvingrove Museum
New, thought-provoking World War I display of Frank Brangwyn's works opens at Kelvingrove Museum
An emotive new display, inviting visitors to reflect on the impact of war and the life-changing injuries servicemen can sustain has opened at Kelvingrove Art Gallery and Museum.
Frank Brangwyn in World War I: Art in Aid of Blind Soldiers and Sailors is a series of five lithographic prints illustrating the experience of a soldier in World War I who went to war, was blinded on the battlefield, hospitalised and then supported to learn a new trade.
The lithographs were created by artist Frank Brangwyn in 1916-1917. Although he was not an official war artist and was too old to serve he wished to contribute to Britain's war effort. A range of prints, from more expensive limited edition sets to simple black and white individual reproductions, were sold to raise money for St Dunstan's Hostel for Blind Soldiers and Sailors in London.
Scottish War Blinded has assisted Glasgow Museums in making the new display, and supporting public programme, accessible to the blind and visually impaired community. This is one element in a growing programme of exhibitions, events and activities that aim to make disability more visible in the city's museums and ensure equal access for all.
Corporal David Timmins QGM served in the Explosive Ordnance Disposal Team and deployed on two operational tours of Afghanistan. After nine years of service, David lost an eye and suffered multiple severe injuries in a bomb explosion in Afghanistan during Operation Panther's Claw in 2009.
Prior to his own injuries, Mr Timmins QGM helped to save a wounded colleague, and was subsequently awarded the Queen's Gallantry Medal for acts of bravery.  His award citation states that "his actions were an inspiration in the darkest of moments. Following the casualty's arrival at the field hospital, the medical doctor made it clear that without Timmins' action the casualty would not have survived."
Following his medical discharge from the Army, Mr Timmins QGM has taken part in epic challenges including a 3,000 mile cycle - Race Across America, (RAAM) and has worked in roles supporting fellow veterans. He is currently undergoing training Team Rubicon, a disaster relief charity. Mr Timmins said:
As all veterans do, I think it's important to remember the sacrifices made by our forbearers in combat. This exhibition highlights the challenges faced by those soldiers who lost their sight on World War One battlefields, which I can relate to following my own recovery journey.
Glasgow Lord Provost Eva Bolander added:
Although these lithographs are over 100 years old they remain as relevant today as the day Frank Brangwyn created them. I think all visitors will engage emotionally with the story of the brave, young soldier whose life was changed forever while fighting for his country, and for our freedom.

This new display is a welcome addition to our ongoing programme to mark the First World War Centenary. It offers an opportunity to reflect on that period and on the servicemen, like David, injured in contemporary conflict. It also underlines our absolute commitment to equality of access for all across Glasgow Museums.
A supporting public programme will include a family day hosted by Scottish War Blinded. Veterans will share their experience, display their own artworks and together with Glasgow Museums Learning and Access team deliver related family activities.  
As an artist Frank Brangwyn always championed the ordinary person in his art, in this case a foot soldier. He produced a large number of lithographs, posters, rolls of honour and war bond stamps. In all he depicts working class heroes with dignity and respect, emphasised in the way the soldier often physically dominates the image.
In the first lithograph, The Farewell, the soldier says goodbye to his sweetheart at a railway station. In the next, The Transport, the soldier disembarks down the gangplank of a troop ship. On the quayside below, soldiers jostle and the claustrophobic composition conveys the sheer numbers of men arriving at the frontline.  
The third lithograph, The Shell, is the most dramatic. The soldier covers his eyes to shield himself from the blinding light of an aerial shell burst. The artist emphasises the significance of this life-changing event by placing the soldier at the very centre of the piece.
The location, as with the soldier's future, then changes dramatically. The fourth lithograph, The Hospital, is set in a ward full of soldiers with eye injuries. In the final lithograph, called The Basket Maker, our soldier, sits on a low chair in a workshop, absorbed in the task of weaving a basket. Although the workshop is dark, light falls on the baskets the soldiers make, offering hope for the future.
Glasgow Museums was keen to include a tactile element in the display and commissioned The Glasgow School of Art's School of Simulation and Visualisation to create a 3D printed representation of The Shell, to allow visitors to feel the composition of the artwork. Visitors can also explore the texture of a partially constructed willow basket, similar to that shown in the final print.  An iPad has been installed to provide audio descriptions of the objects on a continuous loop, with additional contextual images. Braille translations of the interpretation panels are also available. 
Dr Jo Meacock, Curator of British Art, Glasgow Museums added:
Frank Brangwyn is a fascinating artist, who used his art to increase public awareness about the atrocities of war, encourage recruitment and to raise money for war charities. What is particularly interesting about this powerful series of prints, created to raise money for St Dunstan's Hostel for Blind Soldiers and Sailors, is that Brangwyn changed his style part-way through, after showing the soldier being injured by an exploding shell. The lines become much softer and the compositions darker as if he was trying to convey something of the new shadowy world of this injured soldier, suggesting real empathy with and understanding of the plight of this young man, and in turn eliciting compassion in the viewer. It has been a moving and inspiring exhibition to work on and I think it will be very well received by visitors to Kelvingrove Museum.
Rebecca Barr, Head of Scottish War Blinded said:
We are very pleased to work with Glasgow Museums to raise awareness of all those affected by sight loss be they ex-service personnel or not. We are so pleased that Kelvingrove Museum have made great strides to allow everyone to interact with this new, poignant display.

The opportunities and endeavours undertaken by people who experience sight loss have developed hugely since these lithographs were produced, as demonstrated by David Timmins's sporting achievements. Today and since 1918, Scottish War Blinded's ethos of supporting independence remains the driving force behind our work with military veterans, irrespective of the cause of their sight loss.
Glasgow Museums' wider collection of World War I prints and drawings by Frank Brangwyn are available online through Collections Navigator, http://collections.glasgowmuseums.com and search Frank Brangwyn.
Frank Brangwyn in World War I: Art in Aid of Blind Soldiers and Sailors is located in the Fragile Art gallery on the first floor of Kelvingrove Art Gallery and Museum and will be on display until 25 June 2019. The lithographs were presented to Glasgow Museums by Frank Brangwyn and his printer, Reginald G. Praill of the Avenue Press, in 1944.