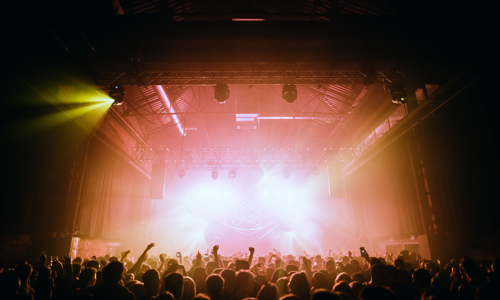 New tourism campaign puts Glasgow in the spotlight with UK music fans
New tourism campaign puts Glasgow in the spotlight with UK music fans
A new tourism campaign promoting Glasgow's legendary music scene to potential visitors from across the UK has launched today (Tuesday 15 February).
Developed by Glasgow Life's Destination Marketing team, 'Glasgow: Music Nonstop' showcases the energy and vibrancy of the city's unrivalled music offer, positioning Glasgow as a first-choice short break destination for music fans.
Named 'Europe's Secret Capital of Music' by TIME Magazine, Glasgow was the UK's first, and remains Scotland's only, UNESCO City of Music. Pre-Covid, Glasgow hosted an average of 130 gigs and music events every week, contributing an estimated £75m each year to the city's economy.
Created with £90,000 from VisitScotland's Destination and Sector Marketing Fund, the campaign is aimed at supporting the recovery and restart of Glasgow's music and night-time industries in the wake of the pandemic, as well as reinforcing the wider message that the city's tourism and hospitality sector is open for business.
Running until the end of March, it features a mix of targeted digital and social media advertising, PR activity and new music-themed content on the city's official visitor website, peoplemakeglasgow.com. Additionally, a new 30-second video provides a teaser of Glasgow's world-class music scene and is set against the track 'Young Punks' by up-and-coming Glasgow indie band Voodoos, who performed at TRNSMT last year.
A dedicated campaign landing page is available at: www.peoplemakeglasgow.com/see-do/glasgow-for-music-lovers/glasgow-music-nonstop.
Industry collaboration is a key element of the campaign and Glasgow Life has engaged with partners throughout the planning process.
This has included involving music industry figures in creative briefings; hosting a workshop to inspire businesses to come together and create new bookable music-themed visitor offers; and inviting businesses to have their say and help shape how the city's music products and experiences are promoted. An industry toolkit hosting campaign assets has also been made available for businesses to use on their own social and digital channels.
A strong focus of Glasgow Life's campaign is on visitor experiences, products and attractions that help bring the city's unique musical heritage and character to life – from Glasgow Music City Tours' guided walks around iconic venues, to Mharsanta's popular Trad Trail Experience, combining great food and a stroll through Glasgow's folk music history, or City Sightseeing Glasgow's newly launched music bus tour, narrated by multi-award-winning Scots singer-songwriter Eddi Reader.
Councillor David McDonald, Chair of Glasgow Life and Depute Leader of Glasgow City Council, said: "Glasgow enjoys a global reputation as a live music hotspot. Our venues punch well above their weight internationally – our OVO Hydro is regularly named in the world's top five arenas – and the passion and enthusiasm of our audiences is unrivalled.
"We're also home to some outstanding tours and visitor experiences, which delve deep into our city's vast musical legacy. It's these credentials that make Glasgow a must-play destination for the world's biggest artists and promoters, and it's a major reason why visitors choose to come here.
"From Celtic Connections to TRNSMT and every genre in between, our legendary music scene offers something for every fan, which is why music is a core pillar of Glasgow's Tourism and Visitor Plan to 2023. Supporting the recovery of our music and night-time industries post-pandemic is hugely important for the city, not just for our visitor economy, but to help protect the thousands of jobs that exist across these industries, their supply chains and more widely across every part of our tourism and hospitality sector."
Jim Clarkson, Regional Leadership Director (West), VisitScotland, said: "Since last autumn we have been promoting Scotland's UNESCO Trail, capturing the spirit of Scotland – including the pulsating heart of Glasgow's music scene as UNESCO City of Music. The trail encourages visitors to stay longer, explore more widely and support local tourism businesses.
"The Destination and Sector Marketing Fund money awarded to Glasgow Life for Glasgow: Music Nonstop will help to accelerate the sustainable recovery of the tourism sector in the Glasgow City Region in the medium to long-term, helping to reach new audiences within the domestic market."
Piero Marcuccilli, Lead Singer of Voodoos, said: "From my time playing and attending gigs, I can safely say there's no better place for a gig than Glasgow. The crowds are always electric and the atmosphere tops everywhere else in the UK – I'm sure even all the top artists would agree. There's something different about Glasgow crowds and it's one of the main things that inspired me to get into music."
As part of the campaign, Glasgow Life has partnered with Avanti West Coast to promote the train operator's direct services to Glasgow from its north England stations. Visitors can travel one-way from £10.10* from Carlisle, Preston, Lancaster, Wigan and Warrington, and tickets can be booked through Avanti's website at www.avantiwestcoast.co.uk (Ts and Cs apply).
Looking ahead this year, Glasgow will welcome an abundance of major musical talent and events. Some of the big names performing in the city over the coming months include Celine Dion, Bryan Adams, Billie Eilish, Dua Lipa, Andrea Boccelli, Gladys Knight and Queen, while festival fans can look forward to the return of Summer Nights at the Bandstand, TRNSMT and Country to Country, Europe's biggest country music event, as well as the brand-new Colourboxx festival experience in Bellahouston Park, featuring Years & Years, Becky Hill and Sugababes.
Geoff Ellis, CEO of DF Concerts, said: "Glasgow is a city world-renowned for its music scene, so it's fantastic to see this investment from Glasgow Life to help support the recovery of the industry. We're on track to have the busiest summer on record for live music in Scotland so it's vitally important now that Glasgow's music offering is put in the spotlight, which this campaign aims to do."
Andrew Fleming-Brown, Founder and Managing Director of SWG3, said: "It's been such a difficult couple of years for the sector so it's really great to see music taking centre stage in the city's marketing as we emerge from the pandemic. We're very excited about our upcoming programme at SWG3 which we hope will not only attract the people of Glasgow, but also visitors from throughout Scotland, the UK and internationally."
Peter Duthie, CEO of the Scottish Event Campus, said: "We look forward to seeing our venues filled with live music once again, starting off with James Blunt in the SEC Armadillo and Simply Red in the OVO Hydro. With a programme of world class artists, the iconic OVO Hydro will be one of the busiest live entertainment venues on the planet this year, attracting music lovers from far afield."
Donald Shaw, Creative Producer of Celtic Connections, said: "The city of Glasgow is internationally renowned for its passion and skill for musical innovation and an unrivalled live event experience – all made possible by incredible artists, promoters, technical crews and, of course, the best audiences in the world. Celtic Connections is proud to be part of Glasgow's rich musical ecosystem and to bring the city to life with performances, workshops, collaborations, sessions and more each winter, getting the year off to an inspiring start and lighting up the winter nights.
"Celtic Connections' dedication to emerging and homegrown talent, alongside our far-reaching international ties, allows us to reach global audiences year-on-year and the city's enviable reputation as the must-visit place to see live music is central to this. Visitors to Glasgow have the opportunity to absorb themselves in a multitude of musical experiences, with such a diverse number of venues and musicians from different genres to explore and fall in love with."
Sharon Morrison, Communications Director at City Sightseeing Glasgow, said: "Without a doubt, Glasgow's musical legacy is recognised across the globe. To complement our city of music, we are excited to launch our City Sightseeing Glasgow music tour, narrated by the multi-award-winning singer-songwriter Eddi Reader. The music tour delves into our city's vibrant musical history whilst showcasing some of the best places to experience today's music scene. We're confident the tour will be a massive hit with music lovers both near and far."
Jonathan Trew, Glasgow Music City Tours Co-founder, said: "After nearly two years in which music venues fell silent, it is fantastic to see and hear them come back to life. We set up Glasgow Music City Tours to shout about the city's vibrant and diverse music culture. From meeting our domestic and international music tour guests, we know that recognition and appreciation of Glasgow's music scene extends far beyond the city limits. We look forward to welcoming old and new friends both on our tours and at all the concerts that are lined up in the city for 2022."