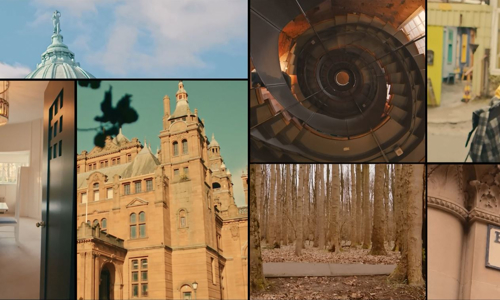 New tourism films shine a spotlight on Glasgow's vibrant neighbourhoods
New tourism films shine a spotlight on Glasgow's vibrant neighbourhoods
A series of short films showcasing the unique appeal of Glasgow's neighbourhoods to potential tourists has been launched
A series of short films showcasing the unique appeal of Glasgow's neighbourhoods to potential tourists has been launched today (Monday, April 30th).
Filmed across the north, south, east and west of Glasgow, as well as the city centre, they shine a spotlight on more than 120 locations; taking audiences on an inspiring journey through the city's rich cultural and sporting heritage, legendary music scene, diverse restaurants and bars, and unrivalled nightlife.
The six new 60-second films reveal the distinct and much-loved characteristics and attractions of Glasgow's neighbourhoods – featuring the likes of Finnieston, the Merchant City, Shawlands, Maryhill, Govan, Partick and Dennistoun – and are aimed at encouraging visitors to explore the city and 'live like a local'.
They have been developed to complement a redesigned 'neighbourhoods' section of the peoplemakeglasgow.com website, which now delves deeper into the history, character, products and experiences to be found across Glasgow's vibrant neighbourhoods, with testimonials from the city's tourism community.
Produced by local agency The Forest of Black, each film is set to a custom soundtrack composed specially for the project by Barry McKenna from Glasgow band, Twin Atlantic.
Much of the content was suggested by residents and global fans of Glasgow, following an appeal through the city's PEOPLE MAKE GLASGOW social media channels to identify the top things for tourists to see and do in each neighbourhood.
This was supported by a digital survey, workshop and meetings with local industry, delivered by Glasgow Life, which ensured city partners and businesses could contribute their ideas and really help to shape the project. 
It is the latest instalment of the city's destination marketing campaign, Next Stop Glasgow, which was launched last year in the UK and internationally by Glasgow Life and tourism partners. The campaign was developed to support the delivery of Glasgow's Tourism and Visitor Plan, which aims to boost the city's tourism economy by attracting one million more overnight visitors by 2023.
Councillor David McDonald, the Chair of Glasgow Life and Deputy Leader of Glasgow City Council, said:
There's a clear trend towards authenticity in travel today – visitors want to experience real neighbourhoods and communities, and immerse themselves in local culture. It's about connecting people and place in a genuine way.

"Glasgow is now one of Europe's first choice destinations and our neighbourhoods are just as vibrant and filled with as much character and world-class cultural assets as cities like Berlin and Rome. We're rightly proud of everything that's on offer to visitors and citizens alike and these new films, which have been shaped by our people and businesses, showcase Glasgow at its best as both a great global city and a great local city.

"We'll be refreshing our neighbourhood content regularly and I would encourage people to continue suggesting their favourite places and hidden gems, via the People Make Glasgow social media channels, that they think would really appeal to the millions of tourists and visitors our city welcomes every year.
Barry McKenna, singer and guitarist with Glasgow band, Twin Atlantic, who composed the soundtracks for the films, said:
It's a priviledge to live in a city as rich in art and culture as Glasgow, where inspiration is only ever just around the corner. It's one of the many reasons why Glasgow is renowned for creativity and has a great capacity for producing some of the finest artists and musicians around today.

"Though as fascinating as the city's art, architecture and landmarks are, the real beauty of Glasgow lives within the rich complexity of its neighbourhoods and people; bold, uninhibited and proud. I've been lucky enough that music has led me halfway around the world, but I wouldn't want to live anywhere else. Glasgow is truly unique and has a magnetism that always draws you back in.
Sue John from Glasgow Women's Library, said:
You'll find the unexpected in Glasgow's East End. Architectural gems, cutting edge contemporary art, outstanding museums and communities with genuine pride in their heritage and history. You're also sure to hear some legendary Glasgow 'banter'.
Jonathan Trew of Glasgow Music City Tours, said:
With venues ranging from the Britannia Panopticon – the world's oldest music hall – to the likes of the Barrowlands, Old Fruitmarket, Mono and St Luke's, the Merchant City is a rich showcase for Glasgow's music heritage and it's thriving contemporary scene. From grassroots groups to classic rock bands, it's all here and tourists on our Merchant City Music tours love hearing their stories. And telling us theirs.
Garry Sanderson from House for an Art Lover, commented:
There's certainly a different feel for visitors who make it south of the river when visiting Glasgow. As well as the leafy suburbs and buzzing café scene they can expect to find some really great cultural gems, including a few opportunities to experience the work of our city's most famous son, Charles Rennie Mackintosh.
Jen Stewart from The Glasgow School of Art, said:
Glasgow's city centre is a hubbub of creative energy. Visit The Glasgow School of Art, the Centre for Contemporary Art (CCA) or Stereo to take in some great contemporary art exhibitions, marvel at Charles Rennie Mackintosh's iconic designs and sample the city's vibrant nightlife and explosion of tasty vegan cuisine. Buchanan Street meanwhile, is a shopper's paradise and be sure to look up as you explore to take in Glasgow's distinctive architectural skyline.
Libby Walker from The Hidden Lane, said
As a quirky row of brightly coloured buildings in Glasgow's West End, The Hidden Lane holds an amazing creative community. Many artist studios are open to the public alongside gift shops, jewellers and an amazing tearoom. It's a unique gem where you can support local, buy direct from makers and learn a skill or two.
Ian Beattie from Glasgow Tigers Speedway, added: 
There's a real sense of community spirit in the north, it's a place where you can experience, real, honest and authentic Glasgow. There's also nowhere else in the city that you can enjoy adventure sports, like white water rafting, or speedway.
You can view the films at peoplemakeglasgow.com/neighbourhoods or on PEOPLE MAKE GLASGOW's Facebook, Twitter and Instagram pages. Glasgow Life is also encouraging viewers to share it on their own social channels using the hashtag #NextStopGlasgow. 
Ends
Notes to editors:
About Next Stop Glasgow
The city's Next Stop Glasgow destination marketing campaign was launched in the UK and internationally by Glasgow Life in 2017 and is geared at positioning Glasgow as Scotland's cultural powerhouse and a must-visit destination, with activity and key messaging reflecting the strength of the city's food and drink sector, legendary music scene, rich cultural and sporting heritage, late night retail offering and unrivalled nightlife.
In addition to the new neighbourhood films  that have been created, campaign activity in 2018 has also included a new cinema advert, which, since its launch in January, has been seen more than three million times in cinemas across the UK and on social media.
About Glasgow's Tourism and Visitor Plan to 2023
Glasgow's Tourism and Visitor Plan to 2023 is the framework for the continued growth of the city's tourism economy. The plan sets out a clear direction for building Glasgow's global profile as a successful tourist destination and is focused on increasing overnight leisure tourism visits by one million over the next six years.
Achieving a baseline of three million overnight visits annually by 2023 will boost the city's economy by more than £770 million and create nearly 7,000 new jobs.
Strong partnership working and collaboration with the public, private and academic sectors; product development; destination marketing; improving the quality of the city's visitor experience and growing Glasgow's profile and reputation as a vibrant, culturally rich destination with high standards of service excellence underpin the priority actions at the heart of the plan.
A Leadership Group drawn from the private sector and academia, together with senior representation from key public sector stakeholders including Glasgow Life, VisitScotland and Scottish Enterprise, is responsible for overseeing the delivery of the plan. For more information, visit www.glasgowtourismandvisitorplan.com.
For more information, contact:
Graeme Watson
Senior Corporate Communications Manager
Glasgow Life
+44 141 566 0835 / +44 7534 982 312